Attempts to "Carterize" the Race
Romney supporters seem to want to paint Obama as Carter. This is unlikely to help.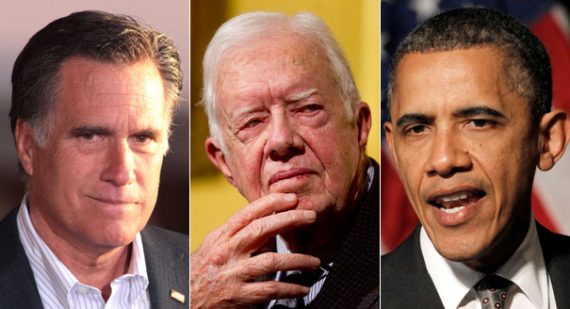 Doug Mataconis' post this morning on the 1980 election and a current legend concerning its narrative struck me as part of a broader set of examples in which some on the Romney side of the aisle are trying their darnedest of late to paint Obama as Carter.  The reason for so-doing are obvious:  the last failed Democratic president was Jimmy Carter and, further, Carter has been the Republican's benchmark for the low water mark in US history since, well, a long time ago.  As such, it makes perfect sense that there would be some interest in conjuring Carter imagery here.   There is, also, a vague set of historical similarities, i.e., a Democratic incumbent with a weak economy facing a Republican challenger.  However, there is a substantial lack of direct parallels.  For example, Carter with the economy was already having troubles prior to his administration, he did not inherit an economic meltdown from Ford.  Further, there was that whole hostage crisis in Iran, amongst other problems.
One of the lamer example of "Carterization" that I have see in the last couple of days from the Washington Examiner's Beltway Confidential:  Obama echoes Carter with 'shoot first' criticism of Romney.
"Gov. Romney seems to have a tendency to shoot first and aim later," President Obama said in a CBS interview last night, criticizing Romney's reaction to the embassy attack in Cairo. Romney criticized the Obama administration's 'apology' in response to the attacks on the embassy and subsequent failure to condemn the attacks right away.

Obama's remarks, however, echo frequent criticisms made by President Jimmy Carter of Ronald Reagan, then his opponent for the presidency.

Carter criticized Reagan's views on foreign policy during his speech at the Democratic National Convention in 1980, slamming Reagan for living in a "fantasy world" and noting his inability to understand the "complex global changes" in foreign policy.

"It's a make believe world. A world of good guys and bad guys, where some politicians shoot first and ask questions later," Carter said, "No hard choices. No sacrifice. No tough decisions. It sounds too good to be true – and it is. The path of fantasy leads to irresponsibility. The path of reality leads to hope and peace."

After Reagan's nomination in July 1980, Carter criticized Republicans calling it "a party with a narrow vision, a party that is afraid of the future, a party whose leaders are inclined to shoot from the hip, a party that has never been willing to put its investment in human beings who are below them in economic and social status."
Because, you see, they both used the word "shoot"!  Setting aside, for the moment the utterly banal and commonplace nature of the metaphors in question, it should be noted that Obama was referring to a specific incidence (Romney's widely criticized attempt at making political hay over the attacks on the Egyptian embassy, which really did have the feel of shooting first and then aiming later) and Carter's attempt to paint Reagan as reckless cowboy.  In other, one was a more specific critique, the other an attempt at a broad critique.  Of course, even if we assume that the attempts a metaphor deployment were identical, so what?  The notion that President A used a metaphor over three decades ago and now President B has used it means that A=B is some pretty pathetic math, even for a pundit.
Another example, from a WaPo piece (h/t:  John Cole):
"There's a pretty compelling story that if you had a President Romney, you'd be in a different situation," Richard Williamson, a top Romney foreign policy adviser, said in an interview. "For the first time since Jimmy Carter, we've had an American ambassador assassinated."
While I recognize the roles played by the Carter and Reagan archetypes in the Republican mythos, I have a hard time seeing this as effective in terms of doing anything other than convincing the already convinced.  But, is there anything about the Romney campaign at the moment that is doing anything other than that?