Aurora Shootings Will Not Lead To Restrictions On Gun Ownership
Don't look for an effort to enact new gun laws in the wake of the Aurora shootings.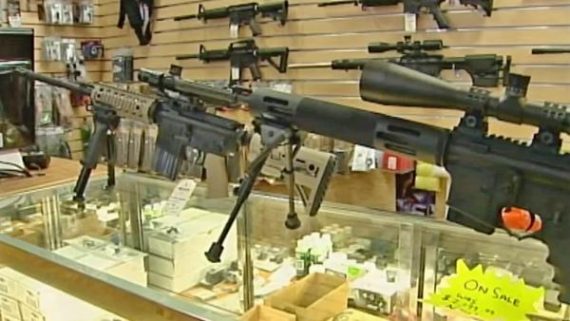 On Friday, mere hours after the shootings at the Cinemark 16 in Aurora, Colorado had first become news, The Washington Post's Chris Cillizza made the point that the event was unlikely to lead to any significant changes to in America's gun laws:
In 1990, almost eight in ten Americans said that the "laws covering the sales of firearms" should be made "more strict" while just 10 percent said they should be made "less strict" or "kept as they are now". By 2010, those numbers had drastically shifted with 54 percent preferring less strict or no change in guns laws and 44 percent believing gun laws should be made more strict.

Public opinion has also proven immune to past high profile tragedies involving guns.

In 1999, when Gallup asked the question six times after the Columbine High School massacre in Colorado, the number of those in favor of stricter laws ranged from 60 to 66 percent. The "less strict" number ranged from 5 to 9 percent and the "stay the same" number ranged from 25 to 31 percent.

The opinions were similar after the shootings at Virginia Tech in April 2007. By October of that year, 51 percent favored stricter gun laws, a 5 percent decline from a similar Gallup survey taken in the fall of 2006. (Here's more on how Virginia Tech didn't move the needle on gun control.)

And, in the wake of the attempted assassination of Giffords, that pattern played out again — with little obvious change in how people view society's relationship with guns.

A Pew Research Center poll conducted in April of this year showed that 49 percent of people said the right to own guns was more important while 45 percent said it was more important to control gun ownership. Those numbers were unchanged from a Pew survey conducted Jan. 13-16, 2011 — just days after Giffords was shot in Tucson.

That the numbers on gun control remain steady even in the aftermath of such high profile events like Columbine, Virginia Tech and the Giffords shooting suggests that people simply don't equate these incidents of violence with the broader debate over the right role for guns in our society. They view them as entirely separate conversations — and that's why the tragedy in Aurora isn't likely to change the political conversation over guns either.
I was critical of Cillizzaa at the time this article as posted mostly because I thought thought that it was a bit crass to be moving on to the political arguments less than five hours after 12 people (at the time we thought it was 14) had been killed while trying to watch a movie. Nonetheless, he's largely correct here. Indeed, what one sees in the polls is that the shift toward favoring fewer restrictions on the the right to own guns has taken place even while these high profile shootings were taking place. There was some pause after the Columbine incident, of course, but that's largely because it involved children. There was a similar pause after the Virginia Tech shootings, again the fact that young people were the victims was likely the reason for that. Even in those cases, though, there was no groundswell of support for, say, reviving the ban on so-called "assault weapons," or any other such restrictions advocated by gun control proponents. Additionally, as Rachel Werner points out, opposition to gun control has increased significantly since President Obama was elected. Indeed, shortly after the election there was a fear in the gun rights community that an Obama Presidency, combined with a Democratic Congress, would lead to significant new federal legislation. Of course, it did not.
One of the first gun control proponents to speak out after the Aurora shootings was New York Mayor Mike Bloomberg, who called on both Presidential candidates to make their position on gun control clear. However, as The New York Times notes today, both President Obama and Mitt Romney have avoided using the event as an opportunity to revive the gun control debate:
President Obama and his challenger, Mitt Romney, echoed each other in embracing the role of national grief counselor in the wake of the deadly rampage in Colorado last week, offering stirring words of condolence and comfort.

But neither has responded to calls for a renewed debate over how to prevent gun violence. Asked on Sunday whether Mr. Obama favored new gun control initiatives, his spokesman, Jay Carney, twice said the main focus of the president — who four years ago called for an assault-weapons ban — was to "protect Second Amendment rights."

"He believes we need to take steps that protect Second Amendment rights of the American people but that ensure that we are not allowing weapons into the hands of individuals who should not, by existing law, obtain those weapons," Mr. Carney said on Air Force One as the president flew to Colorado to meet with survivors of the mass shooting.

"If he had said almost anything else it would be used in a fund-raising appeal by the N.R.A.," said Representative Earl Blumenauer, Democrat of Oregon. "There are very few political leaders that think there is any opportunity in a constructive way to do something in this political climate."

For his part, Mr. Romney reiterated Monday that he saw no need to renew the federal ban on assault weapons that expired in 2004.

"I still believe that the Second Amendment is the right course to preserve and defend and don't believe that new laws are going to make a difference in this type of tragedy," Mr. Romney told CNBC.

Both candidates have supported gun control in the past, but their views shifted as Americans have backed away from stricter gun laws, and both men have felt a political sting from earlier positions.

Mr. Obama's remark in 2008 that rural voters "cling to guns or religion" wreaked political damage on him four years ago, exposing him to charges of elitism.

Mr. Romney, as governor of Massachusetts, signed a ban on assault weapons and quadrupled the fee for gun licenses — positions used to attack him in the primary race and pry away support by the Republican base.
Notwithstanding the possibility of some perfunctory statements from the President or other Democrats during the course of the campaign, don't expect this situation to change, and don't expect legislation of any kind to make it through Congress any time in the near future. The reasons for this are many, but it basically boils down to the poll numbers that Cillizza cites above. There was a time when support for increased gun control was popular with the general public and, indeed, the laws that are on the books today in much of the Northeast and other states dominated by Democrats are a reflection of those days. Those days are over, however, and the changes started happening in the 1990s.
There's no question that part of the reason for the change in public attitudes about guns can be traced to the shift in conservative thought that began to occur when Bill Clinton was elected President. Indeed, there is at least some evidence in favor of the proposition that the one piece of legislation that did more to lead to the 1994 Republican takeover of Congress was the ban on so-called "assault weapons" that was signed into law a mere six weeks before Election Day in 1994. The law had been a hot topic of debate throughout the year, and had aroused political activism from the National Rifle Association to a greater degree than had been seen in the past, at least at a national level. In Districts throughout the country, Congressmen and Senators who had voted in favor of the ban suddenly found themselves in danger and, when that first Tuesday after the first Monday in November came, out of a job. From that day forward, Democrats of all stripes have been incredibly reluctant to pursue any kind of gun legislation for fear of becoming a target of the NRA and other gun control groups.
It's not just Republicans, though. Many Democrats represents states and districts where gun ownership is a an important issue for voters and they would be likely to join with Republicans in blocking legislation. Some of the candidates that the NRA has endorsed in the past, such as Senate Majority Leader Harry Reid, are in a positions of power that give them the ability to block legislation from even getting to the floor if they wish. Far from being just a Republican thing, support for gun rights is actually quite bipartisan even in the current Congress, with the difference seemingly being more regional than party-based. That, most likely, is the reason why serious anti-gun legislation never made it through Congress during the two years that the Democrats had control of both the House and the Senate.
Finally, of course, there's the fact that the legal climate for gun control laws is far less favorable than it used to be. In D.C. v. Heller, the Supreme Court for the first time recognized a personal right to keep and bear arms under the 2nd Amendment, and it expanded that right to cover state laws in McDonald v. Chicago it held that the Amendment, and the ruling in Heller, apply to the states. While the Court left open the question of what types of regulations would be considered reasonable under the law, the opinions make clear that laws that essentially serve as outright bans on ownership are not likely to be considered Constitutional. Obviously, this is a question the answer to which will be heavily influenced by the make up of the Supreme Court over the coming years, but the Court's ruling arguably creates a strong presumption against broad restrictions on ownership of guns, thus causing legislators to consciously (or sub-consciously perhaps) limit themselves.
At least for the time being, we appear to have reached a point in the debate over gun rights where the public isn't willing to accept further restrictions on their rights. Unless that changes, the law isn't going to change at all.