Auto Bailout Politics
Romney eked out a win in the Michigan primary. He's going to have a harder time there in November.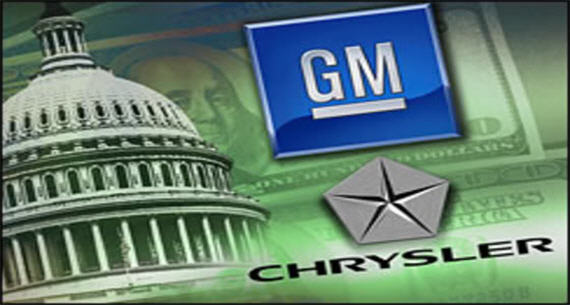 Mitt Romney eked out a win in his native Michigan in yesterday's Republican primary. He's going to have a harder time winning the Wolverine State in November.
President Obama has already been running ads touting the resurgence of Detroit's auto industry and his role in saving it through a massive government bailout–and highlighting Republican opposition to said bailout. He doubled down yesterday with a speech to the United Auto Workers.
"I've got to admit, it's been funny to watch some of these politicians completely rewrite history now that you're back on your feet," Obama told a UAW convention in Washington. "These are the folks who said if we went forward with our plan to rescue Detroit, 'you can kiss the American automotive industry goodbye.' Now they're saying they were right all along!"

The alternative to federal help, Obama said, "was to do nothing, and allow these companies to fail. In fact, some politicians said we should. Some even said we should 'let Detroit go bankrupt.'"
That's something of a cheap shot at a New York Times op-ed Romney penned in November 2008.  My, initial, cynical reaction to reading this was "How many dollars per vote was that bailout?" But that's not fair, either.
What Romney Said About the Bailout
The provocative headline of Romney's op-ed, "Let Detroit Go Bankrupt," was almost certainly written by an editor at the Times, not Romney. And, while pithy, it doesn't fairly represent the message. Instead, Romney laid out a strategy that many of us–myself decidedly included–enthusiastically supported.
IF General Motors, Ford and Chrysler get the bailout that their chief executives asked for yesterday, you can kiss the American automotive industry goodbye. It won't go overnight, but its demise will be virtually guaranteed.

Without that bailout, Detroit will need to drastically restructure itself. With it, the automakers will stay the course — the suicidal course of declining market shares, insurmountable labor and retiree burdens, technology atrophy, product inferiority and never-ending job losses. Detroit needs a turnaround, not a check.
It remains to be seen whether this is right. Yes, we've seen a resurgence of the Big 3. And that's good! But an infusion of massive amounts of taxpayer dollars and a write-off of significant debts ought to make the books look good three years out. Regardless of whether Romney (and Joyner) were right about the bailout, that a drastic restructuring of GM and Chrysler were necessary for long term success is surely true.
So, what did Romney suggest?
First, their huge disadvantage in costs relative to foreign brands must be eliminated. That means new labor agreements to align pay and benefits to match those of workers at competitors like BMW, Honda, Nissan and Toyota. Furthermore, retiree benefits must be reduced so that the total burden per auto for domestic makers is not higher than that of foreign producers.

That extra burden is estimated to be more than $2,000 per car. Think what that means: Ford, for example, needs to cut $2,000 worth of features and quality out of its Taurus to compete with Toyota's Avalon. Of course the Avalon feels like a better product — it has $2,000 more put into it. Considering this disadvantage, Detroit has done a remarkable job of designing and engineering its cars. But if this cost penalty persists, any bailout will only delay the inevitable.
This would seem incontrovertible. Progressives might argue (and I tend to agree with them) that this makes the case for taking the responsibility for funding healthcare and retirement away from business and shifting it to the state–which is what all of America's manufacturing competitors did decades ago. Conservatives might argue that it simply means labor is overcompensated. But the fact that the Big 3 can't do business like it's 1950 and there's no real overseas competition is clear.
Second, management as is must go. New faces should be recruited from unrelated industries — from companies widely respected for excellence in marketing, innovation, creativity and labor relations.
This is just a no-brainer. To some extent, this happened as a condition of the bailouts. But the change was less radical than Romney recommended.
The new management must work with labor leaders to see that the enmity between labor and management comes to an end. This division is a holdover from the early years of the last century, when unions brought workers job security and better wages and benefits. But as Walter Reuther, the former head of the United Automobile Workers, said to my father, "Getting more and more pay for less and less work is a dead-end street."
This is both obvious and easier said than done.  After several more paragraphs detailing the need for restructuring the labor-management relationship, Romney concludes:
I believe the federal government should invest substantially more in basic research — on new energy sources, fuel-economy technology, materials science and the like — that will ultimately benefit the automotive industry, along with many others. I believe Washington should raise energy research spending to $20 billion a year, from the $4 billion that is spent today. The research could be done at universities, at research labs and even through public-private collaboration. The federal government should also rectify the imbedded tax penalties that favor foreign carmakers.

But don't ask Washington to give shareholders and bondholders a free pass — they bet on management and they lost.

The American auto industry is vital to our national interest as an employer and as a hub for manufacturing. A managed bankruptcy may be the only path to the fundamental restructuring the industry needs. It would permit the companies to shed excess labor, pension and real estate costs. The federal government should provide guarantees for post-bankruptcy financing and assure car buyers that their warranties are not at risk.

In a managed bankruptcy, the federal government would propel newly competitive and viable automakers, rather than seal their fate with a bailout check.
This is not "Let Detroit Go Bankrupt." Nor is it libertarian ideology masquerading as policy. Indeed, he's calling for massive government investment in American industrial base and human capital. And he declared "The American auto industry is vital to our national interest as an employer and as a hub for manufacturing." This is hardly  "do nothing, and allow these companies to fail."

Was Obama (and Bush) Right?
While I agreed with Romney's prescription at the time and still think 95 percent of the analysis stands up to time, there's a wee problem with the "managed bankruptcy" option: It requires massive capital reserves available to swoop in and grab a bargain.
Now, it seems obvious that the General Motors and Chrysler brands, their network of dealerships, their factories, and their highly trained and experienced people were extremely valuable. And it would seem like, stripped of their bad debts and the weight of outmoded contracts negotiated in a very different economic reality, picking them up at bankruptcy prices would be enormously attractive to the likes of Bain Capital, Warren Buffett, and others who do that sort of thing.
Steven Rattner, a prominent financier who served as Obama's "car czar," says this simply wasn't the case. In his own NYT op-ed, titled "Delusions About The Detroit Bailout," says of Romney's plan:
That sounds like a wonderfully sensible approach — except that it's utter fantasy. In late 2008 and early 2009, when G.M. and Chrysler had exhausted their liquidity, every scrap of private capital had fled to the sidelines.

I know this because the administration's auto task force, for which I was the lead adviser, spoke diligently to all conceivable providers of funds, and not one had the slightest interest in financing those companies on any terms.
Absent angel funders coming to the rescue, then, Rattner argued there were no good options.
Without government financing — initiated by President George W. Bush in December 2008 — the two companies would not have been able to pursue Chapter 11 reorganization. Instead they would have been forced to cease production, close their doors and lay off virtually all workers once their coffers ran dry.

Those shutdowns would have reverberated through the entire auto sector, causing innumerable suppliers almost immediately to stop operating too.

Despite the relative health of its balance sheet, even Ford would have been forced to close temporarily, because critical parts would have become unavailable. And service providers — trucking companies, restaurants and more — would have been severely affected.

More than a million jobs would have been lost, at least for a time. Michigan and the entire industrial Midwest would have been devastated.

I consider myself an ardent capitalist, and well recognize the risks of government intervention, particularly the "moral hazard" of rewarding failure and the scary prospect of politics' entering private sector decision-making.

But when markets fail, as they did for both autos and banks in 2008, government should have the ability — in fact, the obligation — to step in.
The Burdens of Command
While I bitterly opposed Bush's bailout–not only in principle but because he did so in defiance of Congress rejecting it and by using billions of taxpayer dollars allocated for something else entirely–the 43rd president still believes he did the right thing. In a speech earlier this month to a car dealers convention, he explains why:
"I didn't want there to be 21 percent unemployment," Bush said in a speech yesterday to cap the annual National Automobile Dealers Association convention, attended by more than 20,000 people. "I didn't want to gamble. I didn't want history to look back and say, 'Bush could have done something but chose not to do it.' And so I said, 'no depression.'"

The Bush administration provided loans to GM and Chrysler starting with $4 billion to each company in December 2008 and January 2009. Bush eventually provided $17.4 billion in aid to the automakers before Barack Obama's administration expanded the rescue of the companies to $62 billion.

[…]

"I'd make the same decision again if I had to," Bush, 65, told Stephen Wade, the dealers association's outgoing chairman.

[…]

Bush told dealers he still believes in the free market. "If you make a bad decision in business, you ought to pay," he said. "The problem is, sometimes circumstances get in the way of philosophy."

Bush wrote in his 2010 memoir "Decision Points" that he met with Obama six days after the current president's election and discussed the auto companies in the Oval Office. Within the week, he told his economic team he "wouldn't let the automakers fail."

"Nobody was more frustrated than I was," he wrote. "It was frustrating to have the automakers' rescue be my last major economic decision. But with the market not yet functioning, I had to safeguard American workers and families from a widespread collapse. I also had my successor in mind."
Even with the benefit of three plus years' hindsight, it's still not clear whether the bailouts were the right call. But it's understandably why Bush made it, especially in the wake of the Lehman Brothers disaster. His legacy will likely never recover from the Iraq War and perhaps not even Katrina. But he surely didn't want to go down as the president who let the crown jewels of American manufacturing go under for want of $8 billion–or even $17.4 billion.
For Obama, the call was likely easier. He's less philosophically opposed to government intervention into the economy and organized labor is a major leg in his base. And $62 billion was a relative drop in the bucket in a nearly trillion dollar "stimulus" package.
We don't have the counterfactuals to know what would have happened had we gone with Romney's plan–although Rattner's scenario is certainly plausible. Or the advantage of time to know whether the resurgence of GM and Chrysler will be sustained. But I suspect any president–including a President Romney, had 2008 played out much differently–would have ultimately made the same call. It's just easier to call for letting the chips fall where they may from the comfort of a pundit's chair than from the pressure cooker of the Oval Office.
Such situations always bring to mind an exchange in Season 2 of Battlestar Galactica where Admiral Adama resumes command after having been incapacitated to find that Colonel Tigh had made a series of disastrous decisions while filling in. Tigh apologizes and admits he "frakked things up good" but Adama responds, "I never had much use for people that second-guessed my decisions, especially if they've never held a command. They don't understand the pressure to make a call that affects the lives of thousands, and you have no one to turn to for backup."
My takeaway isn't that we shouldn't question the decisions of our leaders; by all means, we should. But a reason that presidents so often make big decisions that seem antithetical to the core philosophies they campaigned on is that, presented with experts offering gloom and doom scenarios, they often do just what Bush said he did: cede principle to circumstance.