Bachmann and the Definition of "Family"
Further evidence of Bachmann's extreme views on homosexuality.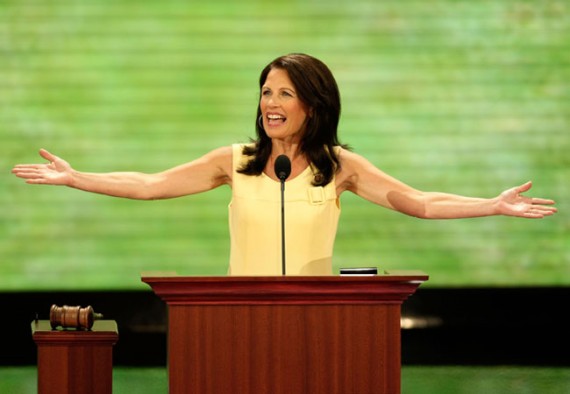 As part of a series of questions on the issue of homosexuality David Gregory asked Michele Bachmann the following:
MR. GREGORY: So a gay couple with kids would not be considered a family to you?
Bachmann responded:
REP. BACHMANN: You know, all of these kind of questions really aren't about what people are concerned about right now. This isn't what–this isn't…

MR. GREGORY: Congresswoman, you said it…

REP. BACHMANN: …and I'm not judging them.

MR. GREGORY: You said that any, any candidate for president should be asked about his or her views and their record. This is a record of your statement. These were defining political issues for you as your political career advanced. You're the one who said that same-sex marriage was a defining political issue of our time. Those were your words back in 2004. So I'm just asking you about your views on something that has animated your political life.

REP. BACHMANN: Right. I think my views are clear.
Let me start by saying:  yes, her views are quite clear.
Now, I understand* Bachmann's position of homosexuality and gay marriage, but I found this interchange to be astonishing insofar as she could not bring herself to call a gay couple with kids a family.  I think this reveals the truly extreme nature of her position on homosexuality in general.  Even the most diehard evangelical usually responds to such a question by stating that such an arrangement is not ideal (and go on to say why) but they typically would concede that such an arrangement is a family.
Yet Bachmann apparently cannot bring herself to concede even that.  This is especially remarkable given that she and her husband have demonstrated compassion by the number of foster children they have cared for over the years.  One would think that such experiences would create a recognition about the importance of family, even if the parents in said family are not Bachmann's ideal version therefore.
As I said:  truly astonishing.
The above was after the following rather lengthy interchange on the topic of homosexuality in general:
MR. GREGORY: OK. I want to also ask you about your interpretation of the Bible and your feelings about gays and lesbians. You have said in recent years that opposition to same sex marriage is defining a political debate in this country. You're opposed to it, you'd like to see a constitutional ban against it in this country. And during a speech that you gave in 2004 at an education conference, you spoke openly and in detail about gays and lesbians. And I want to play just a portion of that speech and have you react, react to it.

(Videotape, November 6, 2004)

REP. BACHMANN: It's a very sad life. It's part of Satan, I think, to say that this is gay. It's anything but gay. … It leads to the personal enslavement of individuals. Because if you're involved in the gay and lesbian lifestyle, it's bondage. It is personal bondage, personal despair, and personal enslavement. And that's why this is so dangerous. … We need to have profound compassion for people who are dealing with the very real issue of sexual dysfunction in their life and sexual identity disorders.

(End videotape)

MR. GREGORY: That is the view President Bachmann would have of gay Americans?

REP. BACHMANN: Well, I am running for the presidency of the United States. I'm not running to be anyone's judge. I do stand very…

MR. GREGORY: But you have judged them.

REP. BACHMANN: I, I, I don't judge them. I don't judge them. I am running for presidency of the United States.

MR. GREGORY: Is that the view of gays–gay Americans that President Bachmann would have?

REP. BACHMANN: Well, my, my view on marriage is that I believe that marriage is between a man and a woman. And that's what I stand for. But I ascribe honor and dignity to every person no matter what their background. They have honor and they have dignity.

MR. GREGORY: Do you think that gay Americans hearing quotes like that from you would think that that's, that's honor and dignity coming from you about their circumstance?

REP. BACHMANN: I am not anyone's judge…

MR. GREGORY: Right.

REP. BACHMANN: …and I'm not standing in as anyone's judge.

MR. GREGORY: Congresswoman, you have–I mean, do you think anyone hears that and thinks you haven't made a judgment about gays and lesbians?

REP. BACHMANN: That's all I can tell you is that I'm not judging.

MR. GREGORY: So your words should stand for themselves?

REP. BACHMANN: I'm running for the presidency of the United States. That's what's important.
It is astonishing that a person can hold views that clearly evaluate the behavior (indeed, lifestyle and self-identification) of a set of persons (and does so in the negative) and then claim not to be judging.  Surely judgment is inherent is saying that homosexuality is "sad," or "enslavement," (amongst other things).  One distorts the English language to claim otherwise.
I suspect that Bachmann is engaging in an evangelical dodge on this issue, by saying (without explaining what she means to the non-evangelicals in the audience) that she is not judging the eternal condition or homosexuals (i.e., not judging their immortal souls) because that is the domain of God alone.  This is a typical evangelical responses when they are caught, well, judging people.  It is partially derived from Matthew 7 (although, in honesty, I think this is a passage that evangelicals violate constantly, especially those of Bachmann's theological persuasion).  It is also part and parcel of "love the sinner, hate the sin" which makes evangelicals feel better when they say means things (see Bachmann above) about people they sincerely believe are in the wrong, but is small solace to person whose sin is being hated.
Of course, we can forget parsing Bachmann's words and state, categorically, that I can't imagine she has a prayer of getting the homosexual vote (not that I thought otherwise before this interview).  Further, she appears to take the view that homosexuals need to be cured (which fits with her husband's views on the subject) and that she really has no interest in representing them as president.   I will further say that her views are clearly out of the American mainstream on this issue.  She certainly doesn't seem to think of homosexuals as equal participants in the phrase "my fellow Americans" (at least not as  healthy members of that community).   Again:  not surprising, but still pretty remarkable (especially given her status, at the moment, as a serious contender for the GOP nomination).
—
*And I means understand in more than one way.  First, I think her policy positions are quite clear.  Second, I honestly do understand what she is saying insofar as I come from a religious tradition that is not that different from Bachmann's.  At a minimum, I have certainly heard similar types of statements about homosexuality from the pulpit.  I was raised with the notion that homosexuality was a sin and I once opposed gay marriage, in fact.  My views on these matters have changed, however.  And, I hasten to add, where never as extreme as Bachmann's.