Biden Continues To Expand His Lead In 2020 Democratic Primary
Another post-announcement poll brings good news for the former Vice-President, but there's a long way to go.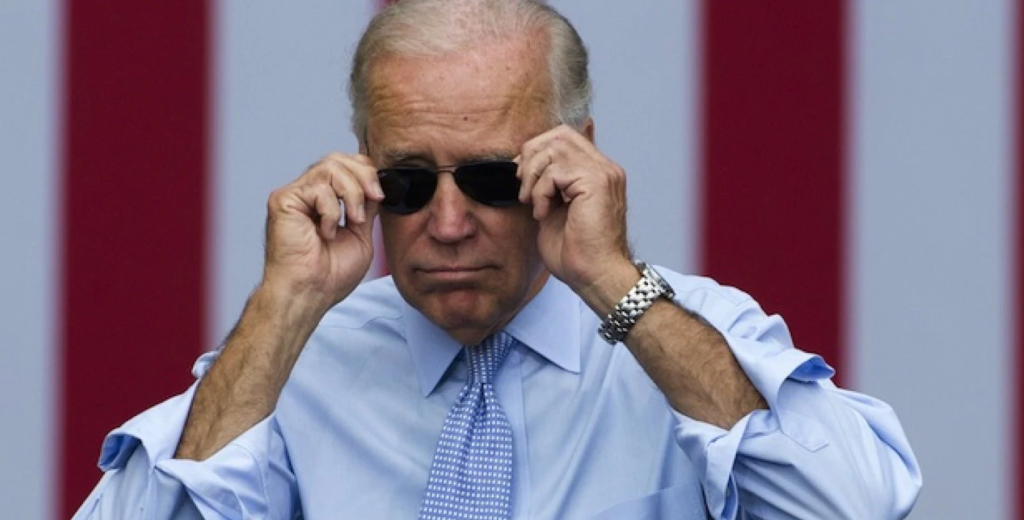 There's more good news for Joe Biden in the most recent national poll of the 2020 Democratic Presidential primary field, and it comes at the expense of his opponents, who continue to fall behind a surging but young Biden campaign:
Joe Biden holds a 30-point lead over Sen. Bernie Sanders (I-Vt.) in the Democratic presidential field, according to a Harvard CAPS/Harris Poll survey released exclusively to The Hill, further signaling that the former vice president is cementing his place as the primary contest's front-runner.

Forty-four percent of Democratic voters surveyed said they are most likely to vote for Biden in the 2020 Democratic primaries. Sanders comes in second place at 14 percent, while Sen. Kamala Harris (D-Calif.) places third with just 9 percent, the poll found.

The survey results show a surge for Biden since he launched his presidential campaign last week. A Harvard CAPS/Harris Poll survey from March pegged his support in the primary field at 35 percent, though at the time he hadn't yet entered the race.

The poll results are largely in line with other surveys conducted in recent days that show Biden widening his lead in the sprawling Democratic primary field.

"The Biden surge is significant and greater than expected," Mark Penn, the co-director of the Harvard CAPS/Harris Poll, said. "His launch was super successful and he has opened up a significant lead."

Among respondents, 5 percent said they would most likely vote for Sen. Elizabeth Warren (D-Mass.), while South Bend, Ind., Mayor Pete Buttigieg, was picked by 4 percent. Sen. Cory Booker (D-N.J.) and former Rep. Beto O'Rourke (D-Texas) tied for sixth place at 3 percent.

When it comes to who voters think has the best chance of beating President Trump in the 2020 general election, Biden still has a significant lead, with 40 percent of respondents saying as such. Sanders comes in after the former vice president at 13 percent.

But according to the poll, voters are looking for more than just someone who can defeat Trump. Thirty percent said it was more important to nominate a candidate who shares their positions on the issues, while 26 percent said that the ability to beat Trump was a more important quality in the eventual Democratic nominee.
This poll caps off a first week of relatively good news for the former Vice-President that seems to solidify his status as the front-runner in the race for his party's nomination. First, we learned that Biden had managed to raise more than $6 million in his first full day of fundraising, a number nearly equal to what many candidates had raised in the entire first quarter of 2019. Second, the first round of polling after Biden's announcement showed that he was moving upward in the polling, leaving most of the rest of the field behind. This suggested that, at least at the start, the former Vice-President is facing much better conditions than he did in 1988 and 2008.
These numbers are reflected in the latest update to the RealClearPolitics polling average, which shows Biden pulling ahead of the field significantly. In that average, Biden stands atop the field with a 36.8% average and Vermont Senator Bernie Sanders sits in second place at 16.4%. These are the only two candidates averaging in the double digits. In third place in the average is Elizabeth Warren at 8.0%, followed by Kamala Harris at 7.4%, Pete Buttigieg 7.0%, and Beto O'Rourke at 4.6%. After that, we've got Cory Booker at 2.4%, with all of the other candidates averaging below 2.0%. As this chart shows, Biden is the only candidate who has seen his numbers rise recently, while Sanders and others have seen their numbers drop significantly and the rest of the field remains mired at the bottom: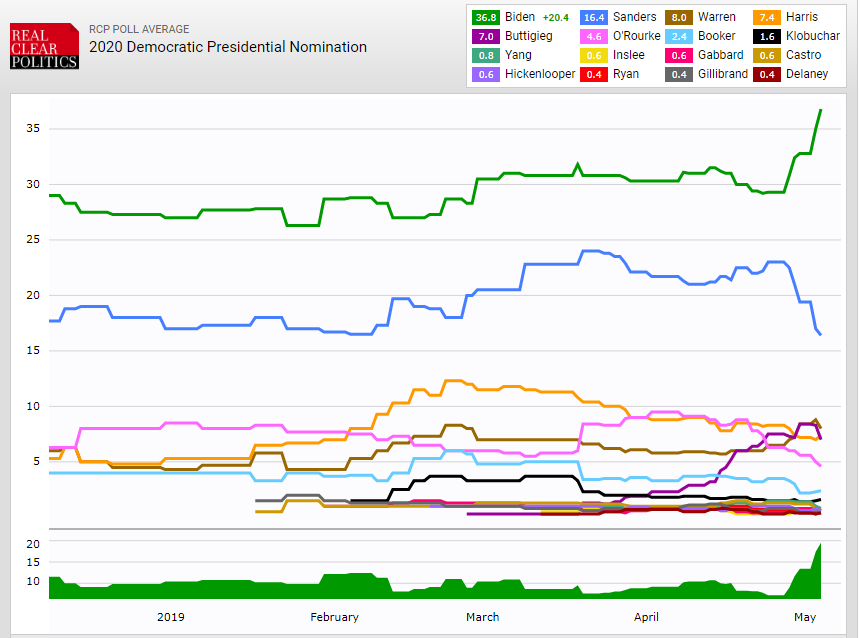 It's not unusual for candidates to get a favorable bump in their poll number after they formally enter a race, of course, so to that extent what's happening here isn't surprising. Additionally, it is very early in the 2020 race, obviously. The Iowa Caucuses are eight months away and debates don't even begin until the late summer. Given that, these polls are of limited value at best and mostly reflect name recognition on the part of voters, many of whom could change their mind several times before this race is over.
At the same time, though, Biden's post-announcement bump is better than any other candidate has gotten so far in the race and this is a fairly significant gain. Additionally, these numbers appear to be the best that the former Vice-President has done in any poll for his party's nomination. His 1988 campaign, for example, ended far too quickly for him to make much of an impact and in 2008 he was far behind Barack Obama, Hillary Clinton, and John Edwards before finally dropping out of the race shortly after the Iowa Caucuses.
The question going forward for Biden, of course, is whether he can sustain numbers like this or whether they will fade as the race goes on. To be certain, it is unlikely that he'll be able to maintain this momentum throughout the race and there will be moments in the future when he will be more seriously challenged for the front-runner spot whether it's by Bernie Sanders or some other candidate. Additionally, Biden's own penchant for gaffes could end up manifesting itself at some point in the future. For the moment, though, these numbers show that Biden's campaign rollout has been successful and that's going to help going forward.