Biden Drops First Ad In Iowa, Emphasizing Electability
Former Vice-President Biden has dropped his first television ad in Iowa, and it touches on his strongest selling point.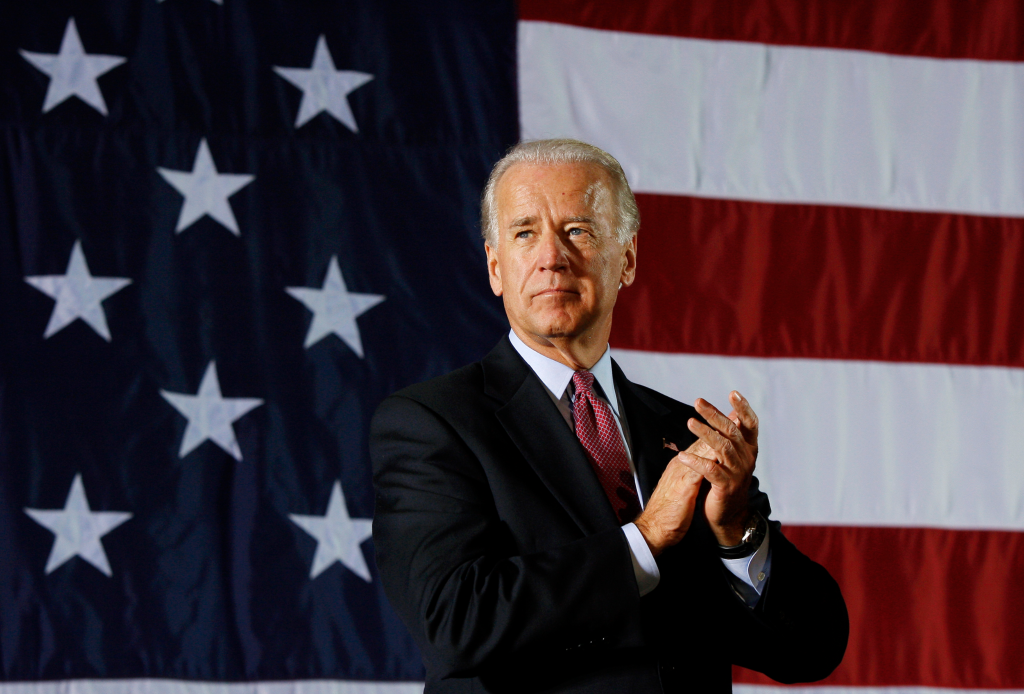 Joe Biden has dropped his first television ad in Iowa and, not unexpectedly, it focuses on his experience and on the fact that he can do for Democrats what they consider the most important thing, beat Donald Trump in the General Election:
Joe Biden is airing the first TV ad of his 2020 presidential campaign in Iowa Tuesday as part of a six-figure television and digital ad purchase in the first-in-the-nation caucus state.

The sixty-second television ad entitled "Bones" highlights the former vice president's work alongside former President Barack Obama and paints President Donald Trump as "an erratic, vicious, bullying president."

"We know in our bones this election is different. The stakes are higher. The threat more serious," a narrator says in the ad. "We have to beat Donald Trump and all the polls agree Joe Biden is the strongest Democrat to do the job. No one is more qualified."

"For eight years President Obama and Vice President Biden were an administration America could be proud of, our allies could trust, and our kids could look up to," the narrator says. "Together they worked to save the American economy, to pass the historic Affordable Care Act, protecting over 100 million Americans with pre-existing conditions."The ad, which is being released at the start of Biden's sixth visit to the Hawkeye state, will run in the Des Moines, Cedar Rapids, Quad Cities and Sioux City markets and will be accompanied by a digital ad campaign totaling nearly six-figures over the next few weeks, according to the campaign.
Here's the ad:
The main message in the ad, that Biden is the candidate best able to unite the country and beat Trump in November 2020, was also the theme of a talk that his wife, Dr. Jill Biden, gave on Monday in New Hampshire:
Jill Biden laid out the political calculus of her husband's presidential campaign in extraordinarily blunt terms on Monday, directly acknowledging that some voters may prefer other candidates but urging them to support Joseph R. Biden Jr. anyway, in an effort to defeat President Trump.

As Mr. Biden, the early poll leader, works — and sometimes struggles — to excite a Democratic base that has moved left since he last ran for office, Dr. Biden, campaigning in New Hampshire, called on Democrats to prioritize perceived electability over enthusiasm for individual contenders or their policies.

"You may like another candidate better, but you have to look at who is going to win," she said, addressing a gathering of educators. "And if education is your main issue, Joe is that person."

"Your candidate might be better on, I don't know, health care than Joe is, but you've got to look at who's going to win this election," Dr. Biden said. "And maybe you have to swallow a little bit and say, 'O.K., I sort of personally like so-and-so better,' but your bottom line has to be that we have to beat Trump."

Her remarks were first reported by NBC News.

A Biden aide noted that Dr. Biden had also said that many people in the room were not sold on her husband — a suggestion that she was simply trying to persuade.

"I know that not all of you are committed to my husband, and I respect that, but I want you to think about your candidate, his or her electability, and who's going to win this race," she said, pointing to polls showing Mr. Biden with consistent leads.

(…)

Many political strategists caution that it is far too early for general election matchup polling to be predictive of the outcome in November 2020. Still, Mr. Biden's allies have pointed to several surveys that do show him ahead of his rivals in matchups against Mr. Trump nationally or in key states including Ohio.

He and his allies often argue that of all of the Democratic candidates running, his more centrist approach, potential appeal to independents and longstanding ties to labor would help him win back states Mr. Trump won in the industrial Midwest.

Dr. Biden's unvarnished emphasis on pragmatism reflected that bet, even as many other candidates believe that the way to defeat Mr. Trump is by energizing young voters, particularly younger voters of color, through boldly progressive policy proposals.

"Electability is not only the most important issue, it's virtually the only issue," Dick Harpootlian, a South Carolina state senator and longtime friend of Mr. Biden's, said about Dr. Biden's remarks.

Asked whether he perceived the comments as an acknowledgment of enthusiasm challenges for Mr. Biden, Mr. Harpootlian replied: "This is not an admission of anything. It's an admission that he is the strongest person to beat Donald Trump. That's all it is."
It isn't surprising that the Biden campaign with start off its ad buys with a message focused on electability and the idea that the former Vice-President is the one best situated to beat the President in 2020. Since basically the start of the race, polling has shown fairly consistently that Democratic voters are most concerned with selecting a nominee who can win in November 2020. They rank it higher than selecting a nominee that they agree with the most, the nominee with the most detailed and appealing policy platform, or the candidate who is the glibbest and most articulate on the stump. All of this works to Biden's favor.
There is a risk in this strategy, of course. If voters come to doubt a candidate's electability, or if they stumble in the campaign in a way that calls into question their ability to take on the incumbent in the General Election then the entire logic for their candidacy fades away. This, I think, is why Biden dropped in the polls after the first debate in which he appeared to shrink the face of attacks from Senator Kamala Harris. Since then, though, Biden has been more aggressive on the campaign trail and did far better in the second debate than he had in the first. If he can keep that up, then he could remain the Democratic frontrunner for some time to come. This is especially true if Senators Warren, Sanders, and Harris continue to fight among themselves for the support of the party's progressive wing of the party. As things stand now, Biden's biggest task will be to stay on message. As long as he does that, he could end up being virtually unstoppable.