Biden Illegally Extends Eviction Moratorium
The President is in open defiance of the Supreme Court.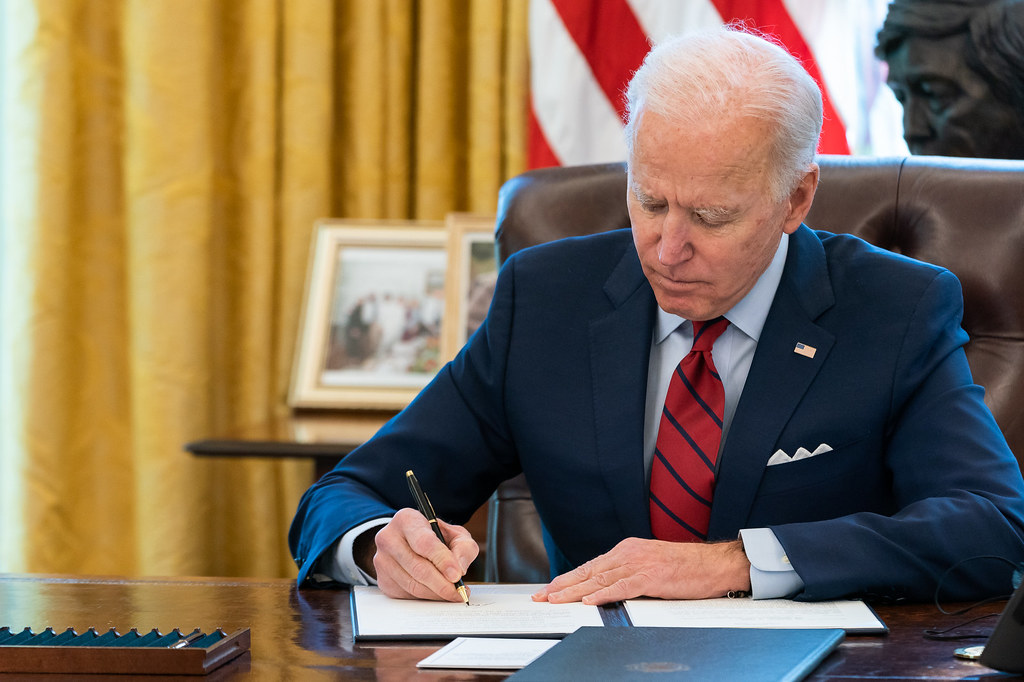 CNN White House reporter Stephen Collinson gets to the heart of the matter with "Biden shows he's ready to make drastic moves in Covid-19 fight — even if he's not sure they're legal."
Even President Joe Biden doesn't know whether his new federal eviction moratorium for renters is legal and sustainable. But crushing humanitarian and political pressure left him no choice but to take a chance on an emergency move.

The new US Centers for Disease Control and Prevention scheme was announced after the White House, hampered by a Supreme Court ruling and Congress' failure to act, had repeatedly argued it had no constitutional authority to extend the moratorium. Biden himself said on Tuesday that the new moratorium may not be constitutional, and is essentially an attempt to buy time to get backlogged funding out of state coffers and into the pockets of renters and landlords alike.

The conundrum threatened to force millions of Americans who lost incomes during the pandemic out of their homes in an appalling twist to what has already been an agonizing year. The problem was that the moratorium expired on July 31 at a moment when much of the more than $40 billion in funds already provided by Congress to pay landlords for back rent for tenants is still yet to be handed out by states and local authorities.

To head off mass evictions, the White House came up with a classic Washington fudge — not unfamiliar in an era of Capitol Hill gridlock — in which presidents, especially Democrats, have improvised with executive power to shield constituencies from consequences of a malfunctioning political system.
Collinson's opener is actually far too generous: Biden's legal team not only told him that this is illegal it told the public that. The Supreme Court already ruled that it was beyond the CDC's authority but, curiously in my view, allowed it to stand, anyway, on the grounds that the moratorium was about to expire and that abrupt intervention would have injected too much chaos into the system. That's good public policy but not how the Constitution is supposed to work.
Regardless, Biden is doing his best Andrew Jackson impression here: Justice Kavanaugh has rendered his decision, now let him enforce it:
While the public health argument is sound, it is not clear whether this formula will get around a ruling by Supreme Court Justice Brett Kavanaugh that stipulated that the original moratorium could only be extended if Congress gave the CDC "clear and specific" authorization to do so.

At first sight, this new CDC move appears to have ignored that requirement with a semantic argument. Hastily cobbled together and legally questionable, the plan appears highly vulnerable to new court challenges, meaning that the new moratorium — covering 90% of renters — may only be a stopgap solution.

The President told reporters on Tuesday that he had sought advice from constitutional scholars and still didn't have a complete picture about the chances of the new moratorium passing muster in the courts."I can't tell you. I don't know. There are a few scholars who say it will and others who say it's not likely to," the President said."But at a minimum, by the time it gets litigated, it will probably give some additional time while we're getting that $45 billion out to people who are in fact behind in the rent and don't have the money."
Considering that the move is likely to be politically popular—there are more tenants than landlords and the latter are likely disproportionately Republican, anyway—and that a Democratic Congress is certainly not going to impeach Biden for the crime of doing something unconstitutional that they otherwise like, there's likely no price to be paid here. But, certainly, the "norms" that everyone was talking about during the previous administration are being further strained with this move.
Beyond that, it's worth noting that the reason Biden is ignoring the Supreme Court here is not frustration over a likely Republican filibuster. An extension would not pass the Senate on a straight-up-or-down vote. So, really, he's circumventing both the courts and the legislative process here with this illegal action.
But, again, there's no obvious penalty for that.
If a court blocks the move, the White House can at least argue the President took bold action to protect needy Americans and can blame Republicans ahead of midterm elections for refusing to cooperate to stop citizens being kicked onto the streets.
Given Democrats' frustration with a Republican-dominated Supreme Court—exacerbated by reasonable belief that the process by which that domination was achieved was illegitimate—this is unlikely to be the last time Biden or other Democratic administration snub their nose at the courts.
UPDATE: For a contrary take, see Mark Tushman ("The Eviction Moratorium and Constitutional Norms"):
What could/should President Biden do/have done under these circumstances? He's been given legal advice that a course of action that is politically attractive (and that, for all we know, he would love to take) doesn't have a defensible legal grounding. And, as a matter of prediction – "what the courts will do in fact" – we should be quite confident that were he or the CDC to rely on the CDC's prior, aggressive legal interpretation of its authority, an injunction would issue in short order. And, similarly as a matter of prediction, we can be reasonably confident that, though it might take a bit more time, extending the moratorium by relying on creative or aggressive interpretations of other statutes or of the President's inherent power would also be enjoined.

Still, at the moment there's no injunction in place. And, indeed, there's not even an authoritative holding by the Supreme Court asserting that the CDC lacks statutory authority to impose the moratorium. As a matter of constitutional/political morality/law, what should we say about a decision extending the moratorium in these circumstances?

One view is a strong version of Holmes's "bad person" theory of law's content. All that matters are the sanctions the courts will attach to the course of action. And, in these circumstances, no sanctions will attach to extending the moratorium: without an injunction in place, no one is "defying" the courts by acting in a manner inconsistent with firmly grounded predictions about what the courts will say about the law when they get a chance. And, acting on this view, extending the moratorium would be (from the President's perspective) morally valuable because it would give some renters a few more weeks of security in their housing.
There's more but that's the gist. But Josh Blackmun ("What Happened to the Legality of the CDC Eviction Moratorium Between Saturday and Tuesday?") disagrees:
[Last] evening, the CDC issued a 19-page order that extends the eviction moratorium in certain high-transmission areas. If I had to guess, this order had been vetted, but the politicos were unwilling to release it for fear of a Supreme Court rebuke. But when the pressure mounted, President Biden caved, and followed Tushnet's strategy. He decided to call Justice Kavanuagh's bluff. Now, it will be the evil Supreme Court, and not the President who has to take the political hit.
In a follow-up post ("Presidential Maladministration in the Biden Administration") he adds:
Yesterday, I gave President Biden some credit: he was willing to direct his administration to adopt a popular policy the courts would probably stop. After all, there was no binding injunction, so nothing stopped Biden from doing so. He took a page out of Orval Faubus's playbook.

My praise was premature. Shortly before the CDC announced the measure, President Biden shirked personal responsibility for the order, which he acknowledged was probably unlawful. 

[…]

In a few words, Biden shined a bright light on how his executive branch functions. The buck does not stop with him. And he won't even take accountability when his CDC takes a popular, but legally dubious executive action. He would not tell DOJ or CDC what to say. They work for him! We aren't talking about some prosecutorial issue that requires independence. This question concerns the duty of faithful execution. He has a constitutional obligation to make sure his subordinates comply with the law. But Biden simply stood on the sidelines.

[…]

In the past, I wrote that courts should be extra skeptical when a new administration reverses the position of a prior administration, and discovers a new source of statutory authority. Here, the Biden Administration reversed itself! On Saturday, the executive branch said it lacked switched sides, released a 19-page opinion (that was no doubt vetted by OLC), and found that authority! And the President acknowledges it will likely get stopped in court, but said the litigation will buy some time to distribute funds. And he's daring the Supreme Court to leave the policy in place long enough so all of the funds can be distributed. This is a direct barb at Justice Kavanaugh.

Litigants should quote President Biden in every pleading, like they did with President Trump. Not even the chief executive thinks this measure is lawful.
I also commend Ilya Somin's "The CDC's New Eviction Moratorium Has Virtually all the Same Flaws as the Old" and "A Takings Clause Lawsuit Against the CDC Eviction Moratorium," which take on other angles on the matter.