Bill Clinton More Popular Than George W. Bush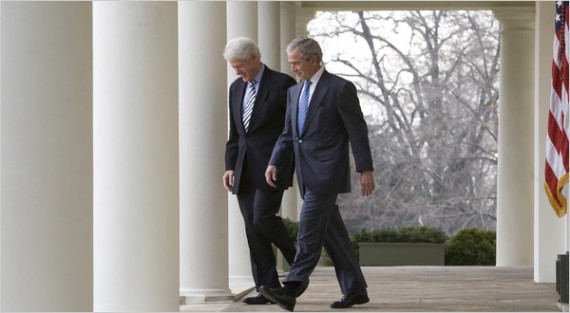 A new Rasmussen poll of the public's attitude toward President Obama's two most immediate successors shows much more fondness for the Clinton era than the Bush years:
Democrats see Bill Clinton as a key factor in embattled Senator Blanche Lincoln's Arkansas primary win last week and a new Rasmussen Reports national telephone survey shows that 51% of voters have a favorable opinion of the former president. Forty-six percent (46%) regard him unfavorably.

Those numbers are a bit better than the comparable ratings for George W. Bush. Forty-five percent (45%) offer a favorable opinion of him while 53% say the opposite.

Twenty-two percent (22%) now say Clinton was one of America's best presidents ever, while 15% now say he was one of the worst. Sixty-two percent (62%) put him somewhere in between the two.
This isn't really all that surprising. After all, President Clinton's time in office was one of relatively strong economic growth and Clinton himself left office with an approval rating above 60%.
Bush, on the other hand, presided over recessions at the beginning and end of his Presidency as well as two controversial wars so that, when he left office, he had a disapproval rating nearing 60%. To the extent that President, largely unfairly, get credit or blame for the economic climate they preside over, it's pretty easy to see why people would have a nostalgia for the 1990s rather than the 200s.
There is some good news for Bush, though:
The latest numbers, for Bush, bleak as they are, mark a turnaround of sorts for the former president. Just before he left office in January 2009, Bush was rated one of the five worst presidents in U.S. history by 57% of Americans.
And at least he's managed to redeem himself a little in the eyes of the public, unlike his Vice-President:
President Obama's immediate predecessor in the White House is more popular than the man who served as his vice president for eight years. Thirty-four percent (34%) have a favorable view of Cheney but 61% view Cheney unfavorably. That latter figure is up eight points from a year ago.
Perhaps that's because Bush has remained relatively quiet, while Cheney has chosen to take on an even more public role than he had when he was Vice-President.