Bill Nelson Looking Vulnerable In Florida
Rick Scott is pulling in impressive fundraising numbers, giving Democrats reason to worry that they'll have another Senate seat to worry about in November.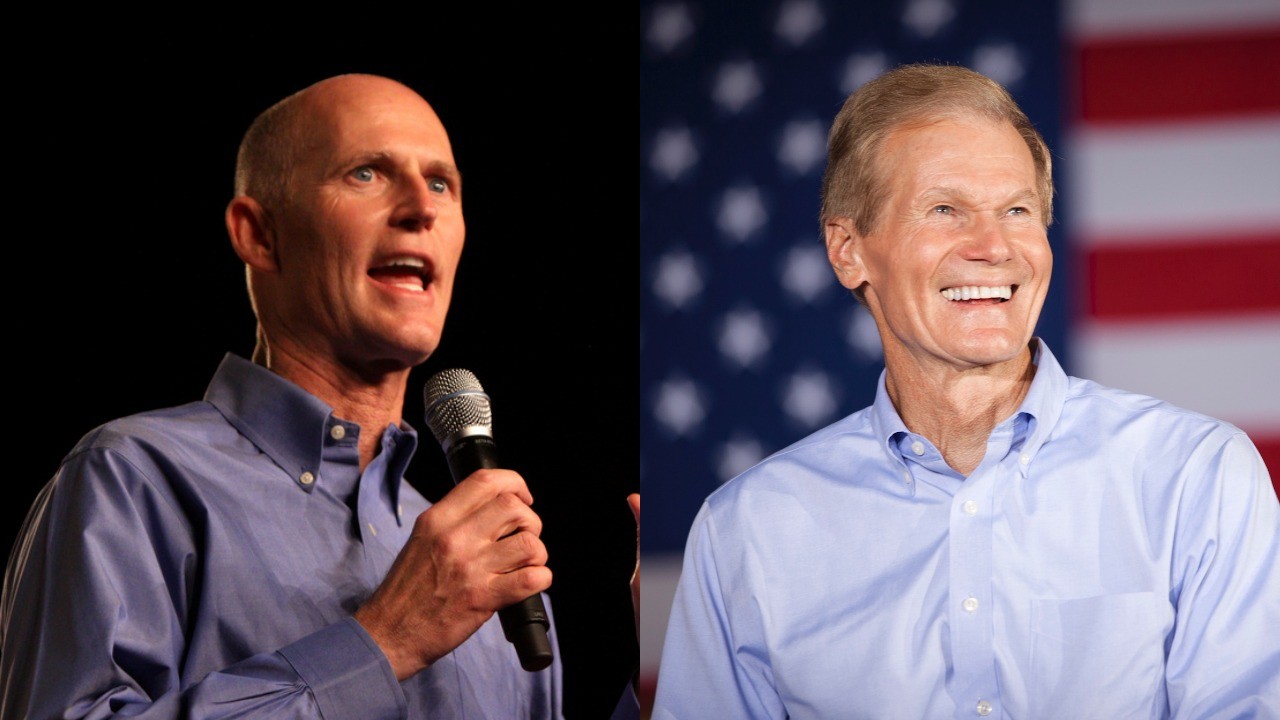 The newest round of fundraising numbers are showing signs that Democratic Senator Bill Nelson of Florida could be in trouble in his highly anticipated match-up against outgoing Governor Rick Scott, who is barred by term limits from running for re-election and has thrown his hat in the ring for the Republican Senate nomination:
TALLAHASSEE — Democrats up and down the midterm ticket in Florida are starting to worry as they look at the green wave of cash that Florida Gov. Rick Scott is taking in for his U.S. Senate campaign.

"He's putting up the type of numbers that can tilt the whole playing field," said state Rep. Evan Jenne, a Democrat from deep blue Broward County.

The nationally watched Senate race is pitting two-term governor Scott, a Republican, against incumbent Sen. Bill Nelson (D-Fla.). Scott, a close ally of President Donald Trump, has a deluge of cash support from his official campaign and from outside groups that are helping fund it.

The surge to Scott's campaign, as documented in new campaign finance reports, puts stress on national Democrats eager to knock him off. Groups like the Democratic Senatorial Campaign Committee are fighting Senate battles in swing states across the country, but will need to keep serious resources in Florida to help counter Scott's spending.

Scott, a Republican worth $232 million, and two committees supporting his bid raised just over $20 million last quarter, according to new campaign finance reports. That number does not include the personal money Scott has likely put into his campaign, a number that has not yet been reported.

Scott's official campaign alone raised $10.7 million, a massive quarterly haul, according to campaign finance reports filed this week.

New Republican, a super PAC backing Scott that can't coordinate directly with the campaign, raised $7 million last quarter, while the Rick Scott Victory Committee, a committee that has joint fundraising agreements with both his official campaign and the National Republican Senatorial Committee, raised more than $3 million. Of that, $800,000 was transferred to Scott's official campaign, and $2.2 million was transferred to the NRSC, which will likely use the money to boost Scott's race.

It's a massive fundraising network that has helped Scott dwarf Nelson's fundraising efforts, which have been the highest since he came to the Senate in 2000. Nelson raised $4.4 million over the last three months, his best quarterly haul.
Before he can take on Nelson directly, of course, Scott must first win the GOP nomination in the primary on August 28th, but it does not appear that he has much to worry about in that regard. The Governor's decision to enter the race has kept other statewide Republicans from entering the race, with most of their focus being on the race for the open Gubernatorial spot, which will also be decided at the August primary. This leaves only one other candidate, Rocky De La Fuente, a businessman who had also stood as a potential candidate for the Senate against Dianne Feinstein in California in a race where he fell short in that state's jungle primary. While there has been a limited amount of polling of the race for the Republican nomination, it shows Scott with a seemingly insurmountable lead that makes his victory inevitable barring some kind of unforeseen event. In the General Election match-up between Scott and Nelson, meanwhile, the polling as detailed both by Wikipedia and by RealClearPolitics indicates that the race is very close, an indication that Nelson is going to have a race on his hands in the General Election. Because of this, all of the major race rating agencies — including the Cook Political Report, the Rothenberg Report, Larry Sabato's Crystal Ball, Daily Kos, Fox News, CNN, and RealClearPolitics — have the race listed as a "Toss-up," suggesting that Bill Nelson is likely in for the toughest election battle he's had since being elected to the Senate in 2000.
Nelson, of course, is in the same position as several other Democratic Senators this year in that he is running for re-election in a state that President Trump won in 2016 and in which the Republican Party has generally dominated statewide politics since Jeb Bush was elected Governor there in 1998.  While the Democrats had managed to win the state in Presidential elections in 2008 and 2012, President Trump ended up winning the Sunshine State by roughly 100,000 votes in 2016. Additionally, while Scott had narrowly won his elections in 2010 and 2014, he has nonetheless maintained relatively high personal job approval numbers, a fact that is seemingly reflected in the fact that he is performing well against a long-term incumbent such as Nelson in their head-to-head polling. While Nelson has not been seen as being nearly as vulnerable as other red-state Democrats such as Joe Manchin, Heidi Heitkamp, and Joe Donnelly, the entry of Scott into the race and the huge fundraising edge that gives the GOP in the state suggests that this could be another headache for Democrats in their bid to grab back control of the Senate this November.