Blue Trumps Black and White
A former RNC chair says a black man's life isn't worth a ham sandwich.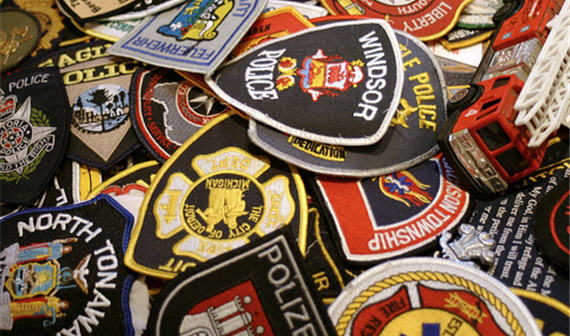 Former Republican National Committee chairman Michael Steele is dismayed by the non-indictment of the cops who killed Michael Brown and Eric Garner.
The Hill ("Former RNC chairman: 'Black man's life not worth a ham sandwich'"):
Former Republican National Committee Chairman Michael Steele on Wednesday criticized grand jury decisions to not indict white police officers in the deaths of black men in New York and Ferguson, Mo.

"They tell us, at least, a prosecutor can indict a ham sandwich. Well clearly a black man's life is not worth a ham sandwich when you put these stories together. And that is the frustration," Steele said on MSNBC.

Earlier in the day, a Staten Island grand jury declined to indict a New York police officer in the choking death of Eric Garner over the summer. Video captured by a bystander showed police holding down Garner, with one officer putting his arm around the asthmatic man's neck.

"While the death of Eric Garner was tragic, all New Yorkers should respect the decision of the Staten Island grand jury not to indict NYPD Officer Daniel Pantaleo," Rep. Peter King (R-N.Y.) said.

"During this tense time in New York, it must be noted and remembered that no organization has done more to safeguard the lives of young African Americans in New York City than the NYPD," he added.

Steele agreed with King's remarks but said the newest case continued a narrative from another grand jury's decision last week not to indict a white police officer in the August shooting death of Michael Brown, an 18-year-old black man, a decision that sparked protests across the country.

"I think this is part of the same narrative, it's the same linear story as far as I'm concerned," Steele said.

"We very much appreciate the protections and the role police play in our communities," Steele continued, but said clear boundaries have emerged over the past couple of years.

"The facts and the evidence all put into the proper context begs that this at least gets to a jury of the individual's peers so that we as a community can go through this process, begin the healing and begin to take, I guess, a more open look at our criminal justice system."
While the outcomes of the Brown and Garner cases may well have been different had they been white, the key issue is not their race but that their killers were police officers.
It's simply beyond question that police treat black men differently than they do white men in similar circumstances. Minor white criminals would almost certainly have been treated differently. And white victims generate more sympathy and outrage than black victims among both prosecutors and jury pools. We have decades of anecdotal and scientific studies on both counts. So, yes, race is a major factor in these stories.
But Steele—for whom I have far more respect than I do King—vastly overstates the case here. Those who kill black men are indicted all the time. Even if the killer is white. The reason that the killers in these two cases weren't charged is not that they were white and their victims were black but because the killers were police officers on duty and overwhelming sentiment on jury pools mirrors King's.
As with the military, the public has extreme deference for the police. In both cases, they put their lives on the line on a daily basis to protect the rest of us. In both cases, they're allowed to kill to achieve that end. And, when some cross the line and kill people they shouldn't have, even in direct violation of their training, there is extreme reluctance to punish them because of the aforementioned deference. The average citizen can't imagine putting himself in harm's way and can imagine overreacting under the stress of a confrontation. That soldiers and cops are specially selected and trained not to do that—and assume the responsibility to risk their own lives to protect innocents as a professional obligation—gets lost in the equation because, essentially, the citizenry feels guilty about holding them to account.
In the wake of the non-indictment in the Garner case, Dan McLaughlin tweeted, "As my NYPD dad always said, NYPD is 25,000 of the best men you'll ever meet, but there's 35,000 cops." I don't know whether the numbers are right but the sentiment certainly is.
The big city police departments, particularly NYPD and LAPD, are among the finest law enforcement organizations in existence. They pay well and can therefore be highly selective in screening applicants, whom they then train at outstanding academies and put under the supervision of seasoned professionals. They wash out those who can't cut the mustard in the early going. (Smaller police departments are much more likely to be populated by poorly trained soldier wannabes.) Even so, a significant number of bullies, cowards, racists, and thugs make it through. Some are good guys turned bad by the stresses of the job. And there's a natural tendency for cops to see themselves as "us" and the entire citizenry—and certainly, young black males—as "them."
Beyond that, as many have noted in recent weeks, there's a symbiotic relationship between police and prosecutors that makes punishing the bad apples difficult. The police themselves naturally rally around their own under all but the most egregious of circumstances. And prosecutors are extremely reluctant to alienate the good cops—whose help they need on a daily basis to do their job—in order to go after the bad ones. Further, prosecutors are likely to see themselves as members of the same "team" as the police and are naturally going to sympathize with cops who make a mistake that results in the death of civilian—especially one who's a criminal.
This is a depressing situation because it's not easily fixable. Some have suggested all cases where police kill citizens be turned over to federal authorities to lessen the conflict of interest. I don't know that there's a Constitutional basis for doing so but am sympathetic to the idea. But the grand and petit jury pools would still be comprised of local citizens. Police officers are almost always going to be harder to prosecute than ordinary citizens absent a vast change to to the culture.