Borders Headed For Liquidation, Remaining Stores Likely To Close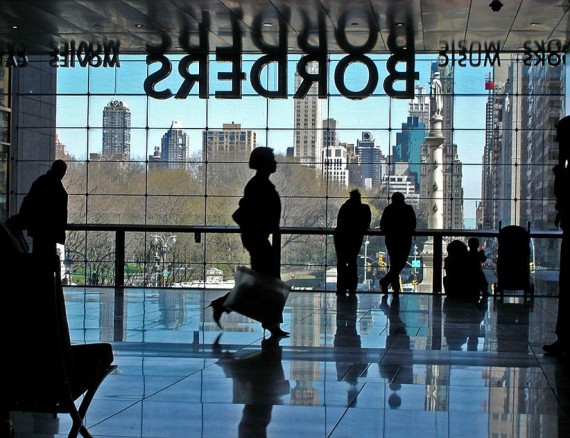 The Borders Books bankruptcy case hasn't been going well, mostly because they've been unable to find a buyer willing and able to buy the company as a going concern:
Borders' bid deadline passed Sunday without any offers to keep the U.S.'s second-largest bookstore chain alive, so the Ann Arbor, Michigan-based company moves closer to liquidation.

The company still has slim hope, however, as the Wall Street Journal reports Monday that Borders was in discussions late Sunday with Books-A-Million for some sort of deal. Books-A-Million is based in Birmingham, Alabama, operating 231 stores in 23 states.

But it's not likely those discussions, or others being entertained at the last minute by Borders, will keep the majority of the chain's 400 stores open, even if some sort of deal is reached.

Likely Borders, which employs 11,000, is working at the last minute to salvage some a partial solution, allowing some of its prime stores among the company's 259 superstores to be salvaged, reopening under another brand, like Books-A-Million, while the Borders brand completely closes.

Borders had set a deadline for 5 p.m. Sunday for offers as the company navigates through U.S. Bankruptcy Court, trying to avoid liquidation, but no offers were obtained. The company could still pull together a last minute deal, however, but it must do so in less than two days, as liquidation looms.

Should Borders fail in finding a bidder, Barnes and Noble would be left as America's only remaining true national chain.

Borders had appeared in the past two week to find a purchaser, but private-equity investor Najafi Co.'s $215 million offer for Borders is no longer on the table. The company's head, Jahm Najafi, told Bloomberg through e-mail response his company would not participate in the auction. Najafi's bid faced opposition in bankruptcy court from creditors who feared his company planned only to liquidate Borders.

Najafi says he tried to remove a clause in his offer allowing him to liquidate Borders to satisfy creditors by working with large U.S. publishers to get satisfactory shipping terms for new product, but at least one would not agree, and Najafi says he hs backed off completely — leaving Borders facing liquidation if another buyer is not found immediately.
The last minute Books-A-Million talks seem to be the only hope, but even there they'd be subject to approval from publishers who have been shipping content to Borders stores on a cash basis only for months now. In any case, Books-A-Million is a much different company than Borders and seems unlikely to fit in well in some of the higher end locations where Borders stores are located.
It's inevitable, perhaps, especially since Borders failed to follow the example of Barners & Noble and develop a rival to Amason's Kindle electronic reader. That, combined with the fact that Amazon itself put bricks-and-mortar book stores at a competitive disadvantage, probably meant that it was only a matter of time before either Borders or Barnes & Noble bit the dust.
Update: And it now looks like the last minute talks with Books-A-Million have failed:
NEW YORK (MarketWatch) — After a failed attempt to find buyers to stay as a going concern, bankrupt U.S. bookstore operator Borders Group Inc. said late Monday it will sell its store assets to liquidation firms Hilco and Gordon Brothers and submit the plan for bankruptcy court approval. The bookstore operator, the second largest after Barnes & Noble Inc. , operates 399 stores and employs about 10,700 employees. Liquidation is expected to begin for some stores and facilities as soon as Friday, with a phased rollout of the program to conclude by the end of September, the company said in a statement. "Following the best efforts of all parties, we are saddened by this development," said Borders Group President Mike Edwards. "The headwinds we have been facing for quite some time, including the rapidly changing book industry, eReader revolution, and turbulent economy, have brought us to where we are now."
Sad, but as I said this morning, inevitable