Boris Johnson Wins Tory Leadership Fight, Will Become Next British Prime Minister
Boris Johnson won the fight for the leadership of Great Britain's Conservative Party and will soon become the next British Prime Minister. That was the easy part.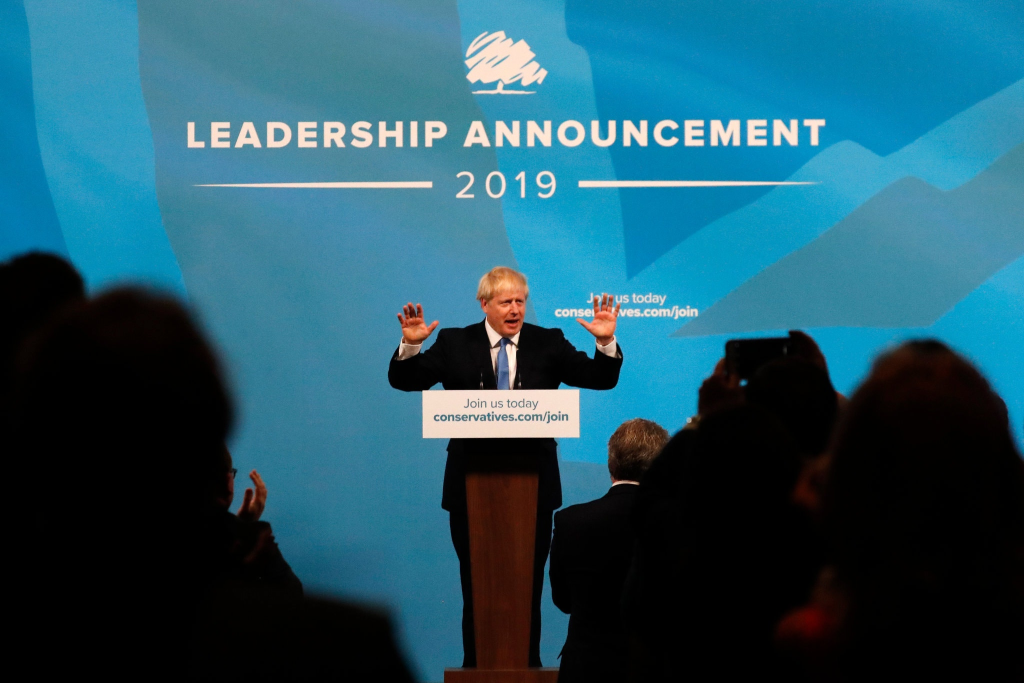 As expected, Boris Johnson has won the fight to become the next leader of Great Britain's Conservative Party and will, most likely as soon as tomorrow, officially become the 77th Prime Minister of the United Kingdom and the 14th to serve under Queen Elizabeth II:
LONDON — Boris Johnson, Britain's brash former foreign secretary, on Tuesday won the contest to succeed Prime Minister Theresa May, with his party handing the job of resolving the country's three-year Brexit nightmare to one of the architects of the project, and one of the country's most polarizing politicians.

Mr. Johnson beat Jeremy Hunt, his successor as foreign secretary, in the battle for the leadership of Britain's governing Conservative Party, winning 66 percent of the postal vote held among its membership. Although the Conservatives' working majority in Parliament is very small, it appears to be enough to ensure that Mr. Johnson will succeed Mrs. May as prime minister on Wednesday.

He would take office at one of the most critical moments in Britain's recent history, immediately facing the toughest challenge of his career, to manage his nation's exit from the European Union in little more than three months. But his policy swerves, lack of attention to detail and contradictory statements leave the country guessing how things will unfold.

"I know that there will be people around the place who will question the wisdom of your decision, and there may even be some people here who still wonder quite what they have done," Mr. Johnson told the party meeting in London on Tuesday at which the vote results were announced.

While he has a mandate from his party's dues-paying members, the hard facts that brought down Mrs. May have not changed: deep divisions on Brexit among Conservatives in Parliament, implacable opposition from other parties, and the insistence of European officials that they will make no major concessions.

Mr. Johnson has doubled down lately on Brexit, promising to take Britain out of the European Union by the Oct. 31 deadline "do or die," if necessary risking the economic dislocation of leaving without any agreement, rather than seek an extension.

"We're going to get Brexit done on Oct. 31, we're going to take advantage of all the opportunities that it will bring in a new spirit of can-do, and we're once again going to believe in ourselves," he promised on Tuesday. "Like some slumbering giant, we're going to rise and ping off the guy-ropes of doubt and negativity."

Mrs. May and Mr. Johnson will visit Queen Elizabeth II at Buckingham Palace on Wednesday, for her assent to the transition. The short journey from Parliament to the palace will be the culmination of a colorful career for Mr. Johnson, a former journalist whose ambition as a child was to become "world king," who wrote a biography of his hero Winston Churchill, and who has been praised by President Trump.


Mr. Trump tweeted congratulations to Mr. Johnson, adding, "He will be great!"

Mr. Johnson's rare mix of charismatic bluster and an absent-minded air — either charming or maddening, depending on the listener and the moment — and his unusual gift for communicating with voters have made him one of the country's best-known politicians for years, and carried him to two terms as London mayor.

But his support for Brexit, and his penchant for pronouncementsthat do not always hold up under scrutiny, have also made him a highly divisive figure.
More from The Guardian:
Boris Johnson will become Britain's next prime minister after winning a convincing victory over Jeremy Hunt in the Conservative party leadership race.

The former mayor of London, who has long cherished an ambition to lead his country, won 66% of the votes – 92,153, to Hunt's 46,656. Turnout was 87.4% among 159,320 party members.

In a characteristically lighthearted acceptance speech, Johnson conceded that even some of his own supporters may "wonder quite what they have done".

He claimed the Tory party had historically demonstrated it could "manage the jostling instincts in the human heart" – such as those of owning a home, and helping the poorest in society.

"Today, at this pivotal moment in our history, we again have to reconcile two noble sets of instincts – between the deep desire for friendship and free trade and mutual support and security and defence between Britain and our European partners; and the simultaneous desire, equally heartfelt, for democratic self-government in this country".

He reminded his audience of ministers and party staff of his campaign mantra: "Deliver Brexit, unite the country and defeat Jeremy Corbyn."

Saying "some wag" had pointed out that this spelled "dud", he joked that the final e – "E for energise" – had been left out. "I say to all the doubters: dude, we are going to energise the country!'"

And Johnson said he would "get Brexit done by 31 October" with a "new spirit of can-do".

"We are once again going to believe in ourselves and what we can achieve, and like some slumbering giant we are going to rise and ping off the guy-ropes of self-doubt and negativity."

The result of the contest was announced by the joint chair of the backbench 1922 Committee, Cheryl Gillam. Her colleague, Charles Walker, first urged MPs to be "kinder" to the new leader than they had been to Theresa May.

Brandon Lewis, the Conservative party chair, introduced the slick event at a conference centre in Westminster, saying the race had shown that his party was fundamentally united.

Johnson's victory was almost immediately welcomed by Donald Trump, who tweeted: "He will be great!"

Johnson will address Tory MPs at a meeting of the 1922 Committee on Tuesday afternoon, as well as thanking party staff and his own campaign team.

He will not take office formally until Wednesday afternoon. May will face her final prime minister's questions in the House of Commons before tendering her resignation to the Queen.

Johnson will then go to Buckingham Palace himself for his appointment to be confirmed – before being driven to Downing Street to give a speech in front of the black door of No 10.

He takes charge at a perilous political moment. The Conservatives' wafer-thin parliamentary working majority is expected to be eroded further next week – to just two – if the Liberal Democrats win the Brecon and Radnorshire byelection.

Johnson has faced a furious internal revolt even before arriving in Downing Street, with several key cabinet ministers, including the chancellor, Philip Hammond, saying they will resign rather than serve under him.

They have been alarmed by Johnson's insistence that he is willing to countenance leaving the European Union without a deal on 31 October, rather than postpone Brexit once again – even if that meant proroguing parliament.

(…)

Johnson had been the runaway favourite to become leader after securing support from both wings of the bitterly divided Tory party, from the health secretary, Matt Hancock, to the chair of the European Research Group, Jacob Rees-Mogg.

He is regarded by colleagues as an impressive political campaigner, and the man with the best chance of seeing off the formidable electoral challenge from Nigel Farage's Brexit party, which beat the Tories soundly in May's European elections.

May will leave Downing Street on Wednesday after a three-year premiership overwhelmingly defined by the failure of her government to implement Brexit.

Johnson is likely to embark on fresh negotiations with EU leaders and key Brussels decision-makers as soon as possible, with a view to securing changes to May's deal in time for the Halloween deadline.

But with no secure majority, and Labour determined to demand a referendum on any deal he brings back from Brussels, many MPs believe he could be forced to call a general election within months in order to win a mandate for his plan.
In the end, the vote among the roughly 160,000 "card-carrying" members of the Conservative Party who were eligible to vote in the election was not even close. Johnson received roughly 92,000 votes while (soon to be former?) Foreign Secretary Jeremy Hunt received roughly 46,000 votes. While it was expected that Johnson would win the vote in the end, I'm not sure that it was expected that he would win by this large a margin. As the two men campaigned across the country at forums for the benefit of the voting members, though, Johnson sought to make clear his Brexit bona fides, reflecting the strong support for exiting the European Union that is apparent among these most committed of Tory stalwarts. Johnson did so by putting himself forward as the much more pro-Brexit of the two candidates and by explicitly saying that he would remain committed to getting the United Kingdom out of the European Union by the current deadline of October 31st.
This goal is going to be harder to accomplish than Johnson makes it sound, though. As outgoing Prime Minister Theresa May found in her final months in office, getting a Brexit deal in place is easier said than done. Theresa May tried to do it and had apparently successfully negotiated an agreement with European Union negotiators only to see that deal face in a historic rebuke when the House of Commons rejected the May government's Brexit proposal, a development which put the entire Brexit process in doubt and raising the possibility of a so-called "hard Brexit" in which they would be no withdrawal deal at all.
Originally, of course, the deadline was supposed to be on March 29th, but when it became clear as that date approached that there would be no deal approved by Parliament, the E.U. negotiators acceded to requests from May to extend the deadline. At first, the deadline was extended to mid-April but that was quickly extended another six months when it was clear that there was no way that May would be able to come close to a deal that would clear Parliament in time. This extension came after the E.U. leadership had initially balked at the idea of extending the deadline, but the domestic political situation in the United Kingdom made it clear that a mid-April deadline was impractical.
To ensure that the October 31 deadline is met, Johnson has promised that he would be willing to accept a "hard" no-deal Brexit and has said in the past and recently that he would be willing to suspend Parliament to make sure that happens. To be sure this would be an extraordinary step that has a good chance of blowing up in Johnson's face early in his tenure. Opposition politicians are already threatening lawsuits if Johnson takes this step, and it is one that is likely to prove to be unpopular with a public that has grown ambivalent about Brexit itself. It could also be stopped altogether since Johnson would need royal assent to suspend Parliament and there is at least some possibility that Queen Elizabeth II would decline Johnson's request which would apparently be within her discretion.
Whether Johnson can succeed where May failed is unclear at this point. Whatever he does, though, could put Johnson's hold on power on the line just as the nation needs stable leadership. As noted above, and as I've noted before, public opinion about Brexit has become far more unsure than it was three years ago when the 'Leave' forces won the referendum by an exceedingly narrow margin. Taking the extraordinary step of suspending Parliament to get Brexit through, rather than seeking an extension and trying to work out a deal acceptable to all sides, seems likely to prove to be highly politically unpopular. Additionally, economists and financial analysts have forecast that Brexit will have a downward impact on the British economy and that a hard Brexit would have the most negative impact of all. If that turns out to be an accurate forecast, then the fact that Johnson will be entering office with a "mandate" given by what amounts to far less than 1% of the British population could mean that his tenure in office will be much shorter than he probably hopes.