Cain Accuses Perry Campaign of Smears
It is not unreasonable for Cain to look at the Perry campaign as the source of his current woes.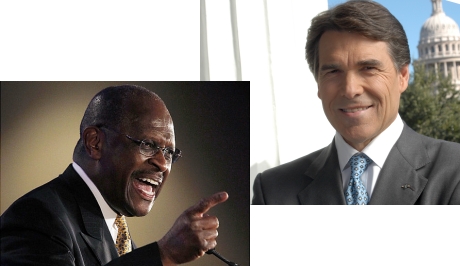 As Doug Mataconis noted yesterday, the Cain campaign is accusing the Perry campaign of being being behind investigations of sexual harassment allegations.
Via the NYT:  Cain Says Perry Is Orchestrating a Smear Campaign
As he sought to contain the fallout that consumed his campaign for a third day, Mr. Cain shifted his blame from the news media to the Perry campaign. He accused a top political adviser to Mr. Perry of leaking details of one allegation, saying the adviser learned of it while working for Mr. Cain's failed bid for the Senate in 2004.
Welcome to the big leagues.  This is what hardball politics looks like and this situation underscores why having one's first major political contest be a presidential run may not be such a hot idea:  all revelations are new revelations and the candidate in question has no practice at dealing with such a situations.
That Perry's campaign is behind this story strikes me as likely.
1.  Perry has the most to gain if Cain falters.  Perry remains, at the moment, the best NotRomney on the docket after Cain.  While I personally think it unlikely that Perry can seriously challenge Romney at the moment, it is not an unreasonable calculation to assume that in the absence of any other viable option that much of Cain's support would default to Perry should Cain suffer serious damage.
2.  Perry is known as a fierce campaigner.  As Republican strategist Alex Castellanos put it:  "Rick Perry's never won races in Texas because he's loved or because he's eloquent.  He's won races because he rips his opponents' lungs out."
Of course if, as I think likely, that the Perry campaign is behind this issue, it adds considerable irony to Anita Perry's laments (see here and here) concerning the amount of scrutiny one receives in a presidential campaign.