Anita Perry: It's Obama's Fault That My Son Had To Quit His Job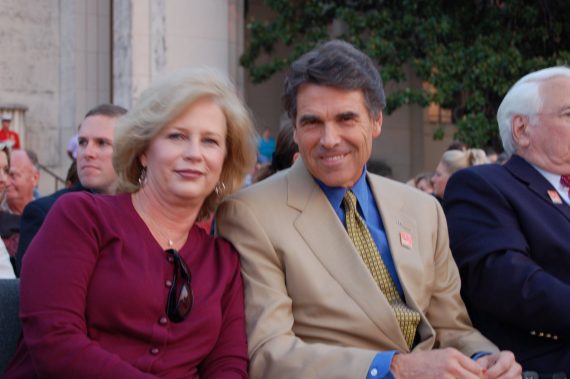 First there was yesterday's comment that she and her husband had been "brutalized" over the course of the less-than-two-months he's been in the race. Today, Anita Perry blamed Obama for the fact that her son had to resign from his job as a financial analyst to work on his father's campaign:
Rick Perry's wife Anita said Friday that she could sympathize with the plight of the unemployed because her son was forced to resign his job to take a more active role on his father's presidential campaign.

Anita Perry blamed the Obama administration for her son having to resign his position.

"My son had to resign his job because of federal regulations that Washington has put on us," Mrs. Perry said while campaigning for her husband in South Carolina, after a voter shared the story of losing his job.

"He resigned his job two weeks ago because he can't go out and campaign with his father because of SEC regulations," she continued, referring to the Securities and Exchange Commission. "He has a wife… he's trying to start a business. So I can empathize."

"My son lost his job because of this administration," she said a few minutes later.

According to press reports, the Perrys' son, Griffin, worked at Deutsche Bank.

It was unclear what SEC regulations Perry was referring to, but the commission adopted a new rule last year aimed at limiting political activity on the part of investment advisors.
No, Mrs. Perry, your son choose to leave his job to volunteer on his father's campaign for the Presidency. There's a difference.
Update: This appears to be the SEC Ruling [PDF] that Mrs. Perry is referring to. Based on my cursory review of the 202 page document, it appears to be aimed at limiting the danger of "pay-for-play" activities by investment advisers.