Can Americans Unite In Response To Tragedy Anymore?
National tragedies, whether man-made or natural disasters, used to bring Americans together. Now they just seem to pull Americans apart.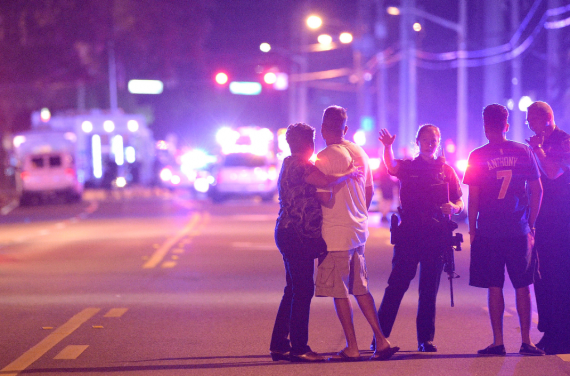 New York Times columnist Anand Giridharadas wonders what happened to the days when a national tragedy like the apparent terrorist attack in Orlando, Florida would bring the nation together rather than sending everyone into their respective political corners to turn tragedy into yet another opportunity to push their political agenda:
The United States, a nation that once prided itself on pulling together when faced with tragedy and crisis, seems increasingly prone to factionalism even in the most somber of moments.

Over the last week, as the country processed the horror of the massacre in Orlando, Fla., it became clear that the dead there would receive no period of mourning before being appropriated by the proponents of identity politics, who all but picked over the bodies to advance their own agendas and viewpoints.

Barely had the shooting stopped when a furious battle to claim the victims began. It was wrong to frame the attack as being on gays. It was wrong to "straightwash" an attack on gays. The "Latinx" identities of the victims were being "diluted." Trans people were being left out of the picture.

To observe this was to witness what the novelist Chimamanda Ngozi Adichie has called the temptation of "the single story": to "show a people as one thing, as only one thing, over and over again, and that is what they become."

Some Americans seemed to have their favored one thing of what they wanted the victims to be, and for them the depth of the mourning seemed to depend on the elevation of that one thing above the rest.

It recalled the medieval criminal codes in which the penalty for murder depended on who was killed and who killed them.

To some, it was a situation in which everyone always already knows what they think about everything, and any calamity instantaneously becomes a canvas for those thoughts.

Those who already knew that America had a Muslim problem knew at once that this was a Muslim problem.

Those who already knew that America had a gun problem knew at once that this was a gun problem.

Those who already knew that America had a toxic-masculinity problem knew at once that this was a toxic-masculinity problem.

Those who already knew that America had an immigrant problem knew at once that this was an immigrant problem.

Those who already knew that America had a mental-health problem knew at once that this was a mental-health problem.

Donald J. Trump, who tried to appropriate the moment to advance his argument that national security requires banning Muslims from entering the country and increasing surveillance of those, including citizens, who are already in the United States, has never been shy about promoting factional grievance.

"We don't have a country anymore," he once said. With Mr. Trump, the "we" is arguably not American society as a whole but the subset of voters who share his view that the United States has become weak and a captive of identity-obsessed political correctness.

But perhaps not having a country anymore should instead be taken to mean civic bonds so frayed that a death will be fought over for gain.

(…)

The Orlando tragedy brought together some of the most compelling, complex and divisive issues in American society: guns, immigration, national security and gay rights. It is hardly surprising that politics would break out around it, or that strong views would be expressed.

But the ensuing discourse was also a reminder of what's lost when Americans obscure what binds them together and elevates what sets them apart.
In an earlier piece posted in the immediate aftermath of the attack, Karen Tumulty of The Washington Post makes similar observation as does Russell Moore, President of the Ethics & Religious Liberty Commission of the Southern Baptist Convention:
Our nation has shared moments of crisis and tragedy before. Think of Pearl Harbor, when the country rallied around President Roosevelt and toward a common purpose of defeating the Axis Powers. Think of the John F. Kennedy assassination, when the country—even the Kennedy family's enemies—seemed to grieve together. Think of Sept. 11—before the fracturing of the Iraq War—when the country looked to common cultural expressions, from the service at the National Cathedral to the cold open of Saturday Night Live, for a sense of lament together.

It seems now, though, that there's rarely a time of grieving together. The time of lament morphs almost immediately into arguments over what the President should have said or whether this validates or annihilates someone's views on guns or immigration or whatever. Some of that, of course, is just the speed of social media. People are able to discuss, rather publicly, issues much quicker than they could before. But there seems to be more than that.

Our national divisions increasingly make it difficult for us not just to work together, but even to pause and weep together. We become more concerned about protecting ourselves from one another's political pronouncements than we do with mourning with those who mourn.

In some ways, then, national crises like this one feel less like the 1963 John Kennedy assassination than like the attempted George Wallace assassination of 1972. Reports are that some within the Nixon Administration, arguably even the President himself, contemplated planting George McGovern campaign literature in the would-be-assailant Arthur Bremer's apartment. The shooting in Laurel, Md., was about, for them, the campaign itself. That sort of cynicism is, ultimately, dehumanizing.
The observations that these three writers make are not new ones, of course. To an increasing degree nation tragedy, whether it happens to be a mass shooting attack that results in the death of 20 children under the age of seven, the attempted assassination of a Member of Congress, or the latest terrorist attack seems to cause everyone to almost immediately take to their respective political corners to see how they can take advantage of it to advance their political agendas as well as to attack whomever happens to be in charge in government at the time. Even completely natural disasters, which obviously can't be pinned on policy issues such as gun control, foreign policy, or the handling of the War On Terror, don't seem to have the same unifying impact that they used to. When New Jersey and New York applied for Federal aid in the wake of the Superstorm Sandy, the worst natural disaster to hit the two states in recent history, members of the House and Senate from other parts of the country balked at passing a relief bill to cover the obviously necessary costs of recovery without comparable spending cuts or offsets from somewhere else in the budget, something that had not been required in responding to any other natural disaster on the scale of Sandy. The response to the BP Oil Spill in the Gulf of Mexico quickly turned into a debate over energy policy that threatened to hold back the assistance that states like Louisiana and Mississippi needed. And, of course, the response to Hurricane Katrina, one of the worst natural disasters to ever hit the United States quickly became as much a partisan battle as it was an opportunity for the nation to work together.
To be sure, there are still times when disasters that 'bring people together' but those occasions seem to be the exception rather than the rule at this point. More often than not, within hours if not minutes of something like the Orlando shooting people are taking to social media and releasing press statements claiming that the incident either proves that they were right all along, or that it shows their opponents to be wrong. A terrorist attack, which is the ultimate expression of an outside enemy reaching inside the United States to attack us, leaders Republicans to attack Democrats for not properly recognizing the threat of "radical Islam," Democrats to attack Republicans for not supporting gun control measures that would have done nothing to prevent, and the news media to spend more time wondering which candidate for President will be "helped" more by the death and carnage unleashed on a dance floor early on a Sunday morning. As Russell Moore put it, compare that to the way the nation responded to the September 11th attacks, or to the Challenger disaster or the assassination of President Kennedy. If an event on that scale happened again, one has to wonder how the nation would respond. Would we come together, or would the arguments once again become so partisan and divided that we'd just be torn apart even further?
To a large degree, of course, this lack of national unity even in the fact of tragedy can be traced to the extent to which our political culture has become more partisan and divided and the extent to which that political culture has leaked into culture as a whole to the point where some people will refuse to listen to music from a once favorite artist or watch a particular television show or movie because the star has expressed a political opinion they disagree with. There's something decidedly unhealthy about a society that has become that divided, and even though Americans seem to recognize that fact there doesn't seem to be anyone who knows what to do about it. We better figure it out, though, because one day we could be hit with a tragedy that requires us to stand together and if we don't the consequences could be far worse than any terrorist would ever be able to inflict upon us.