Cap Gun Gets Maryland 5 Year-Old Suspended, Interrogated Without Parents Present
The insanity of "Zero Tolerance" policies.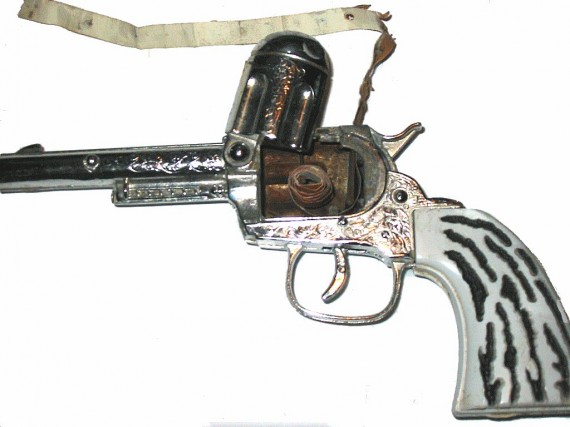 We've seen many examples in recent years of the insanity of "zero tolerance" policies in school, but this example out of Maryland has to be one of the most ridiculous I've ever seen:
A kindergartner who brought a cowboy-style cap gun onto his Calvert County school bus was suspended for 10 days after showing a friend the orange-tipped toy, which he had tucked inside his backpack on his way to school, according to his family and a lawyer.

The child was questioned for more than two hours before his mother was called, she said, adding that he uncharacteristically wet his pants during the episode. The boy is 5 — "all bugs and frogs and cowboys," his mother said.

"I have no problem that he had a consequence to his behavior," said the mother, who asked that her name be withheld to protect her son's privacy.

"What I have a problem with is the severity," she said, and the way it was handled.

The family's attorney appealed the suspension late Thursday, asking that the action be reversed and the child's record be expunged.

If the punishment stands, it would become part of the boy's permanent school record and keep him out of classes the rest of the school year, the family said. He would miss his end-of-year kindergarten program at Dowell Elementary School in Lusby.

(…)

The mother said the principal told her that if the cap gun had been loaded with caps, it would have been deemed an explosive and police would have been called in.

The child's disciplinary referral said he was being suspended for possession of a look-alike gun.

The child's mother is a high school teacher in Calvert who said she strongly supports the school system and loves the teachers at her son's school. She and her husband, who coaches youth sports, are active community volunteers.

For the family, a major concern is the long period the 5-year-old was questioned without parental guidance or support. His sister was questioned, too, she said.

"The school was quite obviously taking it very seriously, and he's 5 years old," she said. "Why were we not immediately contacted?"
There are really two issues here.
The first is the fact that this kids is being suspended for having a cap gun. If you read the rest of the article, you'll see that he brought the gun, which wasn't "loaded" with caps to show his friend. Not a smart decision, but this is a five year old for god sake. Say what you will, but five year-olds don't always think things through the way an adult oes. Moreover, while I understand why schools are concerned about the whole issue of weapons in school, even in the hands of someone as young as five, it's worth noting that this was a cap gun. I had cap guns when I was a kid and all they do is produce a moderately loud noise, they're no danger to anyone. Treating this situation the same as if he'd brought an unloaded pistol to school just seems silly to me. Perhaps it would be appropriate to punish the child to teach him a lesson, but that can be done without suspending him and putting something on his school record that is going to follow him for the next twelve years of his education.
The second issue is a bigger deal, and it involves the fact that the boy was interrogated by school officials (police were never called) for up to two hours without his parents being notified. According to reports in other local news outlets here in the D.C. area, the boy became so upset during all of this that he urinated all over himself, an understandable reaction for a child in Kindergarten. Why weren't the parents called in before they started questioning this boy, especially since it should have been readily apparent that he was no danger to himself or anyone else in the school? The fact that his mother is an employee of the very same school system makes the entire situation even more egregious. Perhaps this would have been an appropriate way to treat a 5th grader, or a kid in Middle or High School, but a kid who is just finishing up the year where they do things like learn the Alphabet? Utterly, utterly absurd.