Capitol Riots Day 1 Analysis
An emotional day set the tone for the investigation.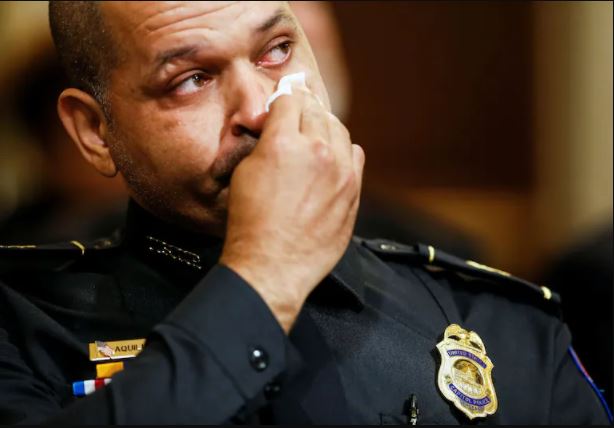 In yesterday morning's post, "Capitol Riots Hearings Start Today with Political Theater," I questioned whether emotional testimony from police officers about what they experienced that day as going to be helpful in learning more about it or persuading Republicans about how truly awful the event was. We likely won't know the answer to that for a few days.
One has to scroll down very far on the front page of the New York Times website to find hearing coverage at all. The first non-opinion piece I found was "'A hit man sent them.' Police at the Capitol recount the horrors of Jan. 6 as the inquiry begins.," The lede does a good job summarizing the events:
One officer described how rioters attempted to gouge out his eye and called him a traitor as they sought to invade the Capitol.

Another told of being smashed in a doorway and nearly crushed amid a "medieval" battle with a pro-Trump mob as he heard guttural screams of pain from fellow officers.

A third said he was beaten unconscious and stunned repeatedly with a Taser as he pleaded with his assailants, "I have kids."

A fourth relayed how he was called a racist slur over and over again by intruders wearing "Make America Great Again" garb.

"All of them — all of them were telling us, 'Trump sent us,'" Aquilino A. Gonell, a U.S. Capitol Police sergeant, said on Tuesday as he tearfully recounted the horrors of defending Congress on Jan. 6, testifying at the first hearing of a House select committee to investigate the attack.

One by one, in excruciating detail, Sergeant Gonell and three other officers who faced off with the hordes that broke into the Capitol told Congress of the brutal violence, racism and hostility they suffered as a throng of angry rioters, acting in the name of President Donald J. Trump, beat, crushed and shocked them.

More than six months after the assault, the accounts of the four uniformed officers — as precise as they were cinematic — cut through a fog of confusion, false equivalence and misdirection that Republicans have generated to try to insulate themselves politically and placate Mr. Trump.

They provided a set of gripping first-person narratives that brought home the harrowing events of Jan. 6, when Mr. Trump's supporters, urged on by his lie of a stolen election, stormed the Capitol to disrupt the official counting of electoral votes to formalize President Biden's victory.
We do know that all but the craziest of the right-wing infotainment complex aired the hearings live.
CNN's Brian Stelter ("How right-wing networks covered the January 6 hearing after months of soft-pedaling the Capitol attack"):
While viewers of other TV channels heard House Democrats denouncing the "whitewashing" of the January 6 attack, One America News viewers witnessed the whitewashing first-hand.On OAN, Tuesday's select committee hearing about the insurrection barely happened at all. The channel's poorly-produced programs avoided the substance of the hearing; slipped in several factual mistakes; and promoted the GOP's counter-programming instead.In other words, Donald Trump would have loved OAN's coverage.

It stood in stark contrast to Fox News and Newsmax, two other right-wing channels that actually showed the hearing while police officers described fearing for their lives when a pro-Trump mob overwhelmed law enforcement at the Capitol on January 6.

Fox and Newsmax did however air complaints about the hearing before and afterward. Newsmax featured an interview with a father and son who entered the Capitol during the riot and described a peaceful scene, including police officers being "really cordial."

But the mere act of carrying the police testimony at all is noteworthy because right-wing media has so thoroughly downplayed the crimes of that day.Immediately after the hearing, which included a video compilation of the assault, Fox anchor Bret Baier said the hearing "was an eye-opener" for "anybody watching who… thought it was not violent."Of course, it's impossible to know how persuasive a single hearing might have been. Trump fans have been primed ever since January 6 to excuse or ignore the insurrection.
Stelter devotes the rest of the report to OAN but they're largely irrelevant to this discussion. The lunatic fringe is unreachable. Fox News, on the other hand, is far and away the most-watched channel on cable. Not just the most-watched cable news network. The most-watched network, period. Granted, that audience is primarily driven by the talking heads shows, with Tucker Carlson's and Sean Hannity's easily the most popular. But Baier is a newsman and his commitment to the truth here will matter, at least on the margins.
Newsmax has a negligible audience and OAN has such low viewership that it's not even on Nielsen.
The Washington Post has numerous opinion pieces reflecting on the day but their main news report is "Jan. 6 hearings open with visceral accounts of Trump supporters' assault on police." The bits I found most illuminating:
The select committee's members believe the first-person accounts of such intensely traumatic experiences will resonate with the American public, cutting through the bitter political war in Congress over how the Capitol riot should be investigated — and who bears responsibility for it. Republican leaders have boycotted the investigation and sought to blame House Speaker Nancy Pelosi (D-Calif.) for the casualties as a way of deflecting scrutiny away from Trump, who was impeached and acquitted earlier this year on charges he incited the violent bid to prevent lawmakers from certifying electoral-college results and declaring Joe Biden the next president.
So, Pelosi and company aren't pretending that this wasn't political theater with partisan intent. They're simply arguing that it's necessary to reset the conversation. And it's not an unreasonable argument.
By contrast, the GOP counter-programming is just transparently bizarre:
McCarthy, Jordan and other GOP leaders have resisted the idea of any special panel to investigate the Capitol riot, charging that each proposal was too biased in favor of Democrats to give Trump a fair shake. On Tuesday, they sought to preempt the special committee's first hearing with a news conference in which they accused Pelosi of bearing responsibility for the attack by not having better steeled the Capitol for such violence and of refusing to appoint McCarthy's committee picks because they would have scrutinized her office. "She didn't want those questions asked," said Rep. Steve Scalise (R-La.).
Aside from the fact that a Capitol Police Board makes such security decisions, it's just silly to argue that Pelosi should have anticipated Trump instigating a riot that stormed the Capitol, much less that she should be the focus of the hearing. And, really, "You should have known Trump partisans would do this" is hardly a winning argument.
As to giving "Trump a fair shake," He's already been impeached by the House for his role that day but the Senate all but refused to hold a trial.