Carrie Fisher Dies At 60
Rest in Peace, Princess. May the Force be with you.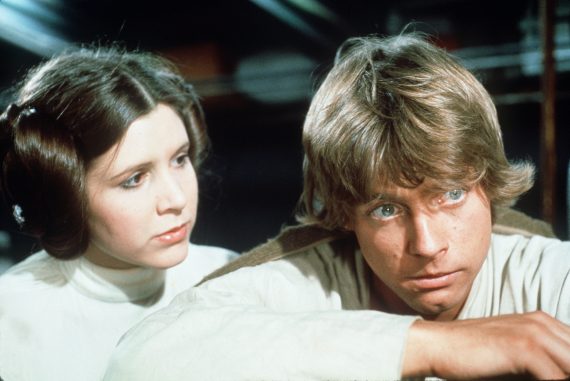 Carrie Fisher, the daughter of Hollywood legend Debbie Reynolds and singer Eddie Fisher who became an international star as Princcess Leia Organa in Star Wars, has died at the age of 60 after suffering a massive heart attack on Friday:
Carrie Fisher, the actress, author and screenwriter who brought a rare combination of nerve, grit and hopefulness to her most indelible role, as Princess Leia in the "Star Wars" movie franchise, died on Tuesday morning. She was 60.

A family spokesman, Simon Hall, confirmed the death in a statement, saying Ms. Fisher died at 8:55 a.m. She had had a heart attack on a flight from London to Los Angeles on Friday and had been hospitalized in Los Angeles.

Ms. Fisher, the daughter of the pop singer Eddie Fisher and the actress Debbie Reynolds, went on to use her perch among Hollywood royalty to offer wry commentary in her books on the paradoxes and absurdities of the entertainment industry.

"Star Wars," released in 1977, turned her overnight into an international movie star. The film, written and directed by George Lucas, traveled around the world, breaking box-office records. It proved to be the first installment of a blockbuster series whose vivid, even preposterous characters — living "a long time ago in a galaxy far, far away," as the opening sequence announced — became pop culture legends and the progenitors of a merchandising bonanza.

Ms. Fisher established Princess Leia as a damsel who could very much deal with her own distress, whether facing down the villainy of the dreaded Darth Vader or the romantic interests of the roguish smuggler Han Solo.

Wielding blaster pistols, piloting futuristic vehicles and, to her occasional chagrin, wearing strange hairdos and a revealing metal bikini, she reprised the role in three more films — in "The Empire Strikes Back" in 1980, in "Return of the Jedi" in 1983 and, 32 years later, in "Star Wars: The Force Awakens," by which time Leia had become a hard-bitten general.

Winning the admiration of countless fans, Ms. Fisher never played Leia as helpless. She had the toughness to escape the clutches of the monstrous gangster Jabba the Hutt and the tenderness to tell Han Solo, as he is about to be frozen in carbonite, "I love you." (Solo, played by Harrison Ford, caddishly replies, "I know.")

Offscreen, Ms. Fisher was open about her diagnosis of bipolar disorder. She gave her dueling dispositions the nicknames Roy ("the wild ride of a mood," she said) and Pam ("who stands on the shore and sobs"). She channeled her struggles with depression and substance abuse into fiercely comic works, including the semiautobiographical novel "Postcards From the Edge" and the one-woman show "Wishful Drinking," which she turned into a memoir.

For all the attention she received for playing Princess Leia, Ms. Fisher enjoyed poking wicked fun at the character, as well as at the fantastical "Star Wars" universe. "Who wears that much lip gloss into battle?" she asked in a recent memoir, "The Princess Diarist."

Having seen both its light and dark sides, Ms. Fisher did not take fame too seriously, or consider it an enduring commodity.

As she wrote in "The Princess Diarist":

"Perpetual celebrity — the kind where any mention of you will interest a significant percentage of the public until the day you die, even if that day comes decades after your last real contribution to the culture — is exceedingly rare, reserved for the likes of Muhammad Ali."

Carrie Frances Fisher was born on Oct. 21, 1956, in Beverly Hills, Calif. She was the first child of her highly visible parents (they later had a son, Todd), and said in "Wishful Drinking" that, while her mother was under anesthetic delivering her, her father fainted.

"So when I arrived," Ms. Fisher wrote, "I was virtually unattended! And I have been trying to make up for that fact ever since."

In 1959, Ms. Reynolds divorced Eddie Fisher in the wake of his affair with Elizabeth Taylor, whom he married that same year. (Ms. Taylor later left him to marry Richard Burton.)

Any semblance of a normal childhood was impossible for Ms. Fisher. At 15, she played a debutante in the Broadway musical "Irene," which starred her mother, and appeared in Ms. Reynolds's Las Vegas nightclub act. At 17, Ms. Fisher made her first movie, "Shampoo" (1975), Hal Ashby's satire of Nixon-era politics and the libidinous Los Angeles culture of the time, in which she played the precocious daughter of a wealthy woman (Lee Grant) having an affair with a promiscuous hairdresser (Warren Beatty).

She was one of roughly two dozen young actresses considered for the role of Princess Leia in Mr. Lucas's marathon casting sessions for "Star Wars." (Cindy Williams, Amy Irving, Sissy Spacek and Jodie Foster were among those who also read for the part.)

Many of Ms. Fisher's line readings from that film have since become part of the cinematic canon: her repeated, almost hypnotic exhortation, "Help me, Obi-Wan Kenobi, you're my only hope"; her wryly unimpressed reaction when Luke Skywalker (Mark Hamill) arrives in disguise to rescue her from a detention cell: "Aren't you a little short for a storm trooper?"

"Star Wars" became a financial and cultural phenomenon, launching more movies and a merchandising machine that splashed Ms. Fisher's likeness on all manner of action figures and products while casting her into an uneasy limelight.

She partied with the Rolling Stones during the making of "The Empire Strikes Back," hosted "Saturday Night Live" and had romantic relationships with Dan Aykroyd (with whom she appeared in "The Blues Brothers") and Paul Simon. She and Mr. Simon had a marriage that lasted less than a year, and he was inspired to write his song "Hearts and Bones" about their time together.

As its lyrics go:

Two people were married
The act was outrageous
The bride was contagious
She burned like a bride.

In "The Princess Diarist," she admitted what many fans had long suspected: During the filming of the first "Star Wars" movie, she and Harrison Ford (who was married at the time) had an affair.

Ms. Fisher acknowledged taking drugs like LSD and Percodan throughout the 1970s and '80s and later said that she was using cocaine while making "The Empire Strikes Back."
More from Variety:
Carrie Fisher, the actress, writer and daughter of Hollywood royalty who became internationally famous as Princess Leia of "Star Wars," has died, Variety has confirmed. She was 60.

Fisher died Tuesday morning after suffering what was described as a massive heart attack on Friday while on a flight from London to Los Angeles. She had been in London filming episodes of the Amazon/Channel 4 comedy "Catastrophe." Fisher was rushed from Los Angeles International Airport to UCLA Medical Center after the plane landed around noon PT.

Fisher was the daughter of actress Debbie Reynolds and singer Eddie Fisher, whose marriage famously broke up when Eddie Fisher had an affair with Elizabeth Taylor. She often remarked that she was born in the spotlight, and her life and career reflected the highs and lows of the entertainment business. Her mother's career struggles after her 1950s heyday weighed heavily on Fisher.

"I grew up on the back side of show business. So I had no desire to go into it. It had beat up my mother," Fisher told the New York Times in 2006. "I had a front-and-center view of how that hurt her. I understood that when they were done with you, they were done."

Fisher demonstrated her skill as a writer with the best-selling 1987 novel "Postcards From the Edge," about an actress struggling to rebuild her career after an overdose. Fisher wrote the screenplay for the 1990 film adaptation, directed by Mike Nichols and starring Meryl Streep and Shirley MacLaine.

Fisher also penned the autobiographical 2008 book "Wishful Drinking," based on her one-woman stage show of the same name. She had recently been promoting her newly published memoir of her "Star Wars" years, "The Princess Diarist."

In her writing and in public, Fisher was revealing about her battles with drugs and mental health issues. Her outspokenness about addiction earned her a lifetime achievement award from Harvard College in 2016 for cultural humanitarianism.

After her parents divorced when she was 2, Fisher was estranged from her father for decades until she became his caretaker prior to his death in 2010.

Fisher got her start in the family business at age 15, when she appeared alongside Reynolds in the 1973 Broadway revival of "Irene." Two years later she made her film debut in the hit comedy "Shampoo" starring Warren Beatty, Julie Christie and Goldie Hawn.

But it was 1977's "Star Wars," later re-titled "Star Wars Episode IV: A New Hope" that brought Fisher international recognition. Cloaked in white with her hair parted and tucked into two spiral side twists, the now-legendary character Princess Leia first appeared in the film as the fearless leader of the planet Alderaan, agent of the Rebel Alliance and member of the Imperial Senate.

The film earned six Oscars and launched a franchise of epic proportions. Two sequels followed "A New Hope" — "The Empire Strikes Back" in 1980 and "Return of the Jedi" in 1983 — to form what is now known as the original trilogy. Three prequels were released years later between 1999 and 2005, in which Fisher did not participate. Then, when a sequel trilogy was announced starting with 2015's "The Force Awakens," the actress re-joined the series.

In November 2016 Fisher revealed that while filming the original "Star Wars" she had a three-month affair with her co-star Harrison Ford, who was then married to Mary Marquardt. "It was so intense," Fisher said of the secret affair. "It was Han and Leia during the week, and Carrie and Harrison during the weekend."

Following the original "Star Wars" trilogy, Fisher had a steady career in Hollywood, consistently appearing in films and television, though never in roles with the same global visibility as George Lucas' creation. Starting in the early 1990s, Fisher became a much sought-after script doctor for films.

Her performance in Nora Ephron's 1989 romantic comedy "When Harry Met Sally" opposite Bruno Kirby was a stand-out performance, as was her role the same year in "The 'Burbs," a black comedy starring Tom Hanks. More recently, her guest shot on NBC's "30 Rock" earned her an Emmy nomination in 2008. Her guest role as the caustic mother, Mia, on "Catastrophe" also earned good notices.

Her other notable film performances include "The Blues Brothers" (1980), "Garbo Talks" (1984), "Hannah and Her Sisters" (1990), "Soapdish" (1991), "Austin Powers" (1997) and "Scream 3" (2000). Her many TV appearances included guest shots on "Frasier," "Sex and the City," "Entourage," "Smallville," "Weeds," "The Big Bang Theory" and "Girlfriends' Guide to Divorce."  Fisher was a semi-regular voice actor on Fox's "Family Guy," as the boss of the brewery where patriarch Peter Griffin works.
I made note of Fisher's heart attack in my post yesterday, and it was apparent at that point that her condition was most likely grave, especially with initial reports saying that she was unconscious for up to fifteen minutes before paramedics were able to obtain a pulse. Later that day, it was reported that she was on a ventilator in a Los Angeles hospital. Over the Christmas weekend, her family said in a statement that Fisher's condition was "stable," but never said that she had regained consciousness so her passing doesn't come as a surprise today. That being said, it is yet another celebrity death in a year in which people familiar to the Baby Boom and later generations have passed away due to one reason or another.
Fisher's post-Star Wars career never quite reached the levels that co-star Harrison Ford saw, of course, but between her writing and her supporting and guest roles in various films and television shows over the years kept her active in an industry known well for leaving women behind as they get older. When Disney purchased the Star Wars franchise from Lucasfilm and announced a new trilogy to follow the events of "Return Of The Jedi," it seemed only natural that Fisher, along with her co-stars Mark Hamill and Harrison Ford, would make some kind of appearance in the new films even if only to serve as a bridge between the iconic Original Trilogy and the new Star Wars universe. As it turned out, Fisher's Leia Organa, now titled a General in The Force Awakens played a prominent role in the first film of the new trilogy along with Ford and Hamill, the last of whom doesn't appear until the end of the first film in the new trilogy. Fisher will also appear in the as-yet untitled "Episode VIII" in the new trilogy, which will be released in December 2017. Fisher also plays a role in the current Star Wars release, Rogue One, which tells the story of the events immediately before the iconic first movie that was released in 1977.
I'm deeply saddened to learn of the death of Carrie Fisher. I will miss our banterings. A wonderful talent & light has been extinguished.

— William Shatner (@WilliamShatner) December 27, 2016
no words #Devastated pic.twitter.com/R9Xo7IBKmh

— Mark Hamill (@HamillHimself) December 27, 2016
I'm deeply saddened at the news of Carrie's passing. She was a dear friend, whom I greatly respected and admired. The force is dark today!

— Billy Dee Williams (@realbdw) December 27, 2016
I thought I had got what I wanted under the tree. I didn't. In spite of so many thoughts and prayers from so many. I am very, very sad.

— Anthony Daniels (@ADaniels3PO) December 27, 2016
I am extremely sad to learn of Carrie's passing. She was wonderful to work with. Condolences to her friends, family & fans around the world. pic.twitter.com/DGRYQYPZgO

— DARTH VADER (@isDARTHVADER) December 27, 2016
There are no words for this loss. Carrie was the brightest light in every room she entered. I will miss her dearly. pic.twitter.com/GgIeYGeMt9

— Peter Mayhew (@TheWookieeRoars) December 27, 2016
Rest in Peace,  Princess. May the Force be with you.