Catalan Government May Declare Independence Next Week, But It Will Be Meaningless
After Sunday's referendum, the government of Catalonia says it may declare independence from Spain as early as Monday. However, it's likely to be a completely meaningless act.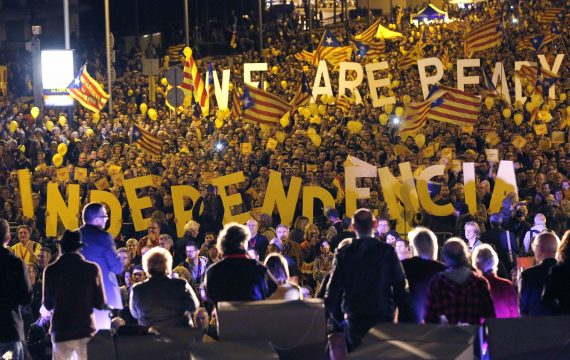 In the wake of Sunday's referendum supporting independence from Spain, which the central government in Madrid continues to reject and which earned the government in Barcelona a rebuke from King Felipe in a televised address on Tuesday, Catalonia's pro-independence government appears ready to take the next step:
BARCELONA/MADRID (Reuters) – Catalonia will move on Monday to declare independence from Spain after holding a banned referendum, pushing the European Union nation toward a rupture that threatens the foundations of its young democracy.

Catalan President Carles Puigdemont said he favored mediation to find a way out of the crisis but that Spain's central government had rejected this. Prime Minister Mariano Rajoy's government responded by calling on Catalonia to "return to the path of law" first before any negotiations.

Mireia Boya, a Catalan lawmaker from the pro-independence Popular Unity Candidacy (CUP) party, said a declaration of independence would follow a parliamentary session on Monday to evaluate the results of the Oct. 1 vote to break away.

"We know that there may be disbarments, arrests … But we are prepared, and in no case will it be stopped," she said on Twitter.

Puigdemont told the BBC he would ask the region's parliament to declare independence following the referendum, which Spain's government and constitutional court say was illegal and in which only a minority of Catalans voted.

In a televised address on Wednesday night, Puigdemont said: "This moment calls for mediation. We have received various offers in the last hours and we will receive more."

Without specifically mentioning plans for an independence declaration, he added: "I am sure that in the next few days we will show the best of our country when the institutions of Catalonia will have to apply the results of the referendum.

"Today we are closer than yesterday to our historic wish."
In response to these pronouncements from the Catalan parliament, Spain's Constitutional Court moved to block any further action on the government's part:
BARCELONA, Spain — Spain's constitutional court on Thursday suspended a session of the Catalan regional Parliament scheduled for next week in which lawmakers were expected to approve a unilateral declaration of independence.

The court's decision further escalated the conflict over Catalonia, which held a referendum on independence last Sunday that Spanish courts had declared illegal and ordered suspended. The Madrid central government sent thousands of police officers to block the vote, leaving hundreds of people wounded in clashes.

The crisis has become one of the most serious tests of the Spain's Constitution and territorial integrity since the country embraced democracy in the 1970s.

Catalan separatists say they are entitled to an independent state because of the region's distinct language and culture. They say the referendum lent further legitimacy to their claim, even though less than half of eligible voters went to the polls.

The Catalan leader, Carles Puidgemont, has insisted that the referendum passed overwhelmingly and that the result will be put before Catalonia's Parliament for approval as soon as Monday.

The court order on Thursday suspended that session of Catalonia's Parliament — a step short of suspending the government itself — in a move that is unlikely to resolve the conflict.

Although there was no immediate reaction from the Catalan authorities, the court order was clearly intended to pre-empt any further moves toward independence.

If they chose to disobey the order, which they well might, separatist lawmakers have a range of options. They could schedule another session, meet in an alternative venue or show up at Parliament anyway, which could prompt the police to intervene once again.

In a televised address on Wednesday night, Mr. Puidgemont appealed for a mediated resolution to the dispute, even as he sharply criticized statements by King Felipe VI of Spain, who has condemned the Catalans' "inadmissible disloyalty."

The conservative government of Prime Minister Mariano Rajoy has given no response to the mediation offer, but has made clear that it considers a dispute that threatens the country's Constitution a matter for Spaniards, not international arbitration.
The moves by the Constitutional Court are unlikely to deter the Catalan leadership to abandon its course at this point, of course. They will instead continue to point to the outcome of Sunday's referendum which showed overwhelming support for independence among those who participated. In that regard, though, it's worth noting that turnout on Sunday was not as high as the pro-independence government would have preferred, with only about 43% of the eligible voters in the province actually casting ballots. Part of the reason for that, of course, may have been the fact that the central government had sent in the national police force to block people from voting, and they engaged in tactics ranging from physically occupying voting locations, seizing ballot boxes, and blocking potential voters from voting by breaking up crowds using truncheons and rubber bullets. Given that, many people who otherwise would have voted were either discouraged from doing so or outright had their vote taken away by orders of the central government.
As I said earlier this week, what happens next is not entirely clear. Even if the Catalan Parliament manages to meet next week and issue some kind of formal declaration of independence that really doesn't accomplish much of anything. Both by operation of law and as a matter of fact, Catalonia will still be as much a part of Spain as it is today unless and until something else happens to change that. By all accounts, it's unlikely that the central government is going to agree to let this happen voluntarily and, so far at least, they don't appear to be willing to engage in any kind of negotiation either. As long as that's the case, it doesn't appear that anyone in Barcelona has any real power to back up a declaration of independence in a way that is actually going to make that at all likely. This would seem to be especially true given the fact that the E.U. as a whole is clearly taking Madrid's side in this dispute and is unwilling to step in to intervene in the situation. Additionally, there hasn't been any real international support in favor of Catalonia coming from any corner of the globe. That could change if moves by Barcelona lead Madrid to engage in a crackdown even more violent than what we saw on Sunday, but absent that the lack of international support means that the Catalans are basically on their own unless they're willing to take up arms against the government in Madrid. In that case, though, it's just as likely that they will cause other nations to rally to Madrid's side in an effort to quell similar actions by nascent independence movements in the own countries.
As Jazz Shaw notes, the worst case scenario here would be a civil war of some kind, or the possibility that Catalans will follow the strategy once undertaken by Basque separatists in Spain, who engaged in terror attacks inside Spain in over the course of a period that spanned fifty years from 1959 up to 2011 when the main Basque separatist group announced an end to its armed campaign in support of Basque independence. Given the fact that the terror campaign did nothing worthwhile toward bringing about Basque independence, though, Catalans would probably be wise to think twice before taking up violence against the government in Madrid. Ultimately, the solution to all of this would be for Madrid and Barcelona to agree to some form additional autonomy for the region in exchange for abandoning an independence bid. As things stand right now, though, both sides seem to be dead-set on the courses they have chosen. As long as that's the case, there don't seem to be any easy answers right now.