Centrist Democrats Line Up In Favor Of Impeachment
Democrats who could prove to be vulnerable in 2020 are largely lining up in favor of impeaching the President.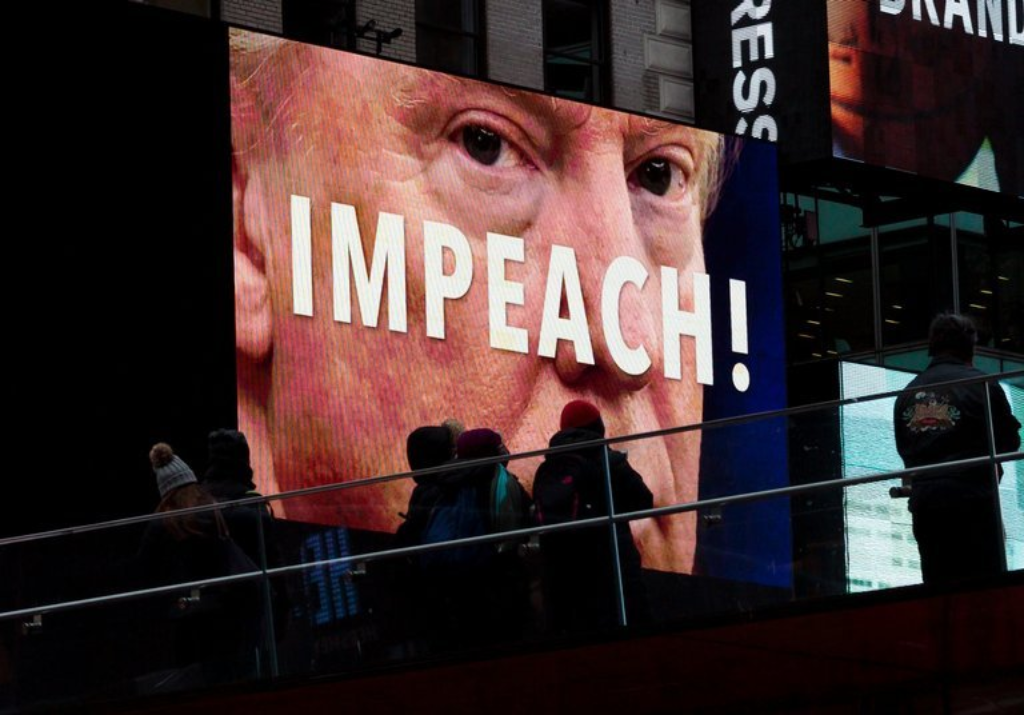 The vast majority of the most vulnerable Democratic Members of Congress, many of whom were elected in districts that President Trump won in 2016 and which had previously been in Republican hands are lining up behind impeachment as the vote on the House floor nears later this week:
A contingent of Democratic House members from Republican-leaning districts announced one by one Monday that after weeks of extraordinary pressure, they have decided to vote to impeach President Trump, as the House hurtles toward historic action later this week.

Monday's announcements dealt a blow to Trump and his allies, who had been encouraging Democrats to defect to bolster their depiction of impeachment as a crusade by extremist liberals. The White House had mounted an all-out effort to pressure the centrists, many of whom faced a blitz of anti-impeachment ads and are risking significant political damage.

These Democrats characterized their choices as acts of conscience. "The President's actions violate his oath of office, endanger our national security, and betray the public trust," Rep. Abigail Spanberger (Va.), a freshman who represents a Richmond-area district that voted for Trump in 2016, said in a statement.

(…)

House Speaker Nancy Pelosi (D-Calif.) and her leadership team were buoyed by the steady announcements from an array of centrist Democrats that they would back articles of impeachment. Their position had been in doubt as Republicans tried to ratchet up pressure, especially on those elected in 2018 in districts that supported Trump.

Reps. Ben McAdams (Utah) and Joe Cunningham (S.C.), for example, had been widely expected to be among the half-dozen or so Democrats breaking with their party. Both said Monday they would vote in favor of impeaching Trump.

A trio of female Democrats with backgrounds in national security, who in September came out in favor of opening an impeachment inquiry into the president's conduct, also said they have decided to vote for impeachment. That includes Spanberger, a former CIA officer, as well as Reps. Elissa Slotkin (Mich.), a former CIA analyst and Defense Department official, and Elaine Luria (Va.), a former Navy commander.

Slotkin announced her decision at a town hall meeting in Rochester, Mich., where hundreds of constituents either cheered or booed her as she explained her reasoning.

"I can hear that this is a very controversial decision — and I knew that," Slotkin said. "And all I can ask from the people who are listening is that while we may not agree, I hope you believe me when I tell you that I made this decision out of principle."

In New Jersey, Rep. Andy Kim announced his support for impeachment with "a sense of humility," acknowledging that some of his constituents disagreed but saying that the House vote "will determine the very framework of our democracy, what constitutes acceptable behavior by future presidents, and the kind of country our children and grandchildren will grow up in."

The announcements raised hopes among Democrats that they may face fewer defections than originally predicted. Of the 31 House Democrats who represent districts that Trump carried, at least 17 have said they will vote to impeach the president. Only two so far have said they would vote against impeachment.
The vast majority of these Democrats had already stuck their political necks out to support the opening of an impeachment inquiry to begin with, so the fact that they're willing to take the further step of actually voting for impeachment itself isn't entirely surprising. At the same time, though the fact that they're willing to take the political risk of voting for the Articles of Impeachment themselves is likely good news for Democrats worried about limiting the number of defections on the final vote so as not to hand political ammunition to the President and his supporters, who will obviously argue that this impeachment vote is a purely partisan act.
So far, only two Democrats have announced that they will be voting against impeachment. One of them, of course, is New Jersey Congressman Jeff van Drew who will apparently be switching parties in connection with that vote, an announcement that has already led to mass resignations by his staff. The other is Minnesota Congressman who said he did not believe the President has committed a crime. If Democrats can limit those losses to just these two Members of Congress then they will likely consider it a victory.
In related news, many of these same Freshman Democrats are pushing for Justin Amash, the former Republican who turned Independent in part due to the impeachment issue, to be one of the impeachment managers who would present the House's evidence to the Senate:
A private campaign is underway to draft Rep. Justin Amash (I-Mich.) as an impeachment manager in the Senate trial of President Trump, a bid to diversify House Democrats' appeal to voters with a rare conservative voice.

A group of 30 freshman Democrats, led by Rep. Dean Phillips (D-Minn.), has asked House leaders to consider the libertarian, who left the Republican Party earlier this year, for the small group tasked with arguing its case for removing Trump in the upper chamber, according to several Democratic officials.

The thinking, according to these people, is that Amash would reach conservative voters in a way Democrats can't, potentially bolstering their case to the public. He also would provide Democrats cover from GOP accusations that they're pursuing a partisan impeachment; Amash is one of the most conservative members of the House and a vocal Trump critic.

"To the extent that this can be bipartisan, it should, and I think including Representative Amash amongst the impeachment managers is a smart move both for the country, for the substance and for the optics," Phillips said, adding that Amash brings an array of qualifications: He's an attorney, a constitutionalist and "the first and only member of the Republican conference, when he was a Republican, to show courage," Phillips added.

House Speaker Nancy Pelosi (D-Calif.) would ultimately make the call and is expected to announce managers early this week, multiple Democrats said. Amash did not respond to a request for comment about whether he would accept such a position. But Phillips, who is in touch with Amash about the idea, said the lawmaker has agreed to consider it if asked.
Adding Amash to the team of impeachment managers, which is likely to include Democratic Members of Congress such as Adam Schiff, Chairman of the House Intelligence Committee, and Jerry Nadler, Chairman of the Judiciary Committee, would be an interesting move on the part of House Democrats. As noted, it would be a nod toward an appeal to bipartisanship in an environment that is highly partisan at the moment. Additionally, as noted Amash has the resume needed for such a position and has been a strong advocate for impeachment from the beginning. Finally, to the extent that it would help the Centrist Democrats argue that impeachment was more than just a Democratic effort to overturn the results of the last election, it's something that Speaker Pelosi should seriously consider.