Chart Of the Day: How The Income Tax Grew
An interesting chart from Catherine Mulbrandon: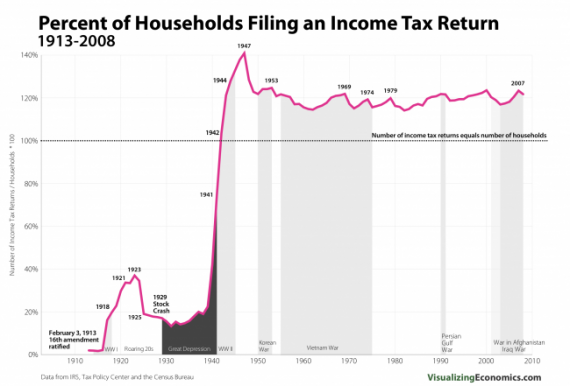 In 1913, 358,000 returns were filed which was 2% of all households. While the top tax rate was 7% on incomes above $500,000 ($10.9 million in 2010 dollars), the first $3,000 ($65,331 in 2010 dollars) was exempt from the the income tax for single persons.

(…)

In 1942, 36,619,000 returns were filed and the exemption had been dropped to $500 for single persons ($6,613 in 2010 dollars). For the first time the number of income tax returns filed exceeded the number of households.
H/T:  Matthew Yglesias