Chick-Fil-A To Stop Donations To Anti-LGBT Groups
Chick-Fil-A is ending its charitable giving to organizations that oppose LGBT rights, and conservatives are predictably freaking out.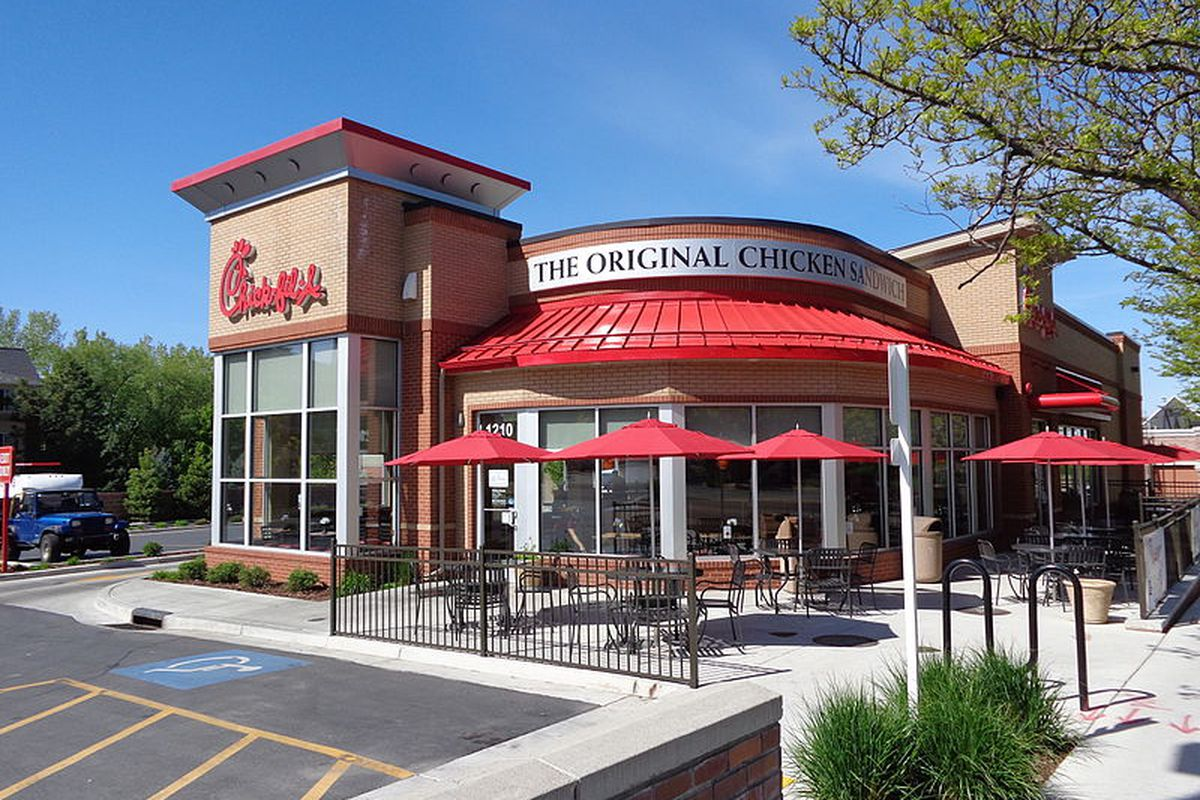 After facing years of controversy from LGBT rights groups and others, Chick-Fil-A has announced that it is ending its support for organizations that take positions against equal rights for LGBT Americans, a change in policy that is resulting in criticism from the predictable sources:
Chick-fil-A is making major changes to its charitable foundation, ending donations to two organizations that have been criticized for being anti-LGBTQ.

The fast food chain announced Monday that beginning next year it will only donate to a certain group of charities. That list no longer includes the Salvation Army and the Fellowship of Christian Athletes (FCA). Both organizations have taken controversial stands on homosexuality and same-sex marriage.

In 2018, the Chick-fil-A foundation donated $1.65 million to the FCA and $115,000 to The Salvation Army, the company revealed Monday.

The FCA writes in its employee application that "neither heterosexual sex outside of marriage nor any homosexual act constitute an alternative lifestyle acceptable to God." It also states on its website that "marriage is exclusively the union of one man and one woman." FCA did not respond to CNN Business' request for comment.

The Salvation Army has said in the past that the Bible forbids sexual intimacy between members of the same sex, that gay Christians should embrace celibacy and that scripture does not support same-sex marriages, according to Snopes. However, the Salvation Army says its services are available to all people, and the organization strongly refutes accusations that it is anti-LGBTQ.

"We're saddened to learn that a corporate partner has felt it necessary to divert funding to other hunger, education and homelessness organizations — areas in which the Salvation Army, as the largest social services provider in the world, is already fully committed," the Salvation Army said in a statement.

The organization said it believes it is the largest provider of poverty relief to the LGBTQ+ population.

"When misinformation is perpetuated without fact, our ability to serve those in need, regardless of sexual orientation, gender identity, religion or any other factor, is at risk," the Salvation Army said. "We urge the public to seek the truth before rushing to ill-informed judgment and greatly appreciate those partners and donors who ensure that anyone who needs our help feels safe and comfortable to come through our doors."

Going forward, Chick-fil-A said it will work exclusively with organizations that focus on education, homelessness and hunger. Those are Junior Achievement USA, Covenant House International and donating $25,000 local food banks.

"No organization will be excluded from future consideration — faith-based or non-faith-based," said Tim Tassopoulos, president and chief operating officer of Chick-fil-A, in a statement. But that leaves open the opportunity that it could donate to foundations in the future that might hold anti-LGBTQ views.

Chick-fil-A's donations and comments from its executives have sparked controversy over the past several years. CEO Dan Cathy said in 2012 that the company supports "the biblical definition of the family unit."

In a 2018 interview with a local Atlanta TV station, Cathy reiterated his position on same-sex marriage but said he's not anti-gay.
Gay rights organization GLAAD said in a statement that Chick-fil-A customers and employees should "greet today's announcement with cautious optimism" but says the company still has a checkered policy when it comes to LGBTQ rights.

"In addition to refraining from financially supporting anti-LGBTQ organizations, Chick-fil-A still lacks policies to ensure safe workplaces for LGBTQ employees and should unequivocally speak out against the anti-LGBTQ reputation that their brand represents," said Drew Anderson, GLAAD's director of campaigns and rapid response.
Not surprisingly, the conservative religious giving strategy of the company foundation, which sparked a boycott several years ago, has proven to be controversial during this expansion:
The new initiative will no longer include donating to organizations like the Salvation Army, the Fellowship of Christian Athletes and the Paul Anderson Youth Home, Chick-fil-A says, all of which sparked criticism in the past from the LGBT community due to the organizations' stances on homosexuality.

The move comes after several U.S. airports rejected the company from concessions deals earlier this year. More recently, the landlord of the first Chick-fil-A in the U.K. announced eight days into its lease the pop-up venue would not be welcome to extend — all because of the company's perceived anti-LGBT stance.

The company is also months from opening its first location in Boston, where the late Mayor Thomas Menino pledged to ban the company from opening within city limits after Chick-fil-A CEO Dan Cathy voiced his opposition to gay marriage in 2012.

Starting next year, the Chick-fil-A Foundation plans to give $9M to organizations like Junior Achievement USA to support education, Covenant House International to fight homelessness and community food banks for its hunger initiative in each city where the chain operates. The company intends to dedicate $25K to a local food bank each time it opens a new location.

"This provides more focus and more clarity," Tassopoulos said. "We think [education, hunger and homelessness] are critical issues in communities where we do business in the U.S."

(…)

Chick-fil-A surpassed $1B in sales in 2001 and eclipsed the $5B mark in 2013, the year following Cathy's statement on gay marriage. The chicken chain became the third-largest U.S. fast-food chain this year with $10.5B in sales, according to Nation's Restaurant News data. Only McDonald's and Starbucks bring in more revenue among fast-food chains. But after years of "taking it on the chin," as a Chick-fil-A executive told Bisnow, the latest round of headlines was impossible to ignore. This time, it was impeding the company's growth.

The San Antonio City Council was voting on an airport concessions contract in March when ThinkProgress reported that Chick-fil-A was still donating to anti-LGBT groups. The Chick-fil-A Foundation had donated $1.8M in 2017 to the Salvation Army, the FCA and the Paul Anderson Youth Home. A San Antonio city councilor brought up the article at the council meeting, and councilors voted in favor of the concessions contract — as long as a planned Chick-fil-A was dropped from the deal.

The story had ripple effects. Delaware North, the concessions handler for Buffalo Niagara International Airport, also decided in March not to move ahead with plans for a Chick-fil-A at that airport, and officials in San Jose, California, announced they would not renew the chain's lease at the airport when it runs out in 2026.

The company's giving history and Cathy's previous comments on marriage equality have also dealt a reputational blow to its international expansion. More than 100 LGBT and animal rights protesters showed up to opening day at Chick-fil-A's first Toronto store in September. After protests and a boycott by a local LGBT group, the landlord behind a Chick-fil-A pop-up store at a mall in Reading, England, announced eight days into the lease it would not renew with the chain because the mall is meant to "offer an inclusive space where everyone is welcome."

A Chick-fil-A in Scotland is still in operation, but company leaders still felt a new message was needed — especially in foreign markets, where the most prominent brand exposure to Chick-fil-A are headlines about its support for organizations with anti-LGBT stances.

As expected, the response from conservatives is, well, rather negative:
Rod Dreher, meanwhile, goes into full-on panic mode:
So, let me get this straight: Chick-fil-A has managed to become the third-biggest fast-food chain in the US, despite earning so much progressive hatred for honoring what its leadership once claimed was fidelity to "a much higher calling." But now, in 2019, as it sits near the summit of business success, Chick-fil-A suddenly finds that it can no longer afford to follow that "higher calling," and is cutting the Salvation Army and the Fellowship of Christian Athletes off.

I love Chick-fil-A, but it's going to be a while before I go there again. This is nothing but gutless surrender.

And it's a lesson to all of us. The LGBT lobby, and their progressive allies, will never, ever leave you alone. Never. You watch: within five years, Chick-fil-A will be embracing woke advertising campaigns.

Anyway, shame on you, Chick-fil-A. You had no reason to capitulate. You have successfully resisted the mob for years, and built a booming business in spite of it! But capitulate you did. I am reminded of the late Australian poet Les Murray's lines against demonstrations. Murray was bullied badly in school, and never forgot it. Here, he's not focusing on a specific cause; he's just saying that he will not join any demonstration, at all, because having been the victim of a mob, he radically distrusts it:

Whatever class is your screen
I'm from several lower,
To your rigged fashions, I'm pariah.
Nothing a mob does is clean,
not at first, not when slowed to a media,
not when police. The first demos I saw,
before placards, were against me,
alone, for two years, with chants,
every day, with half-conciliatory
needling in between, and aloof
moral cowardice holding skirts away.
I learned your world order then

Chick-fil-A's surrender today reveals the true order of this world, and who holds the power in it, and who are the pariahs.
Allahpundit at Hot Air questions why the company would annoy their fans on the right, most of whom seem more concerned with opposing LGBT rights than chicken sandwiches:
These people do realize that they're practically the official fast food of right-wing America thanks to the left's endless culture-war assault on them, right? To turn around and surrender after all this time seems baffling. Look how far they've gotten by sticking to their guns: Not only are they now the third biggest fast food chain in the United States, behind only the twin behemoths of McDonald's and Starbucks, this summer they topped the charts for the fourth year in a row in the American Customer Satisfaction Index's ranking of fast food restaurants. In a post-Obergefell world, the red/blue battle over Chick-fil-A often felt like a distant memory. Chick-fil-A (mostly) stuck to its guns but gays got the right to marry anyway and everyone went back to eating their chicken.

But it wasn't a distant memory for everyone. The struggle towards total wokeness is never over, which is why Chick-fil-A continues to find itself unwelcome at certain domestic airports and in certain foreign countries. It's a stubborn pocket of resistance in the LGBT culture war otherwise won resoundingly by the left, and so the left is going to continue to bomb it occasionally — or was, until today.

(..)

I've always been baffled by the mystique of Chick-fil-A apart from its status as a conservative holdout in the culture clash over gay rights. And I like some fast food. Wendy's? Definitely. Sonic? Yes, please. McDonald's? You may scoff at how basic it is, but those fries are America's greatest cultural legacy. There's nothing wrong with CFA in a pinch, but if you're up for fast food and have options, why would that be your first choice? For some righties, maybe it won't be anymore.
The decision, which comes roughly five years after the death of the chain's founder S. Truett Cathy, and also comes at a time when the company has been undergoing a major expansion into parts of the country where it previously had not had a presence, including major metropolitan areas such as New York City. It is also seeking to expand overseas in the United Kingdom and elsewhere. The controversy stretches back to the early part of the decade when the battle for same-sex marriage was still being fought and the company's giving strategy, which at the time included groups actively campaigning against marriage equality, was proving to be quite controversial. The company responded to that decision by ending the practice of giving to those organizations, It continued, however, providing charitable support to organizations such as the Salvation Army, the Foundation for Christian Athletes, and other organizations that generally oppose LGBT rights on the basis of religion.
In the end, this was a business decision on the company's part that is perfectly understandable. They are seeking to expand into new markets both here in the United States, in Canada, and in the United Kingdom and other parts of Europe where support for LGBT rights is far stronger than it is in the American south where the chain got its foothold before growing into the large and growing operation that it is today. In the end, the job of a corporation is Chick-Fill-A is to make money and advance the company's interests. If that means adjusting the charitable giving strategy of the business, that's what it means. Conservatives and anti-LGBT activists will complain, of course, but in the end, this is Chick-Fil-A's decision to make and, from a business perspective, and a moral one, it is the right decision to make.
Update: This post was updated to include additional comments from conservative commentators0