Christian Conservatives Have A Very Selective Memory Of Ronald Reagan
Ronald Reagan wasn't really much a of a "Christian Conservative."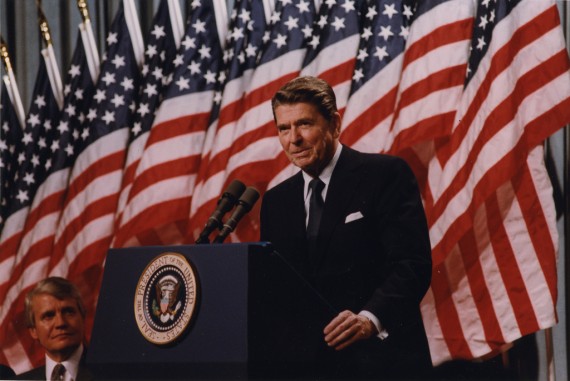 James Joyner and I have both noted here several times the manner in which contemporary conservatives continue to invoke the name and legacy of Ronald Reagan despite the fact that, in more ways than one, they reject Ronald Reagan's governing philosophy as it was put into action between 1981 and 1989. You can find two examples of that here and here. In today's New York Times, Neil Young points out that when it comes to Christian conservatives in particular, memories of the Reagan Administration are highly selective:
In reality, religious conservatives were often dissatisfied with Reagan's presidency. The Christian right of today – and Republicans generally – must stop using a mythic Reagan as their measuring stick for candidates because it drives them away from viable contenders who fall short of an impossible standard that Reagan himself couldn't have met.

Believing themselves the key constituency that had guaranteed Reagan's historic win in 1980, Christian conservatives felt the president owed them for their enthusiastic backing. Reagan had courted the nascent political movement on the religious right with a spirited defense of their most cherished political issues, including promises to restore school prayer, to work against the Equal Rights Amendment, and to attack federal abortion rights, legalized just seven years before.

But once in office, the Reagan administration claimed that it first had to address the nation's weak economy. The social agenda of Christian conservatives would have to wait. In the meantime, the White House planned to muffle their grumbling. "We want to keep the Moral Majority types so close to us they can't move their arms," one Reagan staffer explained to the journalist Lou Cannon.

The complaints piled up. Evangelicals pointed out that Reagan had appointed too few of them to positions in government, despite his campaign promise that evangelicals in his administration would mirror their proportional representation in the American population – about forty percent at the time. In light of that snub, Reagan's selection of Sandra Day O'Connor — who had made several pro-choice votes during her time in the Arizona state legislature — as his first nominee to the Supreme Court stung sharply.

During the campaign, Reagan had won the National Right to Life Committee's endorsement by pledging that he'd only nominate committed pro-life jurists to the nation's highest court. Reagan's tepid and ineffectual support for key school prayer and anti-abortion legislation in Congress during his first administration frustrated and angered religious conservatives who watched various bills die while the president did little.
Perhaps the best example of this discontent during Reagan's first term came over the appointment of Sandra Day O'Connor to the Supreme Court. While Reagan saw the appointment as fulfillment of his campaign promise to appoint the first woman to the Court, many on the right distrusted O"Connor on abortion and related issues and expressed that concern to the White House. Jerry Falwell said publicly that all "good Christians" should oppose O'Connor's appointment, a comment that caused Barry Goldwater to say that "I think every good Christian ought to kick Falwell's ass." O'Connor was confirmed, of course, and the religious right saw its influence inside the White House reduced.
Even being loyal during the 1984 election didn't do much to increase the influence of the so-called "religious right" inside the Reagan White House. The only memorable socially conservative achievement during the final years of Reagan's time in office came in 1986 with the release of the Meese Commission's report on pornography. However, while the commission that produced the report was dominated by social conservatives who had long talked about the supposed evils of sexually explicit content, the report itself ended up being widely derided in the press and ignored by Congress. Though the report ran nearly 2,000 pages, it resulting in no significant legislation or changes to how obscenity was prosecuted in American Courts. Additionally, during this time and in years after the Supreme Court continued to hand down rulings that protected the right to abortion established in Roe v. Wade. The only other real sop to social conservatives was Reagan's appointment of Robert Bork to a Supreme Court seat which, of course, ended in utter failure.
Young continues:
The political disappointments and painful realizations that marked the religious right's rocky relationship with Reagan's presidency have been replaced by the more powerful seductions of selective memory and wishful fantasy. But like any myth of history, there are small truths within it that alter the memory.

Reagan failed to achieve the religious right's grandiose objectives, but he delivered on other issues religious conservatives cared about, like cutting taxes and increasing military spending. His full-throated espousal of traditional morals and Christian principles along with symbolic gestures like naming 1983 the "Year of the Bible" looked like crass politics to many observers, but linger as forceful evidence for many conservative Christians of Reagan's unique example.

If Republicans want to appeal to an American electorate that increasingly has little direct connection to Ronald Reagan, they need to let go of romantic memories that produce only unrealistic expectations. Part of Reagan's appeal came from his insistence on his own limitations, so Republicans would be wise to stop looking for a savior among a field of mortals.

In reflecting honestly on their own fractious history with Reagan, religious conservatives and other Republicans alike might better evaluate the candidates that stand before them rather than hopelessly praying for the second coming of a president who never really was.
They would also do well to remember that, while Reagan did acknowledge religion in public addresses and such, he was not himself an overtly religious man. He rarely went to church while he was in the White House, something for which conservatives routinely criticize Barack Obama. And, he was close friends with many people in Hollywood who didn't exactly lead moral lives. That last item is probably one reason why Reagan never seemed quite comfortable with the religious right's obsessive hatred of homosexuals. Unlike the Jerry Falwell's of the world, he actually knew people who were gay, living in the world of Hollywood how couldn't you? That's not to say Reagan was some kind of crusader for gay rights, he wasn't, although it is worth noting that during his time as Governor of California he opposed efforts to make it illegal for people who were openly gay or lesbian to teach in the state's public schools.
The more important point, though, is that once again, the right's hagiography of Reagan has almost nothing to do with the reality of Reagan. Rather than trying to recreate something that never existed, they'd do better to try and understand what really made Ronald Reagan successful, and it sure as heck wasn't because he was a 1970s version of Rick Santorum.