Chuck Berry, Rock And Roll Pioneer, Dies At 90
A pioneer of Rock & Roll has passed away.
Chuck Berry, a music innovator who helped define rock and roll for all-time, died yesterday at the age of 90:
Chuck Berry, who with his indelible guitar licks, brash self-confidence and memorable songs about cars, girls and wild dance parties did as much as anyone to define rock 'n' roll's potential and attitude in its early years, died on Saturday. He was 90.

The St. Charles County Police Department in Missouri confirmed his death on its Facebook page. Mr. Berry died at his home near Wentzville, Mo., about 45 miles west of St. Louis. The department said it responded to a medical emergency and he was declared dead after lifesaving measures were unsuccessful.

While Elvis Presley was rock's first pop star and teenage heartthrob, Mr. Berry was its master theorist and conceptual genius, the songwriter who understood what the kids wanted before they knew themselves. With songs like "Johnny B. Goode" and "Roll Over Beethoven," he gave his listeners more than they knew they were getting from jukebox entertainment.

His guitar lines wired the lean twang of country and the bite of the blues into phrases with both a streamlined trajectory and a long memory. And tucked into the lighthearted, telegraphic narratives that he sang with such clear enunciation was a sly defiance, upending convention to claim the pleasures of the moment.

In "Sweet Little Sixteen," "You Can't Catch Me" and other songs, Mr. Berry invented rock as a music of teenage wishes fulfilled and good times (even with cops in pursuit). In "Promised Land," "Too Much Monkey Business" and "Brown Eyed Handsome Man," he celebrated and satirized America's opportunities and class tensions. His rock 'n' roll was a music of joyful lusts, laughed-off tensions and gleefully shattered icons.

Mr. Berry was already well past his teens when he wrote mid-1950s manifestoes like "Roll Over Beethoven," "Rock and Roll Music" and "School Day." Born Charles Edward Anderson Berry on Oct. 18, 1926, in St. Louis, he grew up in a segregated, middle-class neighborhood there, soaking up gospel, blues, and rhythm and blues, along with some country music.

He spent three years in reform school after a spree of car thefts and armed robbery. He received a degree in hairdressing and cosmetology and worked for a time as a beautician; he married Themetta Suggs in 1948 and started a family. She survives him, as do four children: Ingrid Berry, Melody Eskridge, Aloha Isa Leigh Berry and Charles Berry Jr.

By the early 1950s, he was playing guitar and singing blues, pop standards and an occasional country tune with local combos. Shortly after joining Sir John's Trio, led by the pianist Johnnie Johnson, he reshaped the group's music and took it over.

From the Texas guitarist T-Bone Walker, Mr. Berry picked up a technique of bending two strings at once that he would rough up and turn into a rock 'n' roll talisman, the Chuck Berry lick, which would in turn be emulated by the Rolling Stones and countless others. He also recognized the popularity of country music and added some hillbilly twang to his guitar lines. Mr. Berry's hybrid music, along with his charisma and showmanship, drew white as well as black listeners to the Cosmopolitan Club in St. Louis.

In 1955, Mr. Berry ventured to Chicago and asked one of his idols, the bluesman Muddy Waters, about making records. Waters directed him to the label he recorded for, Chess Records, where one of the owners, Leonard Chess, heard potential in Mr. Berry's song "Ida Red."

A variant of an old country song by the same name, "Ida Red" had a 2/4 backbeat with a hillbilly oompah, while Mr. Berry's lyrics sketched a car chase, the narrator "motorvatin'" after an elusive girl. Mr. Chess renamed the song "Maybellene," and in a long session on May 21, 1955, Mr. Chess and the bassist Willie Dixon got the band to punch up the rhythm.

"The big beat, cars and young love," Mr. Chess outlined. "It was a trend, and we jumped on it."

The music was bright and clear, a hard-swinging amalgam of country and blues. More than 60 years later, it still sounds reckless and audacious.

(…)

In the early 1960s, Mr. Berry's songs inspired both California rock and the British Invasion. The Beach Boys reworked his "Sweet Little Sixteen" into "Surfin' U.S.A." (Mr. Berry sued them and won a songwriting credit.) The Rolling Stones released a string of Berry songs, including their first single, "Come On," and the Beatles remade "Roll Over Beethoven" and "Rock and Roll Music."

But by the time his music started reaching a new audience, Mr. Berry was in jail.

He had been arrested in 1959 and charged with transporting a teenage girl — who briefly worked as a hatcheck girl at Club Bandstand — across state lines for immoral purposes. He was tried twice and found guilty both times; the first verdict was overturned because of racist remarks by the judge. When he emerged from 20 months in prison in 1964, his wife had left him (they later reconciled) and his songwriting spark had diminished.

He had not totally lost his touch, though, as demonstrated by the handful of hits he had in 1964 and 1965, notably "Nadine," "No Particular Place to Go," "You Never Can Tell" and "Promised Land." He appeared in the celebrated all-star 1964 concert film "The TAMI Show," along with James Brown, the Rolling Stones, Marvin Gaye, the Beach Boys and the Supremes.

While he toured steadily through the 1960s, headlining or sharing bills with bands that grew up on his songs, his recording career stalled after he moved from Chess to Mercury Records in 1966. He remade some of his old hits and tried to reach the new hippie audience, recording "Live at the Fillmore Auditorium" with the Steve Miller Band, billed as the Steve Miller Blues Band at the time. When he returned to Chess in 1970, he recorded new songs, like "Tulane" and "Have Mercy Judge," that flashed his old wit but failed to reach the Top 40.

In 1972, Mr. Berry had the biggest hit of his career with "My Ding-a-Ling," a double-entendre novelty song that was included on the album "The London Chuck Berry Sessions" (even though he recorded the song not in London but at a concert in Coventry, England). The New Orleans songwriter Dave Bartholomew wrote and recorded it in 1952; Mr. Berry recorded a similar song, "My Tambourine," in 1968, and is credited on recordings as the sole songwriter of the 1972 "My Ding-a-Ling."

It was a million-seller and Mr. Berry's first and only No. 1 pop single. It was also his last hit. His 1973 follow-up album, "Bio," was poorly received; "Rockit," released by Atlantic in 1979, did not sell. But he stayed active: He appeared as himself in a 1979 movie about 1950s rock, "American Hot Wax," and he continued to tour constantly.

(…)

Mr. Berry continued performing well into his 80s. He usually played with local pickup bands, as he had done for most of his career, but sometimes he played with fellow rock stars. When the Rock and Roll Hall of Fame and Museum opened in Cleveland in 1995, Mr. Berry performed at an inaugural concert, backed by Bruce Springsteen and the E Street Band.

In 2012, he headlined a Cleveland concert in his honor with a genre-spanning bill that included Darryl McDaniels of Run-D.M.C. and Merle Haggard. Although he told reporters before the show, "My singing days have passed," he performed "Johnny B. Goode" and "Reelin' and Rockin'" and joined the other musicians for the closing number, "Rock and Roll Music."
Just this past October, on his 90th Birthday, Berry had announced that he was working on a new studio album, his first in many years, but it's unclear how far work had gotten on that project before his death. With the career he had, though, and the fact that he lived to 90, it's safe to say that Berry had already contributed so much to music that has helped to define the several generations that followed him and will likely influence musicians for years to come. Indeed, when one listens to his biggest hits today they sound as crisp, fresh, and ground-breaking as they no doubt were to ears that had heard nothing like them before in the 1950s. That alone is a sign of truly universal music, and it likely means that we'll be hearing Chuck Berry's music for some time to come.  And so will world's beyond ours. When the American space probes Voyager I and II were launched in the mid-1970s, they were both equipped with golden records that included information about Earth and examples of world culture. Among the music that is contained on both records is Berry's recording of "Johnny B. Goode," as Carl Sagan informed Berry on the occasion of his 60th Birthday: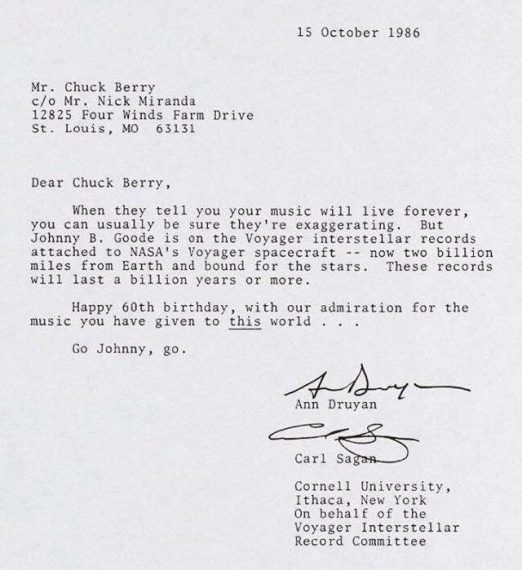 Now that is truly timeless.
As I've said before, the best way to remember a great musician is through their music, and here are four of Berry's greatest hits:
And, as a final piece, a 1986 concert featuring Berry and the great Etta James on 'Rock And Roll Music' with a backup band that includes two guys you may have heard of named Eric Clapton and Keith Richards:
As John Lennon once put it, "If you tried to give rock and roll another name, you might call it Chuck Berry." Rest In Peace.