Citing Health Issues, Urban Meyer Retires As Ohio State Head Coach
Nine years after retiring as Head Coach at Florida, Urban Meyer announced earlier this week that he would retire from his current position at Ohio State after the Rose Bowl.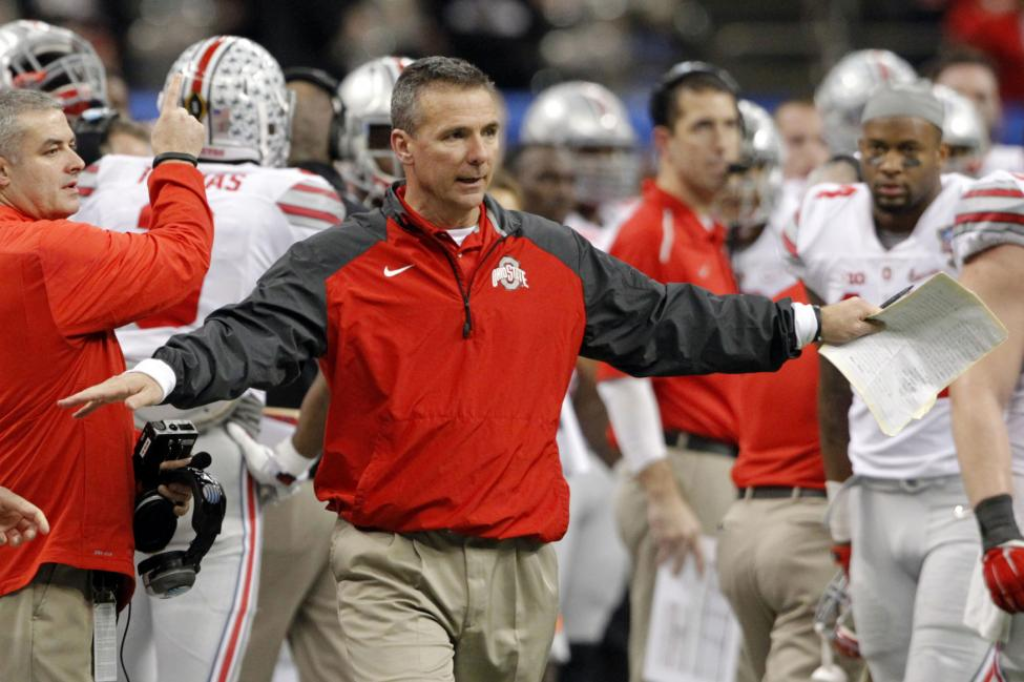 Urban Meyer announced earlier this week that he was retiring as Head Coach of the Ohio State Buckeyes after the Buckeyes appearance in the Rose Bowl against the Washington Huskies:
Urban Meyer, who returned Ohio State's football program to national prominence but who was suspended earlier this year after an investigation revealed he had protected a longtime assistant with a history of domestic abuse, will retire after seven seasons, the university announced Tuesday. Meyer cited health problems as the primary reason.

Meyer, 54, will be replaced by Ryan Day, the Buckeyes' 39-year-old offensive coordinator, after the Rose Bowl on New Year's Day. Day served as interim head coach while Meyer served his suspension during the preseason in August and the first three games of the season in September.

Meyer, one of college football's most successful and highest-paid coaches, led Ohio State to a national title in 2014, after delivering Florida to the national championship in 2006 and 2008. His overall coaching record is 186-32 and he commands an annual salary of $7.6 million, with a contract through the 2022 season.

Meyer has suffered from stress-related health problems in the past. Yahoo Sports revealed that he was suffering severe headaches, possibly from a congenital arachnoid cyst in his brain diagnosed in 1998. He was seen grabbing his head during a tense, close game against Maryland last month and kneeling on the sideline in apparent distress during an overwhelming defeat of Indiana in October.

At a news conference on Tuesday, Meyer pointed to those medical problems as the main cause of his departure and said the possibility of leaving had been on his mind for some time.

"I started dealing with some issues last year," Meyer said of his medical problems. "We had conversations back then. It's not your elbow or your foot."

He said the decision was sharpened "when recruits started asking me, 'Will you be here in four or five years?' I didn't want to mislead recruits."

"I believe I will not coach again," he said. "I hope to stay involved" with the university.

Still, Meyer was clearly not happy about the university's decision to suspend him earlier this year. As university officials deliberated and then released their decision, Meyer released a series of defiant statements defending his actions and asserting a record of treating women with the utmost respect and encouraging others to do so.

Meyer was punished for mishandling domestic assault allegations lodged against a longtime assistant coach, Zach Smith, then speaking inaccurately about it to the news media. Smith, who was the grandson of Meyer's protégé, Earle Bruce, played for Meyer at Bowling Green and worked for him at both Florida and Ohio State.

In both Florida and Ohio, Smith's contentious relationship with his wife, Courtney, garnered the attention of law enforcement. Meyer knew about the abuse allegations and did not properly report them to Ohio State officials or manage his employee, the university's investigation revealed.

"My fault was in not taking action sooner against a troubled employee about his work-related issues," Meyer said.

The Buckeyes were 12-1 this year, winning the Big Ten championship and earning a berth in the Rose Bowl, but the cloud from the controversies earlier in the year hung over the season.

"I followed my heart, not my head," Mr. Meyer said at the time of the suspension. One Ohio State trustee resigned, saying the punishment should have been "more profound."

Gene Smith, the athletic director, emphasized Meyer's record on the field.

"What Urban has brought to Buckeye Nation by far exceeded expectations," Smith said. "He is a brilliant leader of men."

Day said he would strive to continue Ohio State's winning ways.

"You have my word that I'm going to give everthing I have to continue the tradition of excellence," Day said. He described expectations at the university as "No. 1, win the rivalry game. And No. 2, win every game after that."

Smith fulsomely praised Day, but added with a laugh, "He's got to win ballgames."
As Mark Tracy at The New York Times notes, it has been a rough season for Meyer and university officials:
Urban Meyer has traveled quite a road in the last four months — from August, when he was suspended for mishandling allegations of domestic assault lodged against a longtime assistant, to Tuesday, when one of the most driven and accomplished college football coaches of his generation announced his retirement.

How long that retirement lasts is anyone's guess, though Meyer, 54, said Tuesday that he did not envision unretiring. But before the season began and Meyer's punishment was handed down, the last thing he seemed like was a coach ready to quit. Not for nothing, he had one of the most prominent, best-positioned jobs in the country, leading the flagship university of his home state.

Then on Tuesday, the university announced Meyer was retiring and would be replaced by Ryan Day, an assistant who was interim head coach while Meyer was suspended during the preseason and for the first three games.

So what changed? Most likely, Meyer's punishment was something neither the university nor he could move on from.

In early August, when Meyer was confronted with reports that he knew for years that his former assistant Zach Smith had been accused of assault by his former wife, Meyer fought back — hard. He insisted that he had "always followed proper protocols and procedures" by "elevating the issues to the proper channels."

On the day Ohio State's board of trustees and president met to decide Meyer's fate, Meyer, who was on paid leave pending the decision, showed up at the building where the officials were conferring at midmorning and seemed to remain there for most of the next 12 hours. His wife joined him in the afternoon.

When Meyer spoke at a news conference later that evening, he effectively contradicted what he had previously insisted and accepted a three-game suspension. "I'm ultimately responsible for the situation that has harmed the university," he said, seemingly through gritted teeth. He didn't apologize to Smith's ex-wife then, but a couple days later issued a statement both apologizing and apologizing for not having apologized earlier.

A week after that, he issued yet another statement, chastising the news media for, he said, misrepresenting what a report into his handling of Smith found. The report did not find that he condoned domestic assault, he said, but rather that he failed to appropriately manage an employee accused of it, an employee he hired and then retained after multiple reports of abuse.

(…)

[N]o matter what each side ends up acknowledging, no one had denied that there was another thing: In August, a special relationship between the university and the coach was irrevocably severed.

It had been one of the most fortuitous marriages in recent college sports: a proud power brought low by a memorabilia scandal, matched with a brilliant native son in need of a change of scenery. Together they bore beautiful children: an undefeated season. Three Big Ten championships. A national title. A perfect record against their archrival, Michigan.

And then the rift, with a great public university forthrightly stating that Meyer, its most prominent (and best-paid) employee as well as an ostensible moral exemplar, had fallen short — not only in his mishandling of the assistant, but in his misstatements to the news media and his possibly deleting public records.

While many at the time said Ohio State was too lenient, there is every indication that, to Meyer, the suspension was too severe. Ohio State had to choose between a certain moral vision of itself and the certain moral vision of its coach. It chose the former. Meyer's departure was, in retrospect, an inevitable consequence.
Leaving aside the issues that were raised in the wake of Meyer's suspension at the start of the season over the domestic violence allegations against a former Assistant Coach, the rumors about Meyer's future in Columbus had become louder in the past several months as it became apparent that he was having health issues that appeared to have an impact on him during the course of games. In addition to the incident during the game against Maryland, reporters also pointed to similar incidents during the course of the game against Illinois. During the pre-game show before last weeks Big Ten Championship game against Northwestern, the speculation was that Meyer would eventually announce that he would be retiring at the end of the 2019 season regardless of what the outcome of that season might be. The fact that he has instead decided to retire earlier than that could be an indication that these health concerns had become more severe.
Notwithstanding all the controversy that Meyer has dealt with this year, there's no doubt that his time in Columbus has been an unparalleled success. Over the course of the seven seasons he has been there, the Buckeyes have won 83 games and lost only 9, leaving Meyer with a winning percentage of .919 that far surpasses the 65-15 (.815) record he had over the course of his time at Florida. In addition, under his tenure the Buckeyes earned a bowl bid in all but one year, and the year that he failed to achieve that goal was one in which the team was still under NCAA sanctions for violations that had occurred under former head coach Jim Tressel, Additionally, the team won the National Championship one, the Big Ten Championship twice, and won their division in the Big Ten each year he was in head coach (although again the 2012 win does not count due to pre-existing NCAA sanctions). (Source) Finally, the team has won the rivalry game against Michigan each year that Meyer was Head Coach, including a decisive win this year that ended Michigan's hopes of making the BCS Playoffs. (Source) That's an undeniably impressive record even after taking into account the quality of OSU's schedule.
This isn't the first time that Meyer has retired, of course. Nine years ago he retired as Head Coach at Florida at the exceedingly young age of 45. The reasons for retirement at that point where also said to be health-related, but it only took two years for Meyer to be lured out of retirement for the chance to take a job that he had wanted for much of his career in Columbus. It's possible, I suppose, that we could see him "unretire" again but the factors involved this time, including his health, the domestic violence controversy, and the fact that he's older now than he was in 2009 suggests that he may mean it this time. No doubt, he'll likely end up with a sweet deal as an analyst on ESPN or elsewhere in the future. In the short term, though, one hopes he is able to deal with the health issues that have motivated this seemingly surprising decision.