Climate Activist Greta Thunberg Is Time's 'Person Of The Year"
An interesting albeit dubious selection for Person of the Year.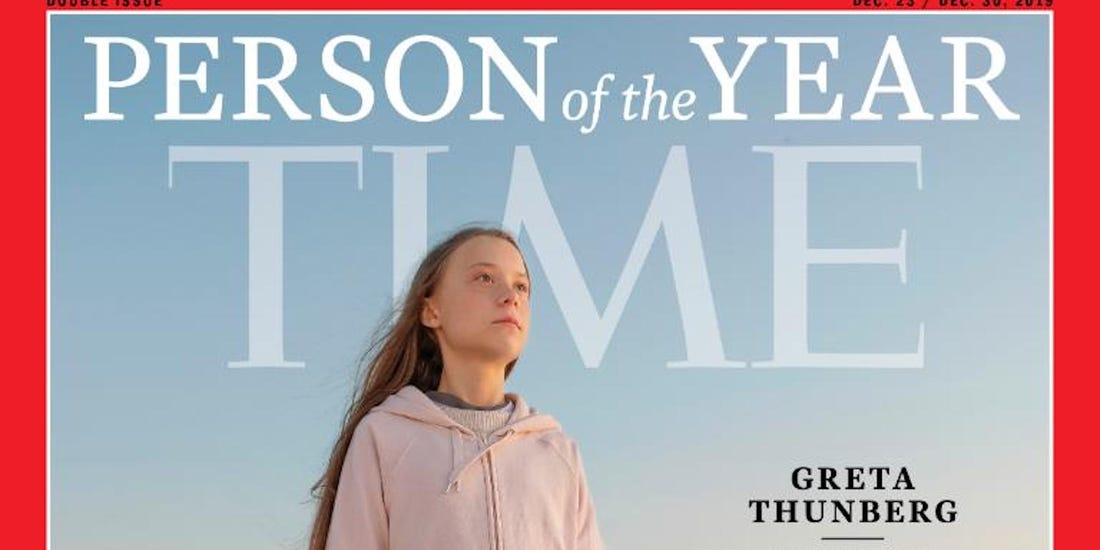 Sixteen-year-old Swedish climate activist Greta Thornburg, who has gained worldwide attention for her appearances at climate change conferences and protests, has been named Time Magazine's Person Of The Year, becoming the youngest person to receive such a distinction:
Greta Thunberg has rejected accolades for her activism, saying awards are not what the environmental movement needs.

But on Wednesday, the Swedish 16-year-old, who has mobilized millions of people to fight climate change and condemned leaders' inaction, picked up another honor that acknowledges her impact.

Thunberg is Time's Person of the Year — the magazine's youngest ever.

"She became the biggest voice on the biggest issue facing the planet this year, coming from essentially nowhere to lead a worldwide movement," Time Editor in Chief Edward Felsenthal said on NBC's "Today" show.

Thunberg represents a broader phenomenon of young people pushing for change, Felsenthal said, pointing to the Parkland, Fla., high school students who became a leading voice on gun control as well as another finalist for 2019 Person of the Year, the Hong Kong protesters who have spent months in the streets urging democratic reform.

Time's other finalists were three people at the center of the impeachment proceedings against President Trump: the president himself, House Speaker Nancy Pelosi (D-Calif.) and the anonymous whistleblower whose complaint helped set the impeachment inquiry in motion.

Thunberg — who scolded a United Nations assembly of the powerful in the fall, declaring "How dare you" — was named Person of the Year while she was giving another speech at a U.N. climate summit in Madrid.
This time, she did not reject the accolade, but shared credit with "climate activists everywhere."

Time's Person of the Year distinction is not necessarily a positive award. Rather, it is one that recognizes "the man, woman, group or concept that has had the most influence on the world during the previous 12 months." Nazi leader Adolf Hitler, for instance, was named Time's Man of the Year in 1938.

Felsenthal wrote that Time's choice of Thunberg "says as much about the moment as it does about her," describing the Person of the Year tradition as springing from a historical lens that emphasizes people at the top of major organizations and "at home in the corridors of power."

"But in this moment when so many traditional institutions seem to be failing us, amid staggering inequality and social upheaval and political paralysis, we are seeing new kinds of influence take hold," he said.

He marveled on "Today" at Thunberg's rapid rise from little-known "solo protester" to beacon of change in the past year. She spent last summer sitting alone outside the Swedish parliament with a handmade sign declaring her "school strike for climate."

That isolated action grew into a movement as Thunberg inspired students around the world to leave their classes in massive demonstrations. And she electrified young and old with her viral words for leaders at this year's U.N. summit.

"This is all wrong. I shouldn't be up here," she said. "I should be back in school on the other side of the ocean. Yet you have come to us young people for hope. "

(…)

Thunberg has been successful in pushing climate change up the global agenda, Felsenthal said Wednesday. "She's taken this issue from backstage to center," he said.

This year, there were no runners-up for Person of the Year selected from the four other finalists. Instead, Time highlighted people as influential in their fields.

Entertainer of the year went to singer and cultural force Lizzo. An athletic honor went to the U.S. women's soccer team, with Felsenthal highlighting star Megan Rapinoe, who is known for activism as well as her prowess on the field. Disney chief executive Bob Iger was recognized as the businessperson of the year with nods to his company's box office success and work launching streaming service Disney Plus. And a "Guardians of the Year" title recognized the "public servants" who have played a role in impeachment proceedings against Trump.
You can read Time's Cover Story about their selection at the link, and here's the video TIme released along with the selection:
Personally, I would have selected someone such as the President or Speaker Nancy Pelosi for this distinction. From the start of the year, both of them have had a significant impact on the course of events both here in the United States and around the world. Alternatively, I would have chosen the intelligence community whistleblower whose complaint set off the chain of events led to what will no doubt be the third impeachment of a President in American history. Given the fact that the Person of the Year cover story typically includes an interview and/or profile, that would have obviously been a difficult choice given the fact that this person's identity remains a secret but there is no question that their actions have had an impact not just on events in 2019 but they are also likely to reverberate into 2020 with the upcoming Senate Impeachment Trial and, beyond that, the 2020 elections. Of course, Time Magazine is an international publication so its not necessarily surprising that they would pick someone who had at least some international impact (although much of the same can be said about Trump, Pelosi, and the whistleblower as well.)
As for the selection of Thunberg, I suppose I can understand the choice. Her speeches, while largely substance-free and ridden with emotion rather than a thoughtful discussion of the realities involved in combatting or minimizing the damage from climate change, have certainly caught the attention of people. Personally, while I am certainly not a climate change denier, I've found her appeals to be somewhat annoying and rather unnecessary except perhaps as a rallying cry for people who think the only thing they need to do solve a complex problem like climate change and a reliance on fossil fuels that, like it or not, is likely going to continue for at least as long as it takes Greta herself to reach my age. Specifically, even when I agree with what she's saying I find the scolding attitude she takes in her speeches to be off-putting and counterproductive if the goal is to convince doubts that there is a need for action. Additionally, from the interviews I have seen she seems to have little idea about the realities of what can realistically be accomplished to reach the goals that she is advocating for and also seems to reject the idea that there will have to be compromises along the way. Finally, while I am sure her passion for the issue of climate change is real, it seems clear to me that she is in at least some respects being used by adults eager to push an agenda of their own, who can respond to any criticism of her by attacking anyone who questions her of "attacking a child."
In any case, to the extent anyone still cares about who the editors of Time consider the "Person Of The Year," I suppose that this will draw some attention to the issue of climate change. In the end, though, I can't help but think they could have accomplished the same thing with a cover story about, well, climate change.