Clinton's Democratic Opponents Upset With Parsimonious Debate Schedule
Some of Hillary Clinton's Democratic opponents are complaining about the DNC's parsimonious debate schedule.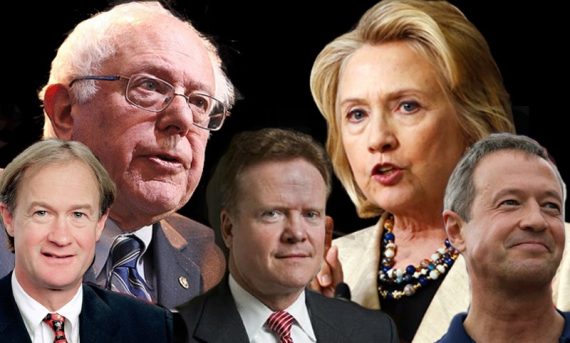 Some of Hillary Clinton's opponents for the Democratic nomination are complaining about the Democratic National Committee's rather parsimonious schedule for primary debates:
Former Maryland Gov. Martin O'Malley thinks the Democratic Party's decision to limit the number of primary debates is tantamount to rigging the nomination process.

"Four debates and only four debates — we are told, not asked — before voters in our earliest states make their decision," the presidential candidate said at the Democratic National Committee (DNC) Summer Meeting on Friday.

"This sort of rigged process has never been attempted before," he added. "One debate in Iowa. That's it. One debate in New Hampshire. That's all we can afford."

After O'Malley's speech wrapped up, observers noted palpable tension as he greeted DNC Chair, Rep. Debbie Wasserman Schultz.

O'Malley had previously criticized the DNC's decision to hold only four debates before early states cast votes as "undemocratic," and questioned the legality of the schedule.

He has also said Democrats are making a "big mistake" by rushing to make Clinton the party's nominee.

"I think it's a big mistke for us as a party to circle the wagons around the inevitable front-runner," O'Malley said on Thursday.
Vermont Senator Bernie Sanders, who has pulled ahead of Clinton in New Hampshire polls, has also been critical of the schedule:
Sen. Bernie Sanders (I-Vt.) believes the Democratic Party is using its limited primary debate schedule to rig the nomination process.

"I do," Sanders reportedly responded when asked Friday whether he agrees with former Maryland Gov. Martin O'Malley's assertion that the debate system is "rigged."

The two Democratic presidential candidates were speaking at the summer meeting of the Democratic National Committee (DNC) in Minneapolis on Friday.

This sort of rigged process has never been attempted before," O'Malley said in his speech earlier Friday.

The DNC has drawn criticism for scheduling only four debates before the early-primary states cast their votes, and six total throughout the election cycle.

DNC spokeswoman Holly Shulman defended the schedule, saying it will "give plenty of opportunity for the candidates to be seen side-by-side."

"I'm sure there will be lots of other forums for the candidates to make their case to voters, and that they will make the most out of every opportunity," Shulman said in a statement, according to The Washington Post.

Sanders previously said he would not agree to additional debates unless all of the Democratic presidential candidates participated.

But he has expressed concern with the number of debates.

"At a time when many Americans are demoralized about politics and have given up on the political process, I think it's imperative that we have as many debates as possible," Sanders said in a statement earlier this month. "I look forward to working with the DNC to see if we can significantly expand the proposed debate schedule."

"Further, I also think it is important for us to debate not only in the early states but also in many states which currently do not have much Democratic presidential campaign activity," Sanders wrote in a letter to DNC Chairwoman Debbie Wasserman Schultz (D-Fla.) in June.
While I initially dismissed the complaints that were made when the Democratic debate schedule was first announced, it does appear that O'Malley and Sanders have a legitimate argument here. By the time the Democrats hold their first debate on October 13th in Las Vegas, the Republican candidates for President will have already held two prime time debates as well as a forum broadcast on C-SPAN that included nearly all of the declared candidates for the Presidential nomination. By the time we reach the day of the Iowa Caucuses, there will have been six GOP debates, and the month of February will see three more, two in the early primary states of New Hampshire and South Carolina respectively and one that will be jointly broadcast by NBC News and Telemundo that will be held in Texas. In addition to starting their debate schedule, much earlier, Democrats will also have only four debates before the Iowa Caucuses, to be followed by only two more in either February or March to be held in Miami and Wisconsin. Finally, three of the four Democratic debates that will be held before the Iowa Caucuses will be held on a Saturday or Sunday when viewership is likely to be low. By the end of the process, Republicans will have had at least eleven debates, and Democrats will have had six.
The large number of debates on the Republican side, of course, is reflective of the fact that the race for the Republican nomination is far more competitive than the race on the Democratic side. Even with the recent rise of Donald Trump in the polls, it remains far too early to make any reasonable predictions about how that race might turn out. On the Democratic side, that doesn't really seem to be the case. While Hillary Clinton has dropped in the polls from the heights she was at several months ago, and is currently fending off a challenge from Sanders in New Hampshire, it still seems overwhelmingly apparent that she will be the nominee of the party while the candidates that are challenging her are struggling to even put together a competent nationwide campaign.
That being said, the probability that a certain candidate is likely to win the party nomination should not be the primary criteria in determining a debate schedule. These debates are supposed to be an opportunity for voters to find out more about these candidates, where they stand on the issues that will be important in the election, and provide at least some opportunity to judge their temperament and judgment in unscripted situations. Given the fact that there are only five candidates running for the Democratic nomination, a two hour or ninety minute debate should be an excellent opportunity for all of the candidates to do more than present the sound bites that are typical in multi-candidate debates. There doesn't seem to me to be any reasonable reason to restrict those opportunities in the way the DNC is doing here.
Some observers have argued that the debate schedule is designed to protect Clinton, and it's hard to argue with that premise. Front-runners always try to limit debates or any other joint free media time with their opponents, both because it limits the chances that they will say anything that can be used against them on the campaign trail and because it limits the opportunity for opponents to connect with voters. It's also undeniable that Hillary Clinton is not a very good debater. She certainly isn't as good as her husband was, and the debates in the 2008 campaign seemed to establish that she wasn't a very good debater and that she often made mistakes that came back to bite her. Given the fact that she was sharing the stage with Barack Obama, the contrast was palpable. Given that, the argument that someone isn't trying to protect Clinton does seem to have at least some merit.
It's unlikely that the debate schedule will be changed regardless of how many times that O'Malley and Sanders complain. For one thing, their complaints aren't really getting much media attention since political coverage at the moment is basically all about Donald Trump. For another, neither one of them has nearly enough clout among rank-and-file Democrats to put the kind pressure on the DNC that would be needed here. Neither Jim Webb not Lincoln Chafee have chimed on this, but it's unlikely their complaints would get any traction either. If Vice-President Biden got into the race and made this an issue, it's possible that might force change. Barring that, though, it would appear that the DNC's "keep Hillary safe" strategy will be allowed to continue.