CNBC Republican Debate Winners And, Well, Loser
Last night's debate was about more than Rick Perry's gaffe.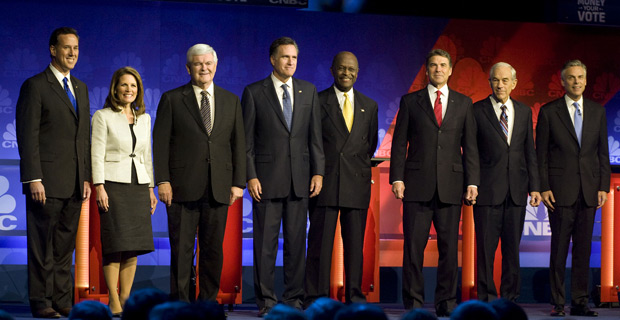 As James Joyner already noted this morning, the big headline out of last night's CNBC debate was what I guess you can call the Rick Perry brain freeze. It's all the political pundits are talking about this morning, with some wondering if this means the end of his campaign. Less than an hour after the debate ended, The Washington Post's Aaron Blake was reporting on Twitter that a top Perry fundraiser had said "Perry campaign is over. Time for him to go home and refocus on being Gov of TX." The Perry Campaign's quick efforts to finesse this gaffe, and even get some humor out of it, were signs of a good campaign organization, but I fear it won't be enough for the Governor. The fact that Rick Perry had a brain freeze isn't the issue. We've all had moments like that at some point in our lives, sometimes they're pretty embarrassing, but you move on. Of course, most of us don't have television cameras running when it happens, we don't have YouTube clips of the gaffe floating around the Internet before the night is over, and we don't have a history of debate performances behind us that were pretty darn bad. The problem with Perry's gaffe is that it reinforces a narrative that has been in place since September. Will his campaign survive? Sure it will, he's got plenty of money. However, the odds that he's going to rise again in the polls nationally or in states like Iowa just got a whole lot slimmer:
Here's the problem for Mr. Perry: There isn't all that much time left. Iowa will vote less than two months from today, with New Hampshire and South Carolina following on its heels. This is about the point in time at which voters, donors, and party officials need to think tactically, betting on a horse whom they think can win. Thus, Mr. Perry's demise could be a self-fulfilling prophecy: If everyone thinks he is going to lose, he almost certainly will.
So let's just get things out of the way and declare Rick Perry the loser of this debate, whether he really deserves it or not that's how it's going to be spun. In all honestly, this debate probably would be quickly forgotten had it not been for the Perry gaffe, which is likely to be right up there with Gerald Ford's Poland comment in the annals of bad debate mistakes. Nonetheless, there were a few matters likely to have some impact on the race.
Going in, of course, the 800 lb gorilla in the room was the sexual harassment charges against Herman Cain. There was much pre-debate speculation about whether the subject would come up in a debate that was supposed to be focused solely on the economy. Personally, I didn't think it would come up simply because it would be so wildly off-topic. But, it was CNBC host Maria Bartalomo who ended up asking the question, with her colleague John Harwood following up:
But, first, Mr. Cain, the American people want jobs, but they also want leadership. They want character in a president. In recent days, we have learned that four different women have accused you of inappropriate behavior. Here we're focusing on character and on judgment.

(BOOING)

You've been a CEO.

CAIN: Yes. BARTIROMO: You know that shareholders are reluctant to hire a CEO where there are character issues. Why should the American people hire a president if they feel there are character issues?

CAIN: The American people deserve better than someone being tried in the court of public opinion based on unfounded accusations. That's…

(APPLAUSE)

And I value my character and my integrity more than anything else. And for every — one person that comes forward with a false accusation, there are probably — there are thousands who would say none of that sort of activity ever came from Herman Cain.

You're right. This country's looking for leadership. And this is why a lot of people, despite what has happened over the last nine days, are still very enthusiastic behind my candidacy. Over the last nine days…

(APPLAUSE)

Over the last nine days, the voters have voted with their dollars, and they are saying they don't care about the character assassination. They care about leadership and getting this economy growing and all of the other problems we face.

(APPLAUSE)

HARWOOD: Governor Romney, when you were at Bain Capital, you purchased a lot of companies. You could fire the CEO and the management team or you could keep them. Would you keep a CEO — are you persuaded by what Mr. Cain has said? Would you keep him on if you bought his company?

(BOOING)

ROMNEY: Look, look, Herman Cain is the person to respond to these questions. He just did. The people in this room and across the country can make their own assessment. I'm not…

(CROSSTALK)

(APPLAUSE)

HARWOOD: Governor Huntsman, let me switch back to the economy. The…

(APPLAUSE)
Clearly, that didn't turn out the way that Bartalomo and Harwood thought it would. I've got to say that, even though I'm not a Herman Cain fan, I thought he handled his response to that question better than he's handled his response to any question on this issue so far. It's not going to make it go away, and there are likely to be further revelations from the women accusing him in the days to come, but between this response and the fact that everyone will be talking about Rick Perry today, Herman Cain probably bought himself some relief for a day or two. Romney also did the right thing in choosing not to attack his opponent, because there's just no way to do that right without coming away looking bad.
As for the debate itself, it pretty much went as expected. Herman Cain's response to seemingly every question about the economy was to bring up his 9-9-9 plan, the only difference is that, this time, none of the candidates really bothered to really counter him on the plan's obvious flaws. Michele Bachmann and Rick Santorum were their usual selves but they seem to be fading into the background more and more at these debates. Ron Paul was, well, Ron Paul, and, quite honestly, what Rick Perry said on any other topic last night has been drowned out by his gaffe.
This was another debate, like pretty much every one that has preceded it, where Mitt Romney effectively won by not letting anyone touch him and by displaying the kind of command of the issues that one expects to see from a Presidential candidate. The crowd was behind him thanks largely to the fact that his personal ties to Michigan are nearly as deep as his ties to Massachusetts. Romney wins for the most part, though, because nobody touched him and because of the mistakes that his opponents made. Romney did stumble a little bit over a health care question, but not in a way that anyone is going to remember. He also had a bit of a brain freeze moment of his own when he said he and his wife had been married for 25 years, quickly correcting himself and joking that he "better get that right, or I'm going to be in trouble." Rather than audible gasps when Perry stumbled, Romney was able to get a laugh out of his mistake. That's the difference between an experienced and an inexperienced campaigner.
The other winner of the night was Newt Gingrich. As improbable as it seems, the former Speaker is starting to get a lot of respect on the right that he didn't have before, and people are beginning to wonder if he's the man who will rise when Herman Cain inevitably starts to fall in the polls. If that happens, part of the reason will be because of debate performances like last night. Gingrich was at times professorial, detailed in his answers, and much appreciated by the audience. The problem is that he was also Newt Gingrich, meaning that he once against got into an argument with the moderators, this time with Bartolomo over the media's coverage of the economy, in an exchange where Newt clearly did not come off as the winner:
Do something like that in a General Election debate and you're going to come across as an un-Presidential jerk. As tempted as they might be to rally around him, Newt Gingrich would be electoral poison for the GOP.
Mitt Romney is still the candidate to beat, though, and the question that really remains unanswered is whether Herman Cain continues to be his primary opponent in this race. If he does, then Gingrich really won't get a chance to rise and the GOP will have to decide whether it wants the flashy guy with no substance, or the guy who actually has a chance of winning the election in November.