Color Coding Blogs by Political Bias
Andy Baio and friends have undertaken an interesting project: color coding political blogs to track bias.
Andy Baio and friends have undertaken an interesting project: color coding political blogs to track bias.
Wired ("Memeorandum Colors 2012: Visualizing Bias on Political Blogs"):
As you'd expect, the universe of political blogs is largely split in two, with conservative and liberal blogs rarely covering the same stories or linking to the same sites. But it can be very challenging to tell their political leanings at a glance, especially with names like "Balloon Juice," "Weasel Zippers," or "The Volokh Conspiracy."

So, four years ago, I launched a project with Delicious/Tasty Labs founder Joshua Schachter to visualize the linking biases of various political blogs on Memeorandum by looking at their past behavior.

Using singular value decomposition, the linear algebra at the heart of your Netflix recommendations, we reduced the entire matrix of blogger-to-article relationships to a single dimension. Imagine a single line grouping like-minded blogs together based on the diversity of the stories they cover, with hardcore left- and right-leaning blogs on opposite sides of the spectrum.

Using those precalculated values, we load the data from Google Spreadsheets and color the links on Memeorandum, based on where they fall on the spectrum. The brighter the color, the more frequently they only cover stories by their counterparts.
So, how'd they do? Well, apparently, OTB is a hard left site: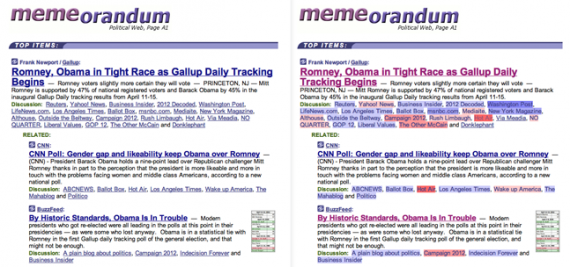 While some conservatives will see this as confirmation–see, they are a bunch of lefties after all!–it's rather hard to come up with a definition by which OTB qualifies as liberal. The problem here is that Baio and company have created a self-fulfilling prophecy. They start by assuming that blogs only link to stories that other likeminded people link to and then color code accordingly–thus proving their hypothesis! Instead, rather obviously, they should have come up with the ideological coding independently.
If you'd like to play with this script yourself, the link has downloadable versions for Chrome, Firefox, and Greasemonkey.
UPDATE: It appears that the coding itself is four years old. What's new here is that they now have four years of data.