Man Beaten and to Some it is Time to Score Some Political Points
How about we recognize that we do have ongoing and serious racial tension in this country rather than ignoring the issue most of the time and only deploying it when the game of politics is being played?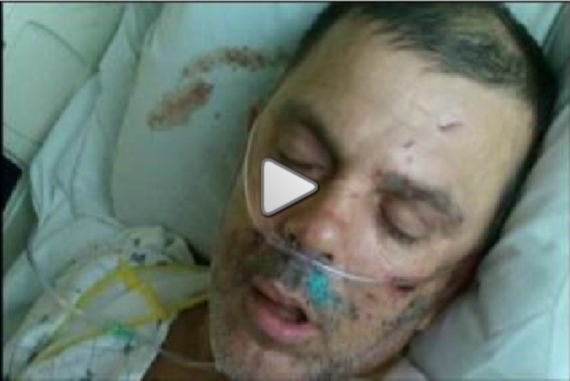 There is some pretty awful news out of Mobile, Alabama about a man who was beaten by a mob allegedly because he had had words with a group of kids who had been playing basketball in the street.  The man who did the fussing was white, the kids black, and it would seem that the group of individuals who beat the man were black adults.  There is also an allegation that one of the assailants stated that the beating was "justice for Trayvon."
The basic details can be found here via WKRG:  No Arrests In Matthew Owens Beating, Tensions High
According to police, Owens fussed at some kids playing basketball in the middle of Delmar Drive about 8:30 Saturday night. They say the kids left and a group of adults returned, armed with everything but the kitchen sink.

Police tell News 5 the suspects used chairs, pipes and paint cans to beat Owens.

Owens' sister, Ashley Parker, saw the attack. "It was the scariest thing I have ever witnessed." Parker says 20 people, all African American, attacked her brother on the front porch of his home, using "brass buckles, paint cans and anything they could get their hands on."

Police will only say "multiple people" are involved.

What Parker says happened next could make the fallout from the brutal beating even worse. As the attackers walked away, leaving Owen bleeding on the ground, Parker says one of them said "Now thats justice for Trayvon."
This situation has caused something of a stir in some of the rightward reaches of the blogosphere, as they now have a case that appears, at least at first reporting, to be a racially motivated attack wherein the perpetrators were black and the victim white.
Indeed, apparently people such as Jim Treacher think that a very serious crime is really just a swell chance to attempt* to score very cheap political points:
Well done, Spike Lee. Nice job, NBC. Keep up the good work, ABC. And to everyone else who's been using a shooting in Florida to foment hate and divide people by the color of their skin, kudos. Don't let this attack, and similar attacks across America, bother you. If you had a conscience, we never would've heard of you in the first place.

Update: Thomas Sowell asks, "Who is 'racist'?" Short answer: Anybody who doesn't hate George Zimmerman on sight, apparently.
We can find similar responses from Stacy McCain, Rick Moran, and Glenn Reynolds.
These are writers who found it offensive/problematic/etc. to suggest that race might have been a factor in the Martin-Zimmerman case but who now find it very useful to throw up race now. In the Martin case decades of racial tensions in the US, the entire "talk" phenomenon, and so forth is just crazy talk and worthy of derision and dismissal, but now that a white man has been beaten by black men, well now we can talk about race and we can also blame the media and such for causing this event.**
Also:  if the argument they are attempting to make is that because some people sensationalized and politicized the Martin shooting that turnabout is fair play they need to consider their logic.
How about we recognize that we do have ongoing and serious racial tension in this country rather than ignoring the issue most of the time and only deploying it when the game of politics is being played?
This kind of stuff reminds me of something that Ta-Neishi Coates wrote the other day (and that I expect will be widely quoted on this matter):
I think this sort of thinking is endemic to how the conservative movement thinks about racism. For them it isn't an actual force, but a rhetorical device for disarming your opponents. So one does not call Robert Weissberg racist and question his ties to National Review because one seeks to stamp out racism, but because one hopes to secure the White House for Democrats. Or some such. Even if you have a record of calling out bigotry voiced by people deemed to be "on your team," it doesn't much matter because there's no real belief in it existing to begin with.

[…]

That tradition of viewing racism, not as an actual thing of import, but merely as rhetoric continues today.
Indeed.  This is exactly how this current incident appears to be being handled by the above linked bloggers.  They see this as simply a way to score points.  For example, writes Reynolds:
I think, however, that all of this stuff hurts him [Obama] more than it helps — first by contrast with the postracial narrative of 2008, and second by making him look more like a corrupt, demagogic big-city mayor than a President.
So, a man lies near death but let's figure out how this hurts Obama (or something).  Nice.
How about this:  I will unequivocally state that racially motivated beatings are wrong (and that, sadly, they exist).  I will state that if, in fact, any of the attackers thought they were engaging in some sort of karma balancing because of the Trayvon Martin shooting, that that is wrong.  In general, beating someone because they may have griped at/criticized/yelled at/whatever some kids in the street, also wrong.
And just like I thought that there needed to be an investigation and charges brought with a dead teenager on the ground in the Zimmerman case, I think too that there needs to be arrests and charges in a case with a man clinging to life in a hospital bed after a beating.
That this creates for some people a chance to score points (or, at least, they think it is such) is pretty remarkable and, also, pretty awful.
And yes:  I am calling people out, many of whom may actually read this and respond (please, feel free).  I think, however, sometimes people need to be called out over the petty usage of serious topics simply to try and give your "side" (whatever that may mean) a boost.  Where is the recognition that a) in the Martin case a kid is dead, b) in the Owens case a man hovers near death, and c) racism is still a serious problem that we have to be honest about in the US?
This also reminds me of something James Joyner wrote recently:
This is reinforced by a phenomenon that I've written a lot about over the years, of American politics taking on a team sports mentality where all that matters is the color of the jersey.

[…]

This mentality has been present in the blogosphere for a number of years now but seems to have taken hold even among the political grown-ups. Even the World's Greatest Deliberative is acting along these lines, with Republican leaders not even bothering to pretend that they're interested in advancing conservative goals by forcing the president to give more than he gets. No, the chief goal is to ensure Obama doesn't get re-elected and an 80 percent win on the issue is considered instead a 100 percent loss.

It's a maddening environment in which to try to have an intelligent conversation.
Indeed.
Meanwhile:  here's hoping that Owen's attackers are brought to justice and, more importantly, that Owens makes a full and swift recovery.
——
*I say attempt because I am not sure sure he is actually scoring anything here, except perhaps with others who see this kinds of situations as nothing more than a weird game of tit for tat.
**And yes, there has been crazy sensationalism over the Martin case.  And yes, there has been some demagoguery.    Neither of those facts, however, make the seriousness of the Martin case go away and nor do they make discussions of race in that context null and void.