Where Have the Thoughtful Conservatives Gone?
OTB's comment section as a microcosm of the American political landscape.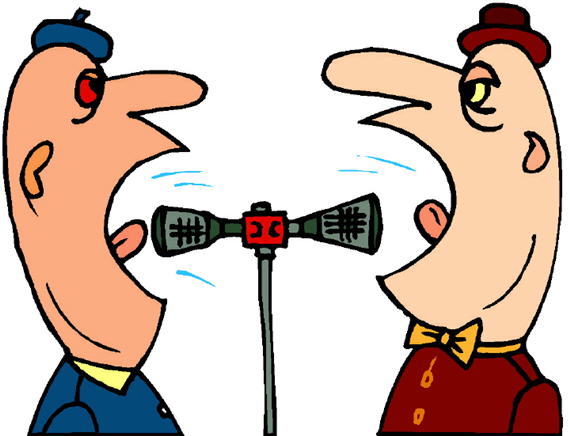 In my absence Friday, an interesting sidebar discussion took place in the comment thread to my post "The Christian Love That Dare Not Speak Its Name" about the evolving tone of the comments section here at OTB as well as my own positions over the years.
Longtime commenter Boyd, who's been with us since probably the earliest days of the blog, notes that my "shift to less conservative positions" and other factors have driven off most of the conservative commenters from "back in the day" and that this has created a vicious cycle in which "very often, the valid, incisive non-liberal point is just ignored, so the conservatives often don't get engaged in any actual discussion of the matter at hand." MattB and Stormy Dragon, in particular, rebut the second part of that.
In terms of the evolution of the commentariat, it's clearly the case that most of the better contributors are to the left of me. There are a handful of very thoughtful conservative voices left–and I count Boyd among them–but they do seem fewer in number than was once the case. Then again, I've noted the same trend in the blogosphere as a whole. Several right-of-center bloggers that were daily reads once upon a time now just make me shake my head. For that matter, the same thing has happened with conservative politicians.
There are three, not mutually exclusive, explanations for this. First, as I've argued elsewhere, we've simply changed the definition of conservative at a rapid clip. Second, conservatives are putting emphasis on parts of their agenda that were once peripheral. Third, I've become less conservative even by the terms of the debate operational in 2003.
In the grand scheme of things, my views are pretty much what they were when I launched the site a little over nine years ago. I was, after all, already approaching middle age, had been rabidly interested in politics for a quarter of a century, had a PhD in political science, and spent several years teaching the subject by that point; I was not exactly a tabula rasa. But in 2003, we pretty much divided up sides on the blogs based on where you stood on the Iraq War. Even guys like Charles Johnson, who was and remains very liberal on the social issues, was on Our Team. So, for that matter, were John Cole, Andrew Sullivan, and others. There was almost no heresy that could get one ousted from good standing so long as one supported a vigorous military posture against America's enemies.
From literally the first days of the blog, I was castigating the likes of Ann Coulter, pushing back against the notion that those who opposed a war that I supported were therefore unpatriotic, took a libertarianish posture on the social issues, and was openly hostile to organized religion. I could certainly have written "The Christian Love That Dare Not Speak Its Name" back then although, having just left the Deep South after having spent much of my teenage and adult life there, it would have been somewhat less snarky and more temperate towards the heartfelt beliefs of the sort of people in whose company I used to spend a lot more time.
On the other hand, my views on some social issues have changed. Most notably, my view of homosexuality in general and gay marriage in particular have surely evolved leftward. My 2003 views on gays were moderate for a 37-year-old Southern conservative but I still considered the "gay lifestyle" bizarre, was skeptical of gays serving openly in the military, and thought society had every right to deny its blessing to marriages it found perverse. Having spent most of my life in a culture where homosexuality was reviled, my only exposure to the phenomenon were the weirdos on TV wearing leather chaps that showed off their bare asses at gay pride rallies and various repressed weirdos who didn't mind being flamboyant in a culture that despised them. Living in a much more gay-friendly metropolitan era, I simply know more "normal" gay people who are different from other "normal" people I know only in their private sexual conduct.
Additionally, as Steven Taylor and I have both written, our views have evolved in fairly similar ways over the years mostly through the act of blogging. We're a pretty good controlled experiment, albeit one with some serious methodological flaws. But we started with very similar viewpoints and information consumption habits when we started teaching together at Troy way back in 1998. He remained there when I moved up here in 2002 and we started blogs within a few days of one another in early 2003. So, while my geographic relocation is no doubt one influence, the blogs would seem to be the common factor.
The nature of blogging, at least in the way that we do it, is that one's arguments, analyses, and worldview are constantly being challenged. Most obviously, commenters and other bloggers take our statements to task and we're forced to defend them. Less obviously, simply finding interesting materials to blog about requires an inordinate amount of reading–mostly of people who don't have identical views to your own because, unless one is simply curating content, there's not much fodder in "What he said."
I've written tens of thousands of posts over the years, several thousand of them substantive analyses of public policy issues. Being intellectually honest–a career  liability in the punditry business, frankly, but an occupational hazard of the scholar–simply requires changing one's views over time when presented with compelling evidence and argument.
Aside from some modest drift on social issues, I'm less economically libertarian than I was nine years ago. It's not so much that I trust Big Government solutions than I once did but that I 'm less confident in the Invisible Hand and the power of individual self-determination.
While I still strongly oppose central economic planning, even at the benign level of Industrial Policy, I no longer think that the free market always yields winners based on the wisdom of the crowds.  More crucially from a public policy standpoint, while I still think a person's earnings rightly belong to him and not the society as a whole–and thus I find the notion of a top marginal rate of 70 percent, as it was when Ronald Reagan took office, or 90 percent, as it was for much of the postwar period, confiscatory and wrong–I don't view low taxes as a secular religion. The Laffer Curve curves, after all, and we actually do need to raise money to pay for the government programs that we agree upon.
In addition to the changes in the conservative movement and in my own philosophy, another phenomenon is taking place–a change in emphasis in Republican politics. Going back to the earliest days of my political memory, which began roughly with the Iran Hostage Crisis and the 1980 presidential election, the GOP has spent a lot of time talking about the social issues on the campaign trail. Notably, though, they didn't make them a governing priority, aside from tertiary things like denying public funding for abortion services and the like.  While Ronald Reagan talked a good game on the values issues, his governing emphasis was on defeating the Soviets by building up our military. As recently as the last Republican presidency, that of George W. Bush, the practical governing emphasis was on the War on Terrorism and its offshoots in Afghanistan and Iraq. While I came to oppose the execution and even the strategy of both efforts, I nonetheless bought the underlying premise that defeating those forces hostile to American security was vital.
While I think Mitt Romney will pivot this campaign back to more familiar ground, the internecine Republican debate that's been ongoing since the election of Barack Obama has been on what strike me as fringe issues. While I reject the argument that it's mostly about race–there were plenty of nutty conspiracy theories about Bill Clinton, too–the debate has been almost completely unhinged from reality. Ridiculous numbers of Republicans believe ridiculous things about the president. ObamaCare, which is at its heart  corporate welfare for the health insurance industry, is widely decried as "socialist" and all manner of irrational invective has been hurled at the Heritage Foundation-devised individual mandate. And the combination of religious zealot Rick Santorum's emergence as the Last Not-Romney Standing and the takeover of some state legislatures by people a lot like him has us debating such nonsense as to whether birth control pills are moral and whether it would be a good idea to force women to get vaginal ultrasounds as a precondition for obtaining legal surgery.
What's happened along the way, unfortunately, as that those of us who call out these actions as outlandish and unhelpful to the conservative and/or Republican cause are dismissed as heretics. A handful have gone full John Cole and become bitterly anti-Republican. Most, though, are simply dismissed as RINOs and squishy moderates who don't believe in anything and don't feel like they have a place in the dialog.
This is reinforced by a phenomenon that I've written a lot about over the years, of American politics taking on a team sports mentality where all that matters is the color of the jersey. If Barack Obama is in favor of something, Republicans must therefore denounce it. If Barack Obama does something that we all support–say, giving a Go order to the raid that killed Osama bin Laden–we are expected to find some way to minimize or criticize it.
This mentality has been present in the blogosphere for a number of years now but seems to have taken hold even among the political grown-ups. Even the World's Greatest Deliberative Body is acting along these lines, with Republican leaders not even bothering to pretend that they're interested in advancing conservative goals by forcing the president to give more than he gets. No, the chief goal is to ensure Obama doesn't get re-elected and an 80 percent win on the issue is considered instead a 100 percent loss.
It's a maddening environment in which to try to have an intelligent conversation.