The Christian Love That Dare Not Speak Its Name
Andrew Sullivan wants the Catholic Church to give up its hatred of homosexuals. There's another alternative.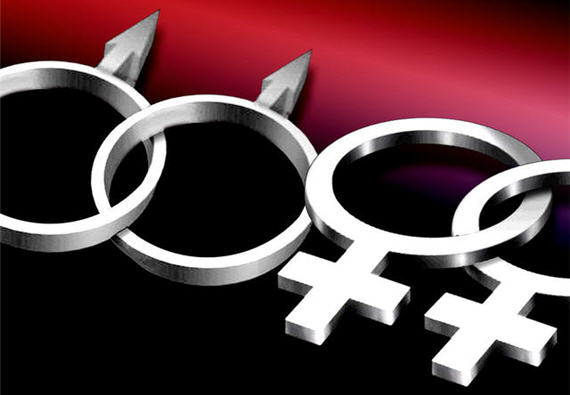 In a Newsweek essay, Andrew Sullivan argues that modern Christianity is in crisis because of clerics and politicians who "obsess about others' sex lives, about who is entitled to civil marriage, and about who pays for birth control in health insurance." He adds, "The issues that Christianity obsesses over today simply do not appear in either Jefferson's or the original New Testament. Jesus never spoke of homosexuality or abortion, and his only remarks on marriage were a condemnation of divorce (now commonplace among American Christians) and forgiveness for adultery."
Rod Dreher isn't buying it:
Of course, there is no more modish claim than that Jesus didn't care what we did with our sex lives. Jesus's teachings weren't as explicit as St. Paul's, but then again, if you cut Paul off, you don't have Christianity. Nevertheless, Jesus did say, in the fifth chapter of Matthew's gospel:

27 "You have heard that it was said, 'You shall not commit adultery.'[e]28 But I tell you that anyone who looks at a woman lustfully has already committed adultery with her in his heart.29If your right eye causes you to stumble, gouge it out and throw it away. It is better for you to lose one part of your body than for your whole body to be thrown into hell.30 And if your right hand causes you to stumble, cut it off and throw it away. It is better for you to lose one part of your body than for your whole body to go into hell.

31 "It has been said, 'Anyone who divorces his wife must give her a certificate of divorce.'[f]32 But I tell you that anyone who divorces his wife, except for sexual immorality, makes her the victim of adultery, and anyone who marries a divorced woman commits adultery.

Any Christian who claims that Jesus was indifferent to sexual purity had better cut this passage out of their New Testament and consign it to the trash bin. Jesus condemns lust. What is lust? How would Andrew Sullivan define lust? Jesus believes that "sexual immorality" is so serious that it's the only legitimate reason for divorce. What could Jesus have meant by "sexual immorality"? Clearly, unambiguously, Jesus believes in a right way of sexual conduct, and a wrong way — and condemns the wrong way in serious terms. It is completely untenable to say that Jesus was indifferent to sexual conduct. If we want to know more explicitly what kind of sexual conduct Jesus found to be trayf,we should consult his tradition's teachings, found in the Hebrew Bible. Or you could trust the rabbi Paul, who was a contemporary of Jesus's.

If you really don't want to know, because to know is to be responsible, and to be responsible is to have to change your life and die to yourself in ways you prefer not to, well, then you are fooling yourself. It's as if the Rich Young Rulerwent away from Jesus sorrowful, and then wrote an essay later saying that if we really knew Jesus, we would know that he really didn't mean that one would have to sell all one's possessions if one wants to have eternal life.
This is a remarkably radical passage – requiring us, if we take it literally, to dismember our bodies because they constantly present a temptation to forget God. My interpretation is that Jesus is warning against believing that because you obey certain religious rules, you are somehow holy. Inside you are probably not. Lust, greed, racism, fear, and tribalism – to take a few aspects of fallen human nature – are innate; and his call is for a total, deep renunication of all of them, not just obeying formal rules like a "certificate of divorce." This is of a piece with Jesus' insistence on interior, personal transformation – not just obedience to religious law.

But in so far as this passage is about sex, it is a total impossibility. Not to feel involuntary sexual attraction is not to be human. The standard is impossible. I mean: try it. Try to have no sexual desires, feelings or moments of attraction. Not try to resist acting on them; but resist even thinking them. That's Jesus' standard. We all fail that standard. We are all therefore adulterers to different degrees. Any man who has ever had a chubby for someone not his wife is an adulterer. Every celibate priest is an adulterer. The Pope is an adulterer. Every Christian who has ever lived is an adulterer.
In terms of the internecine Christian debate, Sullivan gets the better of it. Yes, sodomy is a sin specifically condemned by the lead character of the Bible. But sin is so ubiquitous and unavoidable that we're literally all sinners and, in the reboot of the series that gives Christianity its name, can only obtain salvation through belief in the third part of a Holy Trinity. Depending on what sub-sect one adheres to, some combination of water, wine, and cookies may also be required. Possibly also good works. Or being born into a pre-chosen Elect. Or being dead but saved through the good graces of a live Mormon. Or . . . well, you catch the drift.
But Dreher's not wrong, either. Even if homosexual lust–or even its consummation–is no more sinful than its unmarried, unprocreative heterosexual variant, there is the small matter of another counsel that Sullivan quotes: "Go sin no more." Clearly, Sullivan hasn't the slightest intention of complying with that command.
Nor, of course, would I counsel him to do so. Then again, I base my morality on Protagorus' dictum "Man is the measure of all things" rather than the Holy Bible or the teachings of a church that teaches that its rotating figurehead is infallible on matters of doctrine.
Sullivan is putting his considerable intellect and training in the art of logic to great strain attempting to reconcile the irreconcilable. He's a member of an institution that has spent a great deal of the last two millennia condemning the likes of him and his husband for being who they can't help but be.  While the logical choice, telling the institution to bugger off, is easier said than done, it makes a hell of a lot more sense than pretending that its hatred of you is some newfangled development.