What's Wrong With Political Reporting?
Political journalists aren't like you and me. Well, you, anyway.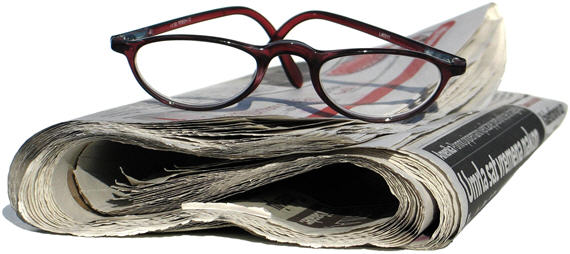 In an address to the Melbourne Writer's Festival yesterday, NYU's Jay Rosen explains "Why Political Coverage is Broken." The speech is worth reading in full but some excerpts are useful for discussion.
Promoting journalists as insiders in front of the outsiders, the viewers, the electorate…. this is a clue to what's broken about political coverage in the U.S. and Australia. Here's how I would summarize it: Things are out of alignment. Journalists are identifying with the wrong people. Therefore the kind of work they are doing is not as useful as we need it to be.
This is not a new problem. Indeed, this site draws its name from the longstanding concept that those close to power have a very different understanding of it than those on the outside looking in. It was at the time I chose the name (January 2003) playfully ironic. I had just moved six months earlier from rural Alabama to the DC exurbs, living and working within a couple miles of Dulles airport.
Having lived here nine years now, my attitudes and perspectives have indeed changed. I actually work in downtown DC now and meet a lot of used-to-be's and the occasional still is. Being that close to power has actually enhanced my understanding of how far from it I am. Certainly, I would never label myself an "insider."
At the same time, though, I'm less doctrinaire on fiscal issues and even less socially conservative than I was when then.  How much of that is a function of living in the National Capitol Region per se and how much is simply being in a cosmopolitan setting and surrounded by a much greater variety of perspectives than I was, I can't say. (Additionally, I've spent most of the same time blogging and otherwise engaging with really sharp minds from across the globe on a virtual basis. So, the attitudinal changes may have occurred even if I were still on campus at Troy. Indeed, using Steven Taylor as a control group gives evidence in that direction.)
To the extent that writing political commentary constitutes "journalism," then, I'm doubtless identifying even more with the elites than I did nine years ago. Were I a political reporter interacting with insiders on a daily basis, that would doubtless be more true.
Part of the problem was identified by Lindsay Tanner in his book, Sideshow: Dumbing Down Democracy. He points out how often the Australian press reframes politics as entertainment, seizing on trivial episodes that amuse or titillate and then blowing them up until they start to seem important. I'm not going to dwell on this because Tanner has it well covered. So did my mentor in graduate school, Neil Postman, in his 1985 classic, Amusing Ourselves to Death.

From a TV programmer's point of view the advantage of politics-as-entertainment is that the main characters, the politicians themselves, work for free! The media doesn't have to pay them because taxpayers do. The sets are provided by the government, the plots by the party leaders, back benchers and spin doctors. Politics as problem-solving or consensus-building would be more expensive to cover. Politics as entertainment is simply a low cost alternative.
There's something to this, as the ridiculous over-coverage (in which OTB took part) of the Anthony Weiner scandal attests. For that matter, the outsized attention Sarah Palin and Michele Bachmann get come more from their personalities and propensity to say unusual things than their likelihood of occupying the Oval Office.
But, as I've argued many times before, the main problem with political coverage–and, again, OTB is a frequent offender–is that it's treated as sport, moreso than as scripted amusement. Rosen doesn't quite put it that way, but he seems to concur:
When journalists define politics as a game played by the insiders, their job description becomes: find out what the insiders are doing to "win." Reveal those tactics to the public because then the public can… well, this is where it gets dodgy. As my friend Todd Gitlin once wrote, news coverage that treats politics as an insiders' game invites the public to become "cognoscenti of their own bamboozlement," which is strange. Or it lavishes attention on media performances, because the insiders are supposed to be good at that: manipulating the media.
I don't think this is so much by design but a function of daily–and now, minute-by-minute–coverage. If political journalism were confined to weekly magazines like Time or The New Yorker or even monthly magazines like The Atlantic, it would be radically different. We'd get in-depth features on the candidates, with reporters following them around for days and recording their thoughts, capturing impressions of their demeanor and character, and then framing a narrative. Instead, reporting has traditionally been built around the daily newspaper and, more recently, the nightly newscast. That requires something "new" on a daily basis. So today's poll, today's gaffe, and today's speech has to provide something to build a story around.
Blogs, which incentivize quick reaction with little verification, and Twitter, which rewards snark and instant glibness, are changing this further. There's not much reflection when you're living on Twitter Standard Time.
That's not a criticism. I've written some 20,000 blog posts and 30,000 tweets over the years. I enjoy the back and forth and the constant sifting of information have sharpened my writing. During these past nine years I've also published dozens of pieces in national outlets that grew out of blog posts and, increasingly, Twitter conversations. But it's doubtless changed the nature of political journalism. There's much more writing aimed at other "insiders"–journalists, bloggers, Tweeters, and other political junkies.
Rosen nails it with this:
In the United States, most of the people who report on politics aren't trying to advance an ideology. But I think they have an ideology, a belief system that holds their world together and tells them what to report about. It's not left, or right, or center, really. It's trickier than that. The name I've given to the ideology of our political press is savviness. And I see it in Australia too. When you watch political journalists on a roundtable program summing up the week and looking ahead, what they are usually performing for us is… their savviness.

So let me explain what I mean by that term.  In politics, our journalists believe, it is better to be savvy than it is to be honest or correct on the facts. It's better to be savvy than it is to be just, good, fair, decent, strictly lawful, civilized, sincere, thoughtful or humane.  Savviness is what journalists admire in others. Savvy is what they themselves dearly wish to be. (And to be unsavvy is far worse than being wrong.)

Savviness is that quality of being shrewd, practical, hyper-informed, perceptive, ironic, "with it," and unsentimental in all things political. And what is the truest mark of savviness? Winning, of course! Or knowing who the winners are.

To the people inside it, savviness is not a cult. It is not a professional church or "belief system." They would probably reject my terms. But they would say that journalists need to be savvy observers because in politics the unsavvy are hapless, clueless, deluded, clownish, or in some cases extreme. The unsavvy get run over: easily. They get disappointed: needlessly. They get angry-fruitlessly-because they don't know how things really work.
I wouldn't characterize myself as a member of this cult, but I've attended a few meetings. I  regularly call out politicos for being indecent, uncivilized, and ignorant and still value toughfulness and humanity. But, certainly, I'm drawn to those who are smart, clever, wonkish, and ironic. It's no doubt why, for example, I've always liked Joe Biden and have never understood the seething hostility so many on my side have towards Barack Obama. For that matter, it's partly why I've instinctively dismissed Palin, Bachmann, and others with whom I doubtless agree on more issues than Biden and Obama as unworthy to lead.
Additionally, this is a function of my personality and training. In a post some months back called "Cognitive Bias and the Pundit Class," I quoted  Kevin Drum:
I'm willing to bet that most of us are a bit nerdy, sort of hyperanalytical, maybe even slightly Aspergers-ish. We're comfortable — too comfortable, probably — viewing the ebb and flow of human lives as an accounting exercise. We're also very sure of ourselves, generally pretty verbal, and we have soapboxes to shout from.
And added:
Most of us in the punditry game are INTJ types whose analytical mindsets have been reinforced by academic training and career choices.  We tend to be driven by data and accepting of the random chaos of the universe in a way that normal people aren't.   And, as I constantly point out, we're also freakishly interested in politics and policy, whereas the vast majority of our fellow citizens have enough sense to ignore these things until a couple weeks before the election.
Rosen continues,
What's so weird about savviness is that it tries to position us as insiders, invited to speculate along with journalists and other players on how the mass public will react to the latest maneuverings. But the public is us.  We are the public. But we are also the customers for the savviness product. Don't you see how strange that is?
Here, I think he's off the mark. As already noted, the average person hardly cares about politics at all. Maybe they'll pay attention during presidential election years but they're not that interested in the daily grind.  The general public isn't reading Politico, much less OTB. So, in essence, political journalism is written for people a whole lot like political journalists but who have other jobs.
Granted, this is somewhat circular. Maybe if politics were covered in more of a "news you can use" manner, ordinary folks would be more inclined to read it. But I doubt it. US News and other publications have tried to go down that road without much success.
Take the most generic "savviness question" there is. One journalist asks another: how will this play with the voters? Listening to that, how will this play with the voters, haven't you ever wanted to shout at your television set, "hey buddy… (sorry, hey mate) I'm a voter! Don't talk about me like I'm not in the room when I'm sitting right here watching you." This is what's so odd about savviness as a political style performed for the public. It tries to split the attentive public off from the rest of the electorate, and get us to join up with the insiders. Under its gaze, other people become objects of political technique. In this sense savviness is an attack on our solidarity with strangers who share the same political space.
Now, again, this may just be a function of my personality type but I've been an avid consumer of this stuff for three decades and never had that reaction. From the standpoint of a college student in Alabama, the talking heads on the Fox News or This Week roundtable actually are "insiders" with a unique perspective. I always felt like I was getting a glimpse behind the curtain. And, indeed, I was.
The quest for innocence in political journalism means the desire to be manifestly agenda-less and thus "prove" in the way you describe things that journalism is not an ideological trade. But this can get in the way of describing things!  He said, she said journalism doesn't tell us who's distorting the picture more. It is neutral on where the reality is, but reality is not something journalists can afford to be neutral about!

Political journalism should help us get our bearings in a world of confusing claims and counter-claims. But instead we have savviness, the dialect of insiders bringing us into their games. Nothing is more characteristic of the savvy style than statements like "in politics, perception is reality." Doesn't that statement make you mad? Whenever I hear it, I want to interrupt and say, "No, no, no. You have it wrong. In politics, perception isn't reality. Reality is reality!"
This is perhaps the overreaching thesis of all of Rosen's work: the vapidness of "the view from nowhere." I'm largely in agreement that we'd be better off if journalists were simply transparent about their biases and gave us unvarnished narrative rather than pretending to be objective while subtly getting their point-of-view out by selective quoting of "experts" and anonymous "sources" to whom they can attribute their own opinions. Still, I'm uneasy with the notion that it's the job of straight news reporters to give us their opinions. Almost all "facts" in political debate are subject to interpretation and spin. And it's probably best to let that debate play out among analysts who label themselves as such rather than straight news reporters.
Rosen gives the example of Rick Perry's climate change denialism. Is it really the job of the reporter to note, in every story about the debate, that virtually all professional scientists believe in man-mind climate change? Or is that a job for political opponents, op-ed writers, and such? I tend toward the latter.