Did Eric Holder Commit Perjury? Probably Not
Eric Holder's testimony before Congress is leading to accusations of perjury, but the argument that he did so seem pretty weak.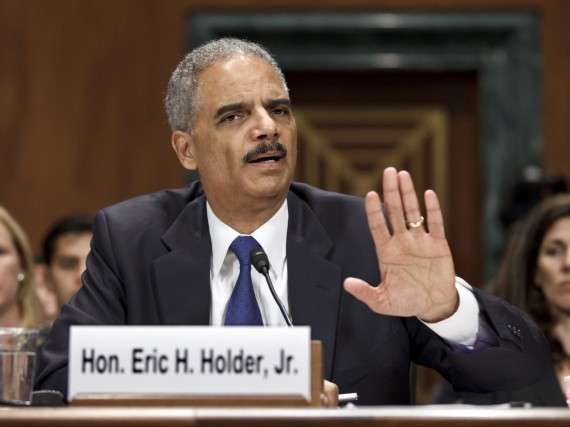 With Congress set to return from their its week-long Memorial Day vacation, attention on Capitol Hill will once again focus on the scandals currently gripping the Obama Administration. There are reports of new hearings coming up this month on the September 2012 attack on the U.S. diplomatic outpost in Benghazi. House committees are set to resume hearings on the issues surrounding alleged political targeting of applicants for 501(c)(4) status. And, the story of the Justice Department's aggressive pursuit of leak investigations to the point of targeting members of the media as search warrant topics on more than one occasion. With regard to that last story, the political ante was raised significantly last week when Republican members of the House Judiciary Committee essentially accused the Attorney General of the United States of perjury:
Top House Judiciary Committee Republicans on Wednesday demanded that Attorney General Eric Holder explain what they say is a contradiction in his sworn testimony at a May 15 hearing and subsequent revelations about his department's obtaining a search warrant in 2010 for e-mails of a Fox News reporter.

In a letter to Holder, Judiciary Committee Chairman Bob Goodlatte, R-Va., and Investigations Subcommittee Chairman Jim Sensenbrenner, R-Wis., stop short of outright accusing Holder of perjury. But they are insisting that he respond to a list of questions by no later than June 5.

"We believe—and we hope you will agree—it is imperative that the Committee, the Congress, and the American people be provided a full and accurate account of your involvement in and approval of these search warrants," their letter states.

Under scrutiny is Holder's testimony to the committee during a May 15 hearing regarding the use of the Espionage Act to prosecute members of the media for publishing classified material.

What had prompted the questioning was the only publicly known instance at the time of the Justice Department obtaining phone records of journalists without notifying them, a matter involving the records of about 20 Associated Press journalists.

In a back-and-forth with Rep. Hank Johnson, D-Ga., at that hearing, Holder at one point said, "With regard to potential prosecution of the press for the disclosure of material, that is not something that I have ever been involved in, heard of, or would think would be a wise policy."

But the Justice Department has since reportedly confirmed media reports that Holder in May 2010 may have personally signed off on the application to the judge for the seizure of phone records and personal e-mails of James Rosen, a Fox News Channel reporter. The warrant was issued in the investigation of the publication of an article in June 2009 that was said to contain classified material.

In their letter, Goodlatte and Sensenbrenner tell Holder, "Subsequent media reports have stated that the Justice Department issued confirmation that the investigation of Mr. Rosen and the search warrant application for his private e-mails was approved 'at the highest levels' of the Justice Department, including 'discussions' with Attorney General Eric Holder."

Their letter goes on: "Whether you personally approved the search warrant request or were merely part of 'discussions' relating to a search warrant for Mr. Rosen's e-mails, it is clear now that you were aware that the Department was engaged in a criminal investigation of a member of the media as far back as 2010."

"This fact contradicts your testimony before the committee," they write
To keep the entire matter in context, here's a transcript of the portion of Holder's testimony that has raised Republican eyebrows:
REP. JOHNSON: Well, I would argue that the Espionage Act of 1917 would authorize the prosecution of anyone who disclosed classified information. And perhaps that's another area that we may need to take action on here in this Congress.

Now, I'll note that in this Congress, we've been — we've had a lot of bills, the most famous of which, in my mind, was the — was the helium legislation. And we wanted to ensure that we had enough helium to keep everything moving forward here in America. But we certainly need to protect the privacy of individuals, and we need to protect the ability of the first — of the press to engage in its First Amendment responsibilities to be free and to give us information about our government so as to keep the people informed. And I think it's a shame that we get caught up in so-called scandals and oversight of unimportant matters when we should be here addressing these real problems that things like the AP scandal illustrate for us.

I'll yield the balance of my time to you.

ATTY GEN. HOLDER: Well, I would say this. With regard to the potential prosecution of the press for the disclosure of material, that is not something that I've ever been involved in, heard of or would think would be a wise policy. In fact, my view is quite the opposite, that what I proposed during my confirmation, what the Obama administration supported during 2009 — and I understand — I think Senator Schumer is now introducing a bill that we are going to support as well that the press should be — have — should have — there should be a shield law with regard to the press's ability to gather information and to disseminate it.
By the end of the week, The Hill was reporting that the Judiciary Committee had opened an investigation into whether or not Holder had committed perjury. The question all boils down to whether Holder was lying when he testified as he did above given the fact that, some 18 months previously he had personally signed off on a search warrant affidavit that explicitly state that the Justice Department had probable cause to believe that Fox News's James Rosen had violated the Espionage Act in publishing his report about North Korea, and that he may have been involved in a criminal conspiracy with the State Department employee who gave him that information. Holder said in his testimony that the "potential prosecution" of members of the press in these types of cases is not "something that I've been involved in, heard of….."
Does that constitute perjury?  Well, the answer to that question seems to depend on what your political opinions are.
Paul Mirengoff at Power Line, for example, lays out his argument in favor of the idea that Holder committed perjury:
When he gave this testimony, Holder had personally signed a request to a court to authorize a wiretap on Fox News reporter James Rosen. The request stated that Rosen may have acted as "an aider, abettor and/or co-conspirator" by obtaining national security materials from a government official also under investigation.

Bill Otis confirms that during his days as a federal prosecutor, telling the court that a wiretap target might have been an aider, abettor or co-conspirator in a serious federal crime "was most assuredly vouching that there was a potential prosecution of that target."

Did Holder forget that he had signed the request to wiretap Rosen? I don't see how he could have. Such requests, when they involve members of the press, are something any Attorney General would remember.
Fox News legal analyst, and former state court trial Judge, Andrew Napolitano reaches the perjury conclusion a different way:
Whether under oath or not, because Holder spoke in his official capacity before a congressional committee in its official capacity, he was legally bound to tell the truth and legally bound not to mislead the committee. Last Thursday, President Obama in a speech on national security stated, "Journalists should not be at legal risk for doing their jobs. Our focus must be on those who break the law." The next day, the DOJ leaked to NBC News the inconvenient truth that Holder had personally authorized seeking the search warrant for Rosen's personal emails; and over the long holiday weekend, the DOJ confirmed that.

What's going on here? Isn't the Attorney General bound by the same laws to tell the truth as the rest of us are? Doesn't the First Amendment protect from criminal prosecution and government harassment those who ask questions in pursuit of the truth?

The answers to these questions are obvious and well grounded. One of Holder's predecessors, Nixon administration Attorney General John Mitchell, went to federal prison after he was convicted of lying to Congress. The same Attorney General who told Congress he had "not been involved" in the Rosen search warrant before the DOJ he runs revealed that he not only was involved, he personally approved the decision to seek the search warrant, must know that the Supreme Court ruled that reporters have an absolute right to ask any questions they want of any source they can find. The same case held that they cannot be punished or harassed because the government doesn't like the answers given to their questions. And the same case held that the if answers concern a matter in which the public is likely to have a material interest, they can legally be published, even if they contain state secrets.

The whole purpose of the First Amendment is to permit open, wide, robust, even unfettered debate about the government. That debate cannot he held in an environment in which reporters can be surveilled by the government because of their flattery. And the government cannot serve the people it was elected to serve when its high-ranking officials can lie to or mislead the congressional committees before which they have given testimony.
Over at The Volokh Conspiracy, though, Jonathan Adler casts doubt on the idea that there's sufficient evidence available to support a claim that the Attorney General committed perjury:
The core of the claim is that the Attorney General's testimony conflicts with the fact that he signed a warrant application that attested that there was "probable cause to believe that the reporter has committed or is committing a violation of section 793(d), as an aider and abettor and/or co-conspirator, to which the materials relate."  But there's no contradiction between Holder's statement and his reported actions, let alone a basis for accusing him of lying under oath.   Holder signed a document stating that the government believed there was probable cause to believe Rosen had committed a crime, but there's no evidence that Holder (or anyone else) in the Administration actually considered taking the next step of indicting (let alone prosecuting) Rosen for his journalistic endeavors.  Prosecutors don't prosecute everyone they believe may have violated the law; they don't even consider prosecuting everyone they investigate.  Some "unindicted co-conspirators" are never at risk of prosecution.

If, as Holder testified, it would not be "wise policy" to prosecute journalists for reporting on leaked information, this would not preclude the Department from investigating or conducting surveillance on journalists so as to prosecute government leakers.  Indeed, asserting the existence of probable cause in order to obtain information to facilitate the prosecution of a government leaker is wholly consistent with a policy of aggressively pursuing government leakers while not indicting or prosecuting journalists even if one believes their solicitation of classified material is against the law.  So whether or not one agrees with the Justice Department's current policies (and I do not), I see no basis for accusing the Attorney General of lying to Congress on this matter.
Meanwhile, Rusty Hardin, who successfully defended Roger Clemens against perjury charges last year, rejects the idea that there's anything perjurous in Holder's statements:
Hardin was blunt. "Do we really believe seriously that the Attorney General is going to sit up there in a public hearing with the intent to obstruct justice? Really? Seriously? Give me a friggin' break." The only people who might think so, he said, were "insane partisans."

After a brief review of Holder's statement and the Rosen search warrant, Hardin indicated that there was not "a snowball's chance in Hell" that Holder's statements would be upheld as perjurious. Noting the frequency with which law enforcement agencies issue search warrants, Hardin was (colorfully) skeptical that Holder would have intentionally misled the committee on a case that didn't result in any prosecution, even if he remembered it at all.

"It's a ludicrous misuse of the process," Hardin said, referring to calls for an investigation. "I would like to see every Congressman who wants to talk like that to sit there under the lights and endure cross-examination and see how well they do. And I guarantee you: it wouldn't be worth a damn."
Other legal observers have come to different conclusions from those Adler reaches, but I think he raises an important point when he mentions that perjury is exceedingly difficult to prove. Based on what we know right now, it would appear that Holder's testimony was perhaps incomplete in that he didn't mention his role in approving the subpoena issued in the Rosen case, but incomplete testimony is different from perjured testimony, especially given the fact that the question that Holder was responding to was completely open ended and never followed up upon by any other members of the Committee. Indeed, if Holder had been specifically asked if he'd signed off on any other subpoenas directed at members of the media, or if he'd been specifically asked abut the Rosen matter, then he would have been required to testify truthfully about those matters. The only caveat there would be if there was a sealed investigation that he was unable to comment on, in which case he'd have to inform the committee of that fact.
That's the legal side of the argument, though. Politically this latest development strikes me as yet more damage to the Obama Administration in general and Eric Holder specifically. Calls for Holder's resignation that originally were only coming from people on the right can now be heard from voices on the political left, including law professor Jonathan Turley and the editors of The Huffington Post. The negative reaction by the press to his attempted olive branch last week seems to be an indication that he's lost some considerable credibility among the Washington Press Corps. In the end, it's likely the case that Holder hasn't done anything illegal here, but when you're dealing with political scandals, legal wrongdoing is never the end of the story. If the point comes at which Holder becomes a political liability for the Administration, then he's likely going to be asked to submit his resignation. They'll find some face saving way for him to depart, but, in the end, it will be clear that he's falling on his sword over this AP/Rosen story. The question will be whether there will be any real change in policy after he leaves.