Roger Clemens Acquitted Of All Charges In Perjury Trial
After a nine week trial, Roger Clemens was acquitted of perjury charges this afternoon. What that means for his future in the world of baseball is unclear.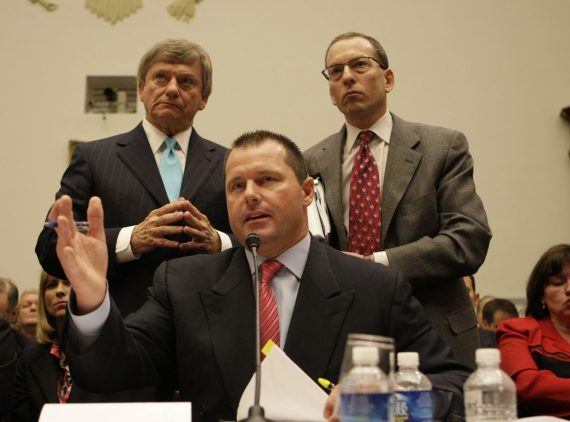 More than four years after testifying before Congress over steroid use, legendary Major League Baseball Pitcher Roger Clemens was acquitted this afternoon of all charges against him arising out of the accusation that he had lied to Congress about using performance enhancing drugs:
Legendary pitcher Roger Clemens was found not guilty Monday of all charges in the government's perjury case against him.

Clemens faced one count of obstructing Congress, three counts of making false statements and two counts of perjury. The jury's deliberations ended after just a few days, beginning Tuesday before taking Thursday and Friday off.

In a packed courtroom in the District's federal court, Clemens celebrated with his wife and four sons after the verdict was read. Federal prosecutors did not immediately comment on the verdict.

Over seven weeks of testimony, jurors heard from more than 40 witnesses, including former major league ballplayers, a housekeeper, the general manager of the New York Yankees and the wife of the star pitcher. The trial, initially anticipated to last four to six weeks, was at times slow going, with two jurors dismissed for sleeping on the job.

The baseball legend was on trial for a second time, accused of perjury, making false statements and obstructing Congress for denying in 2008 that he had ever taken steroids or human growth hormone. A House panel was following up on a 2007 report by former senator George Mitchell that connected dozens of ballplayers, including Clemens, to performance-enhancing drugs.

Clemens told Congressional staffers and lawmakers in a nationally televised hearing that his former strength coach Brian McNamee had injected him with liquid vitamin B 12 and the painkiller lidocaine – not steroids or human growth hormone. But McNamee told the same House committee that he injected the seven-time Cy Young Award winner with the banned substances on several occasions in 1998, 2000 and 2001.

Defense attorneys portrayed Clemens as a man who was unfairly pursued by a huge team of investigators and prosecutors for four and a half years. Despite more than 200 interviews and the work of more than 90 federal agents, Clemens's attorney emphasized that McNamee, a man with a troubled past, was the only person to testify to firsthand knowledge of the ballplayer's alleged use of performance-enhancing drugs. Clemens's highly decorated 24-year career was the result of hard work and discipline, not drugs, his lawyers said.

Prosecutors responded that it was unremarkable to find just one witness to what they described as Clemens's "dirty little secret." Government's lawyers noted that not one of the defense's witnesses had testified to seeing McNamee inject Clemens with vitamin B-12 or lidocaine. And they put on the stand several athletic trainers and team doctors who testified that McNamee would not have had access or the authority to inject the star pitcher with such substances in their team clubhouses.

The defense team spent considerable time attacking McNamee's credibility, at one point putting his estranged wife on the witness stand to contradict the former strength coach's testimony about why he kept needles, cotton balls and other medical waste from the alleged injections. The former strength coach admitted to having exaggerated, changed his story and lied to authorities in a 2001 criminal investigation into an alleged sexual assault.

But prosecutors said McNamee had little incentive to turn on his former employer whose cachet helped McNamee's own business as a personal trainer. McNamee only decided to turn over the medical waste — stored in a MillerLite can and FedEx box, he said — after Clemens allowed a taped conversation that mentioned McNamee's sick child to be aired on national television.

Perhaps the most dramatic moment of the trial came when Clemens's former teammate and friend, Andy Pettitte, backed away from a critical element of the prosecution's case. Pettitte, a star pitcher in his own right, initially told jurors that Clemens confided in him in 1999 or 2000 about using HGH to help with recovery. Pettitte had earlier told Congressional investigators the same story. But on cross-examination, Pettitte agreed with one of Clemens's attorneys, Michael Attanasio, that there was a 50/50 chance he had misheard his friend.
There will be plenty of questions asked about whether the Federal Government should have pursued these charges to begin with, of course. I thought at the beginning of the whole affair that the charges were properly brought. Leaving aside the question of whether or not Congress should have been holding hearings regarding the use of steroids in professional sports, the fact remains that Clemens volunteered to testify before Congress to "clear his name" after the release of a report prepared by a commission headed by former Senator George Mitchell on behalf of Major League Baseball. He gave testimony that conflicted with what McNamee said, and appeared to conflict with what Pettitte told Congress. The fact that there was also apparent physical evidence that seemed to bolster McNamee's claim that he had given Clemens steroids on several occasions in the past made Clemens's claims appear to be brazenly untruthful. Therefore, there was at least probable cause to believe that Clemens had lied under oath.
As the trial went on, though, it became clear that the prosecution's case wasn't as strong as it might have appeared to be on paper. Once Pettitte admitted under cross-examination that he couldn't be sure that he had indeed heard Clemens said that he had used steroids, things started going down hill. The other problem the prosecution faced was in the DNA evidence, which they contended showed that syringes that McNamee had held onto for more than a decade had indeed been used on Clemens. However, their experts could not definitively say that the syringes ever contained any form of steroid, and the fact that they had sat in a FedEx box in McNamee's garage for the entire time until January 2008 or so means that they were vulnerable to testimony from Defense experts bringing the DNA results into question due to spoilation of the evidence. With Pettitte equivocating under cross examination and the DNA evidence not what it seemed to be, they were left with their other "star witness," Brian McNamee, clearly didn't come across very well to the jury.
None of this means, of course, that Clemens never took steroids, merely that the prosecution could not prove that he had lied about it to Congress beyond a reasonable doubt. People will reach their own conclusions on that issue. The interesting question now will be whether this acquittal means that we'll see an end to the freeze out of Clemens that most of official baseball had been displaying since the Congressional hearing. On the numbers alone, Clemens belongs in the Hall of Fame, for example, but the question over the coming years will be whether he deserves to get in there because of the cloud over his career from the allegation that he may have been using performance  enhancing drugs during at least part of the time he was running those numbers up. I'm not sure how I feel about that myself at the moment. I'd pretty much written Clemens off after the Congressional hearings, as had most of the baseball fans I know. It will be interesting to see if that changes now that a jury has come down in his favor.