Fox Reporter Investigated Under Espionage Act
After many attempts to manufacture grand scandals out of very little, Republicans may finally have a legitimate outrage on their hands.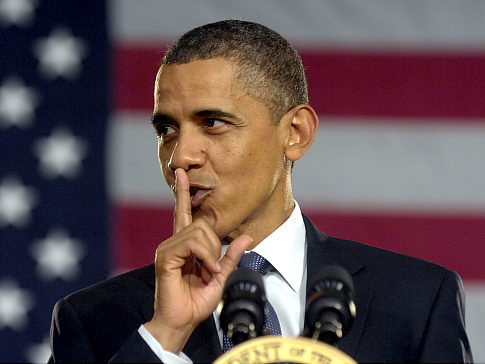 After many attempts to manufacture grand scandals out of very little, Republicans may finally have a legitimate outrage on their hands. But have they cried "Wolf!" too many times for it to matter?
As Anne Marimow reported yesterday for the Washington Post, under the strangely low key headline "A rare peek into a Justice Department leak probe,"  Fox News chief Washington correspondent Jamie Rosen has been investigated under the Espionage Act for the crime of investigative journalism.
When the Justice Department began investigating possible leaks of classified information about North Korea in 2009, investigators did more than obtain telephone records of a working journalist suspected of receiving the secret material.

They used security badge access records to track the reporter's comings and goings from the State Department, according to a newly obtained court affidavit. They traced the timing of his calls with a State Department security adviser suspected of sharing the classified report. They obtained a search warrant for the reporter's personal e-mails.

The case of Stephen Jin-Woo Kim, the government adviser, and James Rosen, the chief Washington correspondent for Fox News, bears striking similarities to a sweeping leaks investigation disclosed last week in which federal investigators obtained records over two months of more than 20 telephone lines assigned to the Associated Press.

[…]

Court documents in the Kim case reveal how deeply investigators explored the private communications of a working journalist — and raise the question of how often journalists have been investigated as closely as Rosen was in 2010. The case also raises new concerns among critics of government secrecy about the possible stifling effect of these investigations on a critical element of press freedom: the exchange of information between reporters and their sources.

"Search warrants like these have a severe chilling effect on the free flow of important information to the public," said First Amendment lawyer Charles Tobin, who has represented the Associated Press, but not in the current case. "That's a very dangerous road to go down."
While I find the AP case troubling, it at least comes with the argument that it was a legitimate attempt to track down a federal agent who violated his oath and put the lives of US intelligence sources in harm's way. While mass subpoenas of privileged communications of a major news outlet has profound First Amendment implications, the AP was a mere conduit for information, not a target of the investigation.
Here, though, as Steven Aftergood ("Reporter Deemed "Co-Conspirator" in Leak Case") explains, we've got a real chilling effect and, at very least, a very heavy-handed use of power.
In a startling expansion of the Obama Administration's war on leaks, a federal agent sought and received a warrant in 2010 to search the email account of Fox News correspondent James Rosen on grounds that there was probable cause the reporter had violated the Espionage Act by soliciting classified information from a State Department official.

[…]

"I believe there is probable cause to conclude that the contents of the wire and electronic communications pertaining to the SUBJECT ACCOUNT [the gmail account of Mr. Rosen] are evidence, fruits and instrumentalities of criminal violations of 18 U.S.C. 793 (Unauthorized Disclosure of National Defense Information), and that there is probable cause to believe that the Reporter has committed or is committing a violation of section 793(d), as an aider and abettor and/or co-conspirator, to which the materials relate," wrote FBI agent Reginald B. Reyes in a May 28, 2010 application for a search warrant.

The search warrant was issued in the course of an investigation into a suspected leak of classified information allegedly committed by Stephen Jin-Woo Kim, a former State Department contractor, who was indicted in August 2010.

The Reyes affidavit all but eliminates the traditional distinction in classified leak investigations between sources, who are bound by a non-disclosure agreement, and reporters, who are protected by the First Amendment as long as they do not commit a crime.  (There is no allegation that Mr. Rosen bribed, threatened or coerced anyone to gain the disclosure of restricted information.)

[…]

What makes this alarming is that "soliciting" and "encouraging" the disclosure of classified information are routine, daily activities in national security reporting.  The use of pseudonyms and discreet forms of communication are also commonplace.

But for today's FBI, these everyday reporting techniques are taken as evidence of criminal activity and grounds for search and seizure of confidential email.

"Based on the foregoing, there is probable cause to believe that the Reporter has committed a violation of 18 U.S.C. 793 (Unauthorized Disclosure of National Defense Information), at the very least, either as an insider, abettor and/or co-conspirator of Mr. Kim," Mr. Reyes wrote.

The affidavit says that the FBI had exhausted all alternatives to a search warrant for collecting the desired evidence, except for asking Mr. Rosen to voluntarily produce his own email.

"Because of the Reporter's own potential criminal liability in this matter, we believe that requesting the voluntary production of the materials from Reporter would be futile and would pose a substantial threat to the integrity of the investigation and of the evidence we seek to obtain by the warrant."

The warrant application was approved and signed by U.S. Magistrate Judge Alan Kay on May 28, 2010.  It was sealed until November 7, 2011 but went unnoticed until the Washington Post reported on it late yesterday.
Glenn Greenwald, who made his name railing against the liberties the Bush administration took with our liberties in the name of national security, has been remarkably consistent on this theme now that a Democratic administration is doing the same thing.
It is now well known that the Obama justice department has prosecuted more government leakers under the 1917 Espionage Act than all prior administrations combined - in fact, double the number of all such prior prosecutions. But as last week's controversy over the DOJ's pursuit of the phone records of AP reporters illustrated, this obsessive fixation in defense of secrecy also targets, and severely damages, journalists specifically and the newsgathering process in general.

New revelations emerged yesterday in the Washington Post that are perhaps the most extreme yet when it comes to the DOJ's attacks on press freedoms. It involves the prosecution of State Department adviser Stephen Kim, a naturalized citizen from South Korea who was indicted in 2009 for allegedly telling Fox News' chief Washington correspondent, James Rosen, that US intelligence believed North Korea would respond to additional UN sanctions with more nuclear tests – something Rosen then reported. Kim did not obtain unauthorized access to classified information, nor steal documents, nor sell secrets, nor pass them to an enemy of the US. Instead, the DOJ alleges that he merely communicated this innocuous information to a journalist – something done every day in Washington – and, for that, this arms expert and long-time government employee faces more than a decade in prison for "espionage".

The focus of the Post's report yesterday is that the DOJ's surveillance of Rosen, the reporter, extended far beyond even what they did to AP reporters. The FBI tracked Rosen's movements in and out of the State Department, traced the timing of his calls, and – most amazingly – obtained a search warrant to read two days worth of his emails, as well as all of his emails with Kim. In this case, said the Post, "investigators did more than obtain telephone records of a working journalist suspected of receiving the secret material." It added that "court documents in the Kim case reveal how deeply investigators explored the private communications of a working journalist".

But what makes this revelation particularly disturbing is that the DOJ, in order to get this search warrant, insisted that not only Kim, but also Rosen – the journalist – committed serious crimes.

[…]

Under US law, it is not illegal to publish classified information. That fact, along with the First Amendment's guarantee of press freedoms, is what has prevented the US government from ever prosecuting journalists for reporting on what the US government does in secret. This newfound theory of the Obama DOJ – that a journalist can be guilty of crimes for "soliciting" the disclosure of classified information – is a means for circumventing those safeguards and criminalizing the act of investigative journalism itself. These latest revelations show that this is not just a theory but one put into practice, as the Obama DOJ submitted court documents accusing a journalist of committing crimes by doing this.
Now, I'm not the absolutist on leak investigations that Greenwald is. While he and I agree that our government vastly overclassifies information and not always for good reasons, I'm perfectly happy for the Bradley Mannings of the world to rot in jail. (I hasten to add, pursuant to due process and under humane conditions, both of which have been outrageously absent.) Those who take an oath to keep our nation's secrets secret have a duty to do so and should face justice when they don't.
Offhand, Kim doesn't seem to have divulged anything that wasn't obvious. But I haven't read enough about the case and don't have access to the classified information, so I'm inclined to give the administration benefit of the doubt that he should be investigated and even prosecuted.
For that matter, I can envision circumstances where a journalist could be charged under the Espionage Act. Had Rosen published troop movements or the identities of American intelligence assets, for example, investigation would be legitimate both legally and morally. But Rosen here was engaged in nothing more subversive than old fashioned national security reporting.
Unless there's some pretty damning evidence that President Obama was trying to coerce Rosen, this isn't an impeachable offense. Indeed, the fact that a magistrate approved this warrant would seem to take it out of the realm of criminal conduct. But it's damned worrisome.
UPDATE: Below are some of the pieces I wrote on the general topic of the Espionage Act, leaks, and journalists when the previous Republican administration was in office. Like Greenwald, I've been pretty consistent over the years.