Obama: Moderate 90s Republican?
Obama's main politics are hardly as leftist as many make them out to be. Indeed, much of them could have fit well in the the GOP of 1990s and early 2000s.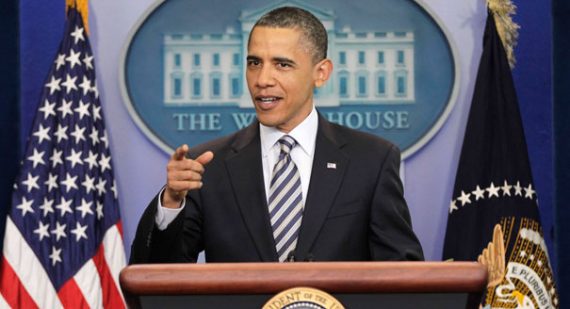 James Joyner has noted on several occasions that President Obama's foreign policy is not that much different than George W. Bush's and I* (along with others) have noted that the PPACA (aka, Obamacare) is not that different in basic design from Republican proposals for health care reform in the 1990s (not to mention Romneycare in Massachusetts).  Along those lines, Ezra Klein points out The shocking truth about the birthplace of Obama's policies
If you put aside the emergency measures required by the financial crisis, three major policy ideas have dominated American politics in recent years: a health-care plan that uses an individual mandate and tax subsidies to achieve near-universal coverage; a cap-and-trade plan that attempts to raise the prices of environmental pollutants to better account for their costs; and bringing tax rates up from their Bush-era lows as part of a bid to reduce the deficit. In each case, the position that Obama and the Democrats have staked out is the very position that moderate Republicans staked out in the early '90s — and often, well into the 2000s
And, quite frankly, there would have been a stimulus (i.e., the aforementioned emergency measures) under a President McCain as well (as evidenced by the fact that much of the financial bail-out process started under Bush).
On health care:
The individual mandate was developed by a group of conservative economists in the early '90s. Mark Pauly, an economist at the Wharton School of the University of Pennsylvania, was one of them. "We were concerned about the specter of single-payer insurance," he told me recently. The conservative Heritage Foundation soon had an individual-mandate plan of its own, and when President Bill Clinton endorsed an employer mandate in his health-care proposal, both major Republican alternatives centered on an individual mandate. By 1995, more than 20 Senate Republicans — including Chuck Grassley, Orrin Hatch, Dick Lugar and a few others still in office — had sponsored one individual mandate bill or another.
On cap and trade:
The story on cap and trade — which conservatives now like to call "cap and tax" — is much the same. Back then, the concern was sulfur dioxide, the culprit behind acid rain. President George H.W. Bush wanted a solution that relied on the market rather than on government regulation. So in the Clean Air Act of 1990, he proposed a plan that would cap sulfur-dioxide emissions but let the market decide how to allocate the permits. That was "more compatible with economic growth than using only the command and control approaches of the past," he said. The plan passed easily, with "aye" votes from Sen. Mitch McConnell and then-Rep. Newt Gingrich, among others. In fact, as recently as 2007, Gingrich said that "if you have mandatory carbon caps combined with a trading system, much like we did with sulfur . . . it's something I would strongly support."
More in the piece itself.
Andrew Samwick, an economist who served in the Bush (43) administration, states that "it is largely the way I remember it, too" and continues:
Antecedents of President Obama's policies — an individual mandate in health insurance, cap-and-trade on emissions, and some willingness to raise taxes to close deficits — can be found in Republican policies of the George H.W. Bush era.  I supported them then and support them now, though in a way that comes from the right side of the political spectrum rather than the left.
Indeed, if one looks at Obama's basic policy agenda with reasonable (rather than ideological) eyes, it is extremely difficult to use terms like "socialist" (let alone "Marxist") with a straight face.  In fact, these policies are more center (if not, in some case, center-right) than left-liberal (let alone socialistic).  If there is a group of persons who ought to be upset about Obama's basic policy agenda, it ought to be progressives, not conservatives.  The ideological story here is more that the Democratic and Republican parties have both shifted rightward of late, not that the country has lurched left.
Back to Samwick, he goes on to support a basic policy direction (which I, along with Dave Shuler) endorse:
I would start my budget policy changes with letting the Bush-era tax cuts expire for everyone and cutting defense spending by at least 10%.  I would then move to the entitlement programs, phasing in increases in eligibility ages and other benefit reductions linked to income.  The small piece of the federal budget that's "non-defense discretionary" would also see reductions, but that's not where the heavy lifting can be done.  I wouldn't stop until the budget was in balance on average over the business cycle and the debt-to-gdp ratio was projected to remain steady at a number not larger than about 60 percent.
This strikes me as a reasonable approach (and it is hardly radical).
At a minimum, it would be nice to have intelligent discussions about the actual policies, because if we could set aside our politics-as-sports mentality, the fact of the matter is that there is real common ground upon which to work (as evidenced by the fact that within recent memory, many of these rather large policy areas have seen some agreement within both parties).
My main goal here (as it often is) is to get people to really think about these policies as policies, rather than as ideological point-scoring mechanisms.  But yes, I can be a dreamer…
Even forgetting any notion of rational policy discourse, the above clearly underscores that American politics are hardly populated by the rigid ideological extremes that talk radio/blogger rhetoric makes it out to be.
Although, I suppose that one should leave open the possibility that these policy shifts are, indeed, true ideological changes in the way Americans think about politics.  It does present an interesting set of questions that do require some analysis (as well as introspection by individual citizens).
—
*Here's a post at PoliBlog.  I have written similar things at OTB as well, but can't find it at the moment.