Murder or Self-Defense: Florida Case Raises Questions
George Zimmerman and Trayvon Martin met on the night of February 27th. Martin died, and a firestorm has erupted.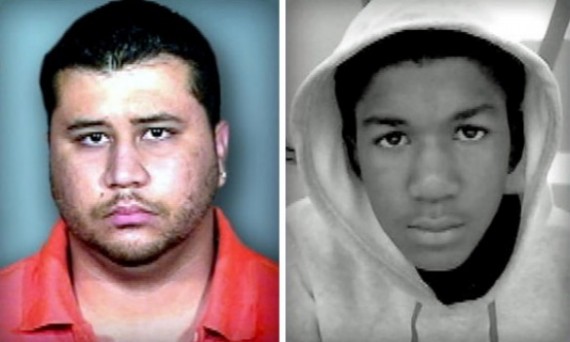 One month ago, in a community outside Orlando, Florida, a 28 year old man named George Zimmerman (pictured left) shot and killed 17 year old Trayvon Martin (pictured right). Now, that shooting is making national headlines both because of concerns about the appropriateness of the shooting and because of concerns that race may have played a role in how the shooting went down. Charles Blow describes the circumstances of exactly what happened on February 27th  in a column that a appeared last week:
Trayvon had left the house he and his father were visiting to walk to the local 7-Eleven. On his way back, he caught the attention of George Zimmerman, a 28-year-old neighborhood watch captain, who was in a sport-utility vehicle. Zimmerman called the police because the boy looked "real suspicious," according to a 911 call released late Friday. The operator told Zimmerman that officers were being dispatched and not to pursue the boy.

Zimmerman apparently pursued him anyway, at some point getting out of his car and confronting the boy. Trayvon had a bag of Skittles and a can of iced tea. Zimmerman had a 9 millimeter handgun.

The two allegedly engaged in a physical altercation. There was yelling, and then a gunshot.

When police arrived, Trayvon was face down in the grass with a fatal bullet wound to the chest. Zimmerman was standing with blood on his face and the back of his head and grass stains on his back, according to The Orlando Sentinel.

Trayvon's lifeless body was taken away, tagged and held. Zimmerman was taken into custody, questioned and released. Zimmerman said he was the one yelling for help. He said that he acted in self-defense. The police say that they have found no evidence to dispute Zimmerman's claim.

One other point: Trayvon is black. Zimmerman is not.

Trayvon was buried on March 3. Zimmerman is still free and has not been arrested or charged with a crime.
The police on the scene appear to have reached the conclusion that Zimmerman shot Martin in self-defense, but the 911 calls from that night raise some doubt about just how much danger Zimmerman was actually in, and the extent to which he may have pursued Martin despite being told by a 911 operator not to do so:
"Hey, we've had some break-ins in my neighborhood and there's a real suspicious guy," Zimmerman tells police before giving the address of where he is. "This guy looks like he's up to no good or he's on drugs or something."

"These [expletive], they always get away," Zimmerman says before getting out of his car to pursue Trayvon.

"Are you following him?" the police ask.

"Yes," Zimmerman says. The officer on the phone tells him, "We don't need you to do that." But he did. In another 911 call, you can hear screaming for help and the fatal gunshot. Zimmerman brought a 9 mm handgun to the altercation. A scuffle ensued. Trayvon was fatally shot in the chest. His mother told the Associated Press yesterday, "(Zimmerman) was chasing him, he was following him, and my son was afraid. He didn't know who this stranger was."
The case brought into focus a law that was passed in Florida in 2005 that greatly expanded the law of self-defense, a revision that has since been adopted in a number of states:
A quick primer on the law of self-defense: We've always said if you're inside your own home, the theory your home is your castle, you can use force, even deadly force, to defend yourself, as long as you reasonably believe that your life is in jeopardy in some fashion. Most of the time, it was different out on the street. Out on the street before you can use deadly force, most jurisdictions require that you first try to retreat. See if you can get away safely before you take out the gun and blow somebody away. But Florida's law is different. Florida has a law, along with 17 states, that says you can stand your ground. Which means you don't have that obligation to try to run first. So, in Florida, as long as you have a reasonable belief that your life and safety is in danger, you can use force to defend yourself, even deadly force. And now that's the situation they're suggesting.
The law has come under criticism from many on the left, largely no doubt because one of its major proponents has been the National Rifle Association, but it strikes me as a fairly reasonable expansion of the law of self defense. At it's most basic it means that if you're out at night and confronted with a potential assailant whom you reasonably believe is threatening your life, then you can use force to defend yourself.  Personally, I have no problem with the law being expanded in that manner and I think it's mistaken to cite the law in connection with this incident. People ought to have the right to defend themselves in dangerous situations, even to the point of using deadly force if they believe that it's reasonably necessary. However, based on the 911 tapes, there's a chance that the "Stand Your Ground" Law may not even apply here.
Consider what the tapes revealed on Friday, combined with what had already been made public, tell us about what happened that night. Martin was walking through a neighborhood when Zimmerman spotted him. Zimmerman calls 911 and reports suspicious activity, which is really all a neighborhood watch captain is supposed to do anyway, and is told that officers are on the way and that he shouldn't pursue the person he saw. Zimmerman pursues him anyway, and the two end up in some kind of altercation. We don't know what set it off, because there are no other witnesses, but at some point during this altercation Zimmermann shot Martin. Can we really say that Zimmerman ever had a reasonable fear that his life or safety was in danger, or that he didn't bring the physical confrontation on himself by ignoring police advice and pursuing someone whose identity an intentions he was not even aware of? Surely, Zimmerman was not in any physical danger when he first saw Martin and called the police, that only happened afterwards when he chose on his own to pursue this person. And, surely, one could surmise that Martin may have thought that he was in some kind of danger from this unknown person that was following him. Rather than self-defense, this easily could be seen as a confrontation that Zimmerman invited and even initiated, which is what makes the police's initial decision to decline to pursue charges in this case so disturbing.
At the very least it now appears that the national attention that the case has gotten will result in further investigation of any potential crimes. Last night, the Department of Justice announced that it was opening a civil rights investigation into the incident, and this morning it was announced that a Seminole (FL) Grand Jury will be investigating the matter under the supervision of the State's Attorney. This is exactly what should happen, although I must say that I'm somewhat bothered by the idea of the Federal Government intervening in what is clearly a state matter before the state has even finished its investigation. Not to mention the fact that Zimmerman faces the possibility of being charged twice for the same crime, but that's a separate issue for now.  It's far too early now to say whether or not George Zimmerman is guilty of any crime at all, none of us were there that night to witness what happened, but there are questions that need to be answered and it's good that someone will be looking into them.
UPDATE (James Joyner): Doug beat me to the story, which is just as well as my own thoughts on this are preliminary. I'd just add a couple of things.
First, judging from the 911 call, I don't think this is "murder," as some are calling it. Rather, I think this is a case of a wannabe with some grant of power and a gun acting out his cop fantasy while simultaneously displaying all the physical courage of the classic 98-pound weakling.
Listen to the tape; you can hear the abject fear in Zimmerman's voice over a slight black teenager who's clearly demonstrating no aggression towards him.
Second, David Frum notes how little coverage this is getting on Fox News (and, presumably, by extension, conservative media in general):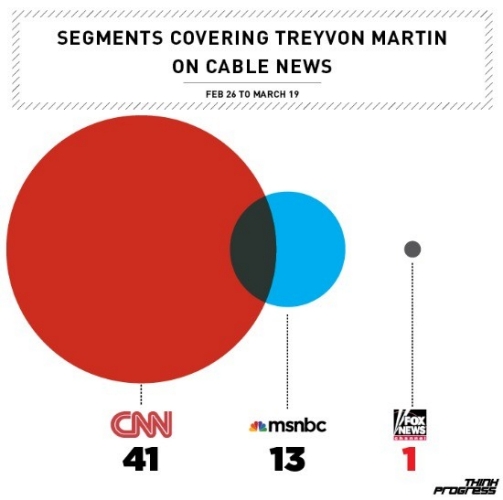 CNN has led the coverage, no surprise given my home network's fascination with crime stories.

Liberal MSNBC has followed.

And Fox? Hardly any coverage at all. If you get your information from Fox, as so many do, you'd probably have no idea at all of a crime story that has transfixed the other half of America.

I know, I know: Fox has a narrative. But even a narrative-network would, you might think, want to offer its viewers some glimpse of what's going on in the next valley, if only informationally. "Here's what to say when your crazy liberal sister-in-law starts ranting and raving about Trayvon Martin."
For my own part, I first learned of the story yesterday via Twitter. But I generally manage to be oblivious to the various True Crime stories that transfix the mainstream press and cable news channels. Interestingly, the only TV news I watch these days–"Morning Joe" and ABC's "This Week"–have ignored the story completely, at least in the segments I've seen.
This is a tragic story. One presumes Zimmerman is a racist, or at least cowers in fear at the very sight of black males, even small ones. And, while I don't know what business Martin had in the gated community in question, there's zero evidence of which I'm aware that he posed any sort of threat that justified Zimmerman's shooting him. But the problem here isn't so much that any yahoo can walk around Florida with a gun–or even that the state's "Stand Your Ground" law seems to make justifiable homicide too wide a category–but rather the empowering of vigilante groups to go out and play cop.
Finally, several of the reports I've seen has Zimmerman saying "These @!$%#s. They always get away" to the 911 operator. The "@!$%#s" in this case stands for "assholes." While I understand the constraints of family publications, the problem with "@!$%#s" in this context is that I naturally substituted a racial epithet. It does make a difference that he said "assholes" rather than "niggers" and the squeamishness in reporting here does the reader a disservice.
Update (Doug Mataconis): ABC News is up with an interview with the last person to speak to Trayvon Martin, while he was being pursued by Zimmerman, and it sheds much more light on what might have happened here:
"He said this man was watching him, so he put his hoodie on. He said he lost the man," Martin's friend said. "I asked Trayvon to run, and he said he was going to walk fast. I told him to run but he said he was not going to run."

Eventually he would run, said the girl, thinking that he'd managed to escape. But suddenly the strange man was back, cornering Martin.

"Trayvon said, 'What, are you following me for,' and the man said, 'What are you doing here.' Next thing I hear is somebody pushing, and somebody pushed Trayvon because the head set just fell. I called him again and he didn't answer the phone."

The line went dead. Besides screams heard on 911 calls that night as Martin and Zimmerman scuffled, those were the last words he said.

Trayvon's phone logs, also obtained exclusively by ABC News, show the conversation occurred five minutes before police first arrived on scene. The young woman's parents asked that her name not be used, and that only an attorney could ask her questions.
One assumes she will be talking to the District Attorney soon. But, taking this conversation together with the 911 calls and other information, this is looking less and less like self-defense and more like something that should be charged as manslaughter, or even murder.