Civil Rights Charges Against George Zimmerman Would Be Completely Inappropriate
Evidence that George Zimmerman acted out of racial bias is completely lacking, which means the Federal Government should stay out of this case entirely.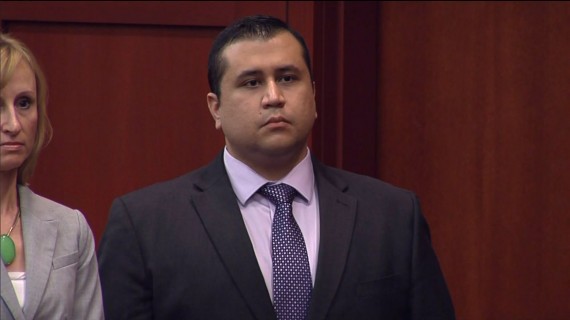 Within minutes of the announcement that a Seminole County, Florida jury had acquitted George Zimmerman of all charges against him, we began to hear calls for the Department of Justice to bring charges against him alleging that he had violated Trayvon Martin's civil rights in the February 26, 2012 incident that ended with Martin's death. It started, predictably, with MSNBC host Al Sharpton, who had oddly been chosen to anchor the network's coverage of the verdict and quickly spread as organizations such as the NAACP made that call part of the statement that they released regarding the verdict. Yesterday, they were joined by a number of other activists as well as Members of Congress calling on the Justice Department to move forward with its investigation into the matter, which was actually opened back when this case first became part of a national debate. Now, the Justice Department is saying that this is exactly what they intend to do:
WASHINGTON — The Justice Department said Sunday that it was restarting its investigation into the 2012 shooting death of Trayvon Martin to consider possible separate hate crime charges against George Zimmerman.

Mr. Zimmerman, the neighborhood watch volunteer who shot Mr. Martin, was acquitted of all charges by a jury late Saturday.

The federal inquiry, which was started shortly after the shooting last year but had been delayed while the state criminal trial in Florida was under way, was being restarted after civil rights leaders called on the Justice Department to re-examine the case. The leaders said Sunday that they remained convinced that the shooting had a racial element. Mr. Martin, 17, was black.

"There is a pattern of George Zimmerman making dozens of calls to 911 over several years, frequently about young men of color," Benjamin T. Jealous, the president of the N.A.A.C.P., said in an interview on Sunday. Mr. Zimmerman and his family have defended the shooting as an act of self-defense.

In a statement on Sunday, the Justice Department said that now that the state criminal trial was over, it would continue its examination of the circumstances in the shooting. "Experienced federal prosecutors will determine whether the evidence reveals a prosecutable violation of any of the limited federal criminal civil rights statutes within our jurisdiction," the statement said.

The department sets a high bar for such a prosecution. Three former Justice Department officials who once worked in the department's Civil Rights Division, which is handling the inquiry, said Sunday that the federal government must clear a series of difficult legal hurdles before it could move to indict Mr. Zimmerman.

"It is not enough if it's just a fight that escalated," said Samuel Bagenstos, who until 2011 served as the principal deputy assistant attorney general in the division. "The government has to prove beyond reasonable doubt that the defendant acted willfully with a seriously culpable state of mind" to violate Mr. Martin's civil rights.

Attorney General Eric H. Holder Jr. hinted at those challenges last year.

"We have to prove the highest standard in the law," Mr. Holder said at a news conference in April 2012. "Something that was reckless, that was negligent, does not meet that standard. We have to show that there was specific intent to do the crime with the requisite state of mind."

Criminal charges under federal hate crime law have increased significantly during the Obama administration. Between 2009 and 2012, the Justice Department prosecuted 29 percent more such cases than in the previous three fiscal years. Last month in Seattle, for example, Jamie Larson, 49, pleaded guilty to federal hate crime charges that he beat a cabdriver, who was from India and was wearing a turban.

The increase is in part because of the Matthew Shepard and James Byrd Jr. Hate Crimes Prevention Act, enacted in 2009, which removed a requirement that a victim had to be engaged in a federally protected activity, like voting or going to school.
Deciding whether or not to proceed with civil rights charges against Zimmerman is not going to be an easy task. On the surface, there really isn't any evidence that would establish definitively that Zimmerman targeted Martin because of his race, or more importantly that he ended up shooting him to death in the middle of a fight because he was black. None of the comments that Zimmerman made before or after the evidence can fairly be read to support that conclusion, I would submit, and there doesn't appear to be any independent evidence that establishes any kind of race-based motive for the crime. The case is further complicated by the fact that the killing occurred at the end of what was, going by witness accounts and by Zimmerman's own statements, was a fight between the two men that had Martin on top of Zimmerman hitting him repeatedly. It would seem difficult if not impossible for a prosecutor operating under those facts to be able to prove beyond a reasonable doubt that Zimmerman was acting out of racial bias when he shot Martin and killed him. One could argue, perhaps, that his use of deadly force, although the jury verdict clearly seems to indicate that they believed Zimmerman's use of force was reasonable under the circumstances. Getting from the idea that his use of force was "unreasonable," though, to the idea that it was motivated by racial bias seems to be a bridge too far.
Ruth Marcus doesn't think civil rights charges are appropriate:
"This will confirm for many that the only problem with the New South is it occupies the same time and space as the Old South," said NAACP President Benjamin Jealous, invoking the memory of 14-year-old Emmett Till, who was killed in 1955 after supposedly flirting with a white woman and whose murderers were acquitted. "Old South justice," thundered Jesse Jackson.

This comparison is unfair. No doubt race played a role in Martin's death. Zimmerman likely would not have called the police about a white teenager — even a white teenager wearing a hoodie — walking back from a 7-Eleven.

But there is no evidence that race played a role in Zimmerman's acquittal. If anything, the racial undertones worked against Zimmerman, increasing public pressure on prosecutors to bring the most serious — and, in hindsight, the most difficult to support — charges against him.
Adam Serwer further comments on the difficulties of bringing civil rights charges, and concludes that the Justice Department will ultimately refrain from doing so:
[C]oncern and sympathy may be all the attorney general will have to officer. The civil rights division of the Justice Department, which handles hate crimes prosecutions, has been investigating whether or not to file charges against George Zimmerman since spring of 2012. But convicting Zimmerman on federal hate crimes charges would likely be even more difficult than trying to convict him of second degree murder, because it requires proving beyond a reasonable doubt that when Zimmerman shot and killed Martin during a confrontation in Sanford, Fla., last year, he did so because of race.  Zimmerman has maintained that while he initially followed Martin, believing he might have been connected to recent burglaries in the neighborhood, he broke off pursuit and was attacked by Martin while returning to his car.  Zimmerman claims he shot Martin in self-defense.

The jury didn't necessarily need to believe Zimmerman's story to acquit him. If the jury didn't believe Zimmerman's statements to a police dispatcher about Martin, in which he used profanity to refer to the teenager, indicated that he acted out of "ill will, hatred, spite or evil intent" when he shot Martin then it's unlikely that they will be able to prove Zimmerman acted out of racism, barring any new, undisclosed evidence unearthed by federal prosecutors.

"Based on what I've seen, I think it would be difficult to envision proving racial intent beyond a reasonable doubt here," said Samuel Bagenstos, a former deputy assistant attorney general in the civil rights division who is now a law professor at Michigan Law. "It's always hard to prove what's on people's minds, but particularly when you have an event like this that took place away from anyone who would be able to testify it's going to be very difficult."
Further Federal action in this case is further complicated by the fact that we already know that the FBI investigation that was conducted in early 2012 when this case first came to national attention found no evidence of any kind of racial motivation for the incident:
After interviewing 30 people familiar with George Zimmerman, the neighborhood watch captain charged with killing African-American teenager Trayvon Martin, FBI agents found no evidence that the shooting was driven by racial bias or animus.

Before Thursday's release of a Department of Justice report, both sides have argued over whether smatterings of racially charged testimony should be released to the public before the trial – in particular, the testimony of "Witness 9," whom state prosecutors say has described an "act" by Mr. Zimmerman that suggests "he had a bias toward black people."

The report released Thursday made clear that the FBI found no one willing to go on the record as saying Zimmerman is racist. Even one of the most skeptical local investigators with the Sanford, Fla., police department, Chris Serino, suggested to the FBI that Zimmerman followed Trayvon "based on his attire," not "skin color," and added that he thought Zimmerman had a "little hero complex," but is not racist, according to the Orlando Sentinel, which obtained copies of the document.
Given this, it's hard to see where the basis for even bringing charges against Zimmerman under the appropriate civil rights charges are going to come from.
I can understand why some people might feel that this avenue is necessary. A 17 year-old is dead after seemingly doing nothing more than walking back from 7-11 after buying Skittles and some Arizona Iced Tea. There's a sense that someone  ought to be held responsible for what happened and, on Saturday, a Florida jury has ruled that Zimmerman cannot be held criminally responsible under Florida law. Indeed, it's worth noting that the fact that George Zimmerman was found not guilty does not mean that his actions were without some kind of moral culpability. In the end, none of us will ever really know what happened on the night of February 26, 2012 between Zimmerman and Trayvon Martin, who, at 17 years old was, I would submit, far from being a "child" in anything but the legal sense of that word.
All of that, though, is of only passing relevance to an evaluation of Saturday's verdict. Suffice it to say that the evidence presented at trial was clearly and obviously insufficient to find Zimmerman guilty of either 2nd Degree Murder or Manslaughter. Had he been charged with a lesser crime, such as Negligent Homicide, then he probably would have been convicted and served a couple years at most, but the State's Attorney who handled the case chose to go for broke and the jury dealt with the case that was put in front of them. As I said on Saturday night, it strikes me in hindsight that their verdict was entirely predictable given the evidence put on by both sides at trial.
Well never really know what happened that night. The only surviving witness is George Zimmerman, and he won't be talking in public about this case until all possible legal hurdles are put behind him. However, we have his own words in the hours after the incident and physical evidence that doesn't really contradict those words. In the end, perhaps the best thing we can say is that the confrontation between Zimmerman and Martin ended in a tragedy that could have been prevented had both parties acted differently. However, preventable tragedy is not a ground for criminal liability, nor it is it grounds for turning this case over to the Department of Justice and, without credible evidence, treating George Zimmerman as a racist who went out hunting a young black man.
There will be tremendous political pressure on the Justice Department and the Obama Administration to bring charges against Zimmerman. However, political issues should not enter into this discussion at all. The only relevant question is whether there is sufficient evidence to support the idea that George Zimmerman acted out of racial bias in shooting Trayvon Martin and, looking at it from that perspective, further criminal action in this matter seems completely inappropriate.