George Zimmerman Found Not Guilty On All Charges
George Zimmerman was acquitted on all charges by a Florida jury late Saturday night.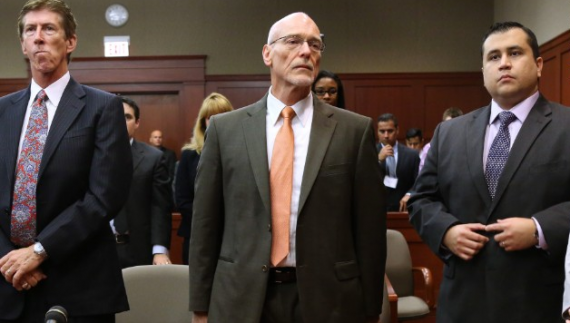 Some sixteen months and a couple weeks ago, events brought Trayvon Martin and George Zimmerman together in a confrontation that ended with the death of Martin and a police investigation that led to the filing of no charges against Zimmerman initially. Subsequently the story went nationwide as protests ensued and political pressure forced the Governor of Florida to appoint a Special Prosecutor who eventually indicted Zimmerman for 2nd Degree Murder. Three weeks ago, Zimmerman's trial before a jury of six women began in Seminole County, Florida. Tonight, that trial and the entire sixteen month saga came to an end when that jury found Zimmerman not guilty on all charges after just over 16 total hours of deliberations:
SANFORD, Fla. — George Zimmerman, the neighborhood watch volunteer who fatally shot Trayvon Martin, an unarmed black teenager, igniting a national debate on racial profiling and civil rights, was found not guilty late Saturday night of second-degree murder. He was also acquitted of manslaughter, a lesser charge.

After three weeks of testimony, the six-woman jury rejected the prosecution's contention that Mr. Zimmerman had deliberately pursued Mr. Martin because he assumed the hoodie-clad teenager was a criminal and instigated the fight that led to his death.

Mr. Zimmerman said he shot Mr. Martin on Feb. 26, 2012, in self-defense after the teenager knocked him to the ground, punched him and slammed his head repeatedly against the sidewalk. In finding him not guilty of murder or manslaughter, the jury agreed that Mr. Zimmerman could have been justified in shooting Mr. Martin because he feared great bodily harm or death.

The jury, which had been sequestered since June 24, deliberated 16 hours and 20 minutes over two days. The six female jurors entered the quiet, tense courtroom, several looking exhausted, their faces drawn and grim. After the verdict was read, each assented, one by one, and quietly, their agreement with the verdict.

The case began in the small city of Sanford as a routine homicide but soon evolved into a civil rights cause examining racial profiling and its consequences and setting off a broad discussion of race relations in America. Mr. Martin, with his gray hooded sweatshirt and his Skittles — the candy he was carrying — became its catalyst.

Even President Obama weighed in a month after the shooting, expressing sympathy for Mr. Martin's family and urging a thorough investigation. "If I had a son," Mr. Obama said, "he'd look like Trayvon."

Saturday night when the verdict was read, Mr. Zimmerman, 29, smiled slightly. His wife, Shellie, and several of his friends wept, and his parents kissed and embraced.

Sybrina Fulton and Tracy Martin, who lost their son a few weeks after his 17th birthday, were not in the courtroom.

After the verdict, Judge Debra S. Nelson of Seminole County Court, told Mr. Zimmerman, who has been in hiding and wears a bulletproof vest outside, that his bond was revoked and his GPS monitor would be cut off. "You have no further business with the court," she said.

Outside the courthouse, perhaps a hundred protesters who had been gathering through the night, their numbers building as the hours passed, began pumping their fists in the air, waving placards and chanting "No justice, no peace!" Sheriff's deputies lined up inside the courthouse, watching the crowd, who were chanting peacefully, but intently.

The shooting also brought attention to Florida's expansive self-defense laws. The laws allow someone with a reasonable fear of great bodily harm or death to use lethal force, even if retreating from danger is an option. In court, the gunman is given the benefit of the doubt.

The outcry began after the police initially decided not to arrest Mr. Zimmerman, who is half-Peruvian, as they investigated the shooting. Mr. Martin, 17, had no criminal record and was on a snack run, returning to the house where he was staying as a guest.

Six weeks later, Mr. Zimmerman was arrested, but only after civil rights leaders championed the case and demonstrators, many wearing hoodies, marched in Sanford, Miami and elsewhere to demand action.

"Justice for Trayvon!" they shouted.

The pressure prompted Gov. Rick Scott of Florida to remove local prosecutors from the case and appoint the state attorney from Jacksonville, Angela B. Corey. She ultimately charged Mr. Zimmerman with second-degree murder. The tumult also led to the firing of the Sanford police chief.

Through it all, Mr. Martin's parents said they sought one thing: That Mr. Zimmerman have his day in court.

That day arrived on Saturday.
From The Orlando Sentinel, the largest newspaper in the local area:
Special prosecutor Angela Corey spoke moments after the verdict.

"We promised that we would seek justice for Trayvon Martin," she said. Paraphrasing prosecutor John Guy's closing statements in the case, Corey said:

"To the living we owe respect. To the dead, we owe the thruth. We have shown respect to the living and we believe we have brought out the truth on behalf of Trayvon Martin."

Outside the courthouse, deputies and other law enforcement were dealing with a crowd of about 100 people, many of whom were disappointed with the verdict

Zimmerman, who says he fired in self-defense, had faced up to life in prison if convicted as charged. Instead, he will go free.

During the trial, jurors heard from an array of witnesses, including police, forensics experts and Zimmerman's neighbors at the Retreat at Twin Lakes, where he shot Trayvon amid a struggle minutes after reporting the teen to police as suspicious Feb. 26, 2012.

No one who testified saw how the fatal conflict between the Neighborhood Watch volunteer and the high school junior from Miami Gardens began.

In his closing argument, prosecutor Bernie de la Rionda told jurors Zimmerman was a "wannabe cop," tired of criminals victimizing his community, who decided to take the law into his own hands when he saw Trayvon walking through the rain and assumed he was up to no good.

"A teenager is dead because a man made certain assumptions," de la Rionda said. "… and because his assumptions were wrong, Trayvon Benjamin Marin no longer walks on this Earth."

De la Rionda described Trayvon as an "innocent 17-year-old kid" who was "profiled as a criminal."

The verdict brings the ultra-high-profile trial to a close. The case sparked widespread protests last year when Zimmerman wasn't arrested by Sanford police, who said the evidence couldn't overcome his self-defense claim.
I haven't written much of anything about the Zimmerman trial since it began in late June. Partly that was because I wasn't following it closely enough directly to feel as though I was able to comment on it, and partly because I really don't see the kind of instant trial analysis that was occurring on each of the cable networks covering the case to be of any value. Indeed, I think that kind of analysis tends to cloud the way that viewers see the case because, unlike the jurors, they are being exposed not just to what unfolds when the camera shows witness testimony but also what they analysts, both pro-defense and pro-prosecution, are telling them. The feeling was reinforced as I watched this case being discussed on social media over the past three weeks and it became apparent to me that many people had already made up their minds about Zimmerman's guilt or innocence and were viewing the case accordingly. Rulings that Judge Debra Nelson, the presiding Judge, made that were in favor of one side or the others were viewed as being part of some conspiracy. Even when she denied the Defense's Motion for Judgment of Acquittal at the end of the State's case, something that happens in pretty much every criminal case given that Judges are loathe to take a case out of a jury's hands unless there's simply no evidence to support guilt, it was seen by Zimmerman supporters as a sign that he was the victim of a judicial set-up.
Now, while I didn't watch all of the trial, I have watched portions of it, and read about day-to-day events elsewhere to form some basic impressions. Based on that, I've got to say that I don't find this outcome surprising. From the beginning, my general impression was that the prosecution's case was weak, especially for 2nd Degree Murder, which I never thought was an appropriate charge to begin with since they never seemed to be able to prove the intent element of that crime. Indeed, several of the witnesses that the State called, from police investigators to at least two of the neighbors that acted in response to signs of a struggle outside their homes that fateful night, seemed to be more helpful to Zimmerman's self-defense claim than they were to establishing the elements of either the primary charge of 2nd Degree Murder or the lesser included offense of Manslaughter. Additionally, the prosecutors chose to put into evidence several statements that Zimmerman had voluntarily given to the Sanford Police Department about the incident that night, including a video he participated in the day after the incident in which he walked through his version of what happened the night before with investigating detectives. While there were some minor inconsistencies between several of these statements, none of those inconsistencies seemed extreme enough to doubt his credibility and all of them were consistent with the basic outline of his story that Martin attacked him first, they ended up on the ground with Martin punching him, and that he only ended up shooting Martin when he thought his life was in jeopardy. Additionally, several of the State's witnesses just seemed to hurt their case — including their so-called "star" witness Rachel Jeantel, who was on the phone with Martin moments before his encounter with Zimmerman, and Medical Examiner Shiping Bao, whose testimony came across very badly compared to the expert that the Defense had hired, Dr. Vincent Di Maio, a nationally recognized pathologist.
In the end, as always, it was the state's burden to prove that George Zimmerman was guilty of the charges against him beyond a reasonable doubt. By the time the case came to an end, there seemed to be a general consensus among observers that they had not done so, most certainly not with regard to 2nd Degree Murder and that the odds of getting a Manslaughter conviction seemed to slip away as well. Although I had assumed for a long time that Zimmerman would have to take the stand in his defense in order to fully be able to relate the self-defense theory to the jury, that proved to not be necessary are at all thanks largely to the fact that the prosecution had put all of Zimmerman's previous statements to law enforcement into evidence. So, it was no surprise when he told the Judge shortly before the defense rested that he would not be testifying. There really wasn't any need for him to do so and, in terms of the risks of cross-examination, the risks were far too great. Instead, his attorneys put on a defense that poked holes in the remaining parts of the state's case. Additionally, while both sides put on strong closing statements, defense attorney Mark O'Mara's was a tutorial in the touchstone of criminal defense attorneys, reasonable doubt, and it was obviously enough to convince the jury. Adding all of that together, we had a case where the state simply failed to meet its burden notwithstanding being represented by a trio of attorneys who were quite skilled, and quite passionate in presentation of the case the were given.
Many people who have been following this case from the beginning are no doubt aggrieved by this result, but I am reminded of what I wrote here just over two years in the wake of another high profile trial, the Casey Anthony case:
First of all, it's worth reminding everyone that the standard here is that it's the state's obligation to prove guilt beyond a reasonable doubt. That is an incredibly high standard. It means that someone who actually committed a crime could go free if the evidence presented to the jury suggests that there's another reasonable interpretation of what happened, or if the state isn't able to produce sufficient evidence to prove guilt beyond a reasonable doubt. So, being found "not guilty" doesn't mean the Defendant didn't do it, but it does mean it couldn't be proven within the bounds of the law, and it reflects the value that we've placed on ensuring that only someone who is assuredly guilty goes to prison (or gets executed). As the old saying goes, it's better that ten guilty men go free than one innocent man goes to prison.

Second, the criminal justice system is about a quest for the truth within the bounds of the law, not a quest for "justice" for the victim. That means, for example, that evidence that doesn't meet the applicable evidentiary standard won't get before the jury, that statements the Defendant made to the police while in custody but without being advised of their rights will be excluded, and that protection of the Defendants constitutional rights will bar the introduction of illegally seized or unreliable evidence. Some of that evidence might arguably to a quest for "justice," but it's not relevant to a quest for truth within the bounds of the law. If you're looking for "justice" for the victim, you'll have to search somewhere else because it won't come from a courtroom.
In the end, George Zimmerman is a free man because the state couldn't prove the case against him. Based on what I've read about the trial I think that is the correct result, but even if I didn't I would be reminded of a quote first attributed to the great English lawyer William Blackstone that goes "it is better that ten guilty men go free than one innocent man go to prison." For that reason alone, I'd suggest that Zimmerman's acquittal is a sign of a system working exactly the way it's supposed to. This trial was the work of our legal system. It wasn't perfect, and I'd argue that the the presence of the cameras and the media attention tended to overhype and pervert things significantly, but this is the system we have, and its better than all the others. Rather than screaming outrage, I suggest we all marvel at the fact that we're able to accomplish something like this in a civilized manner.
Here's video of the verdict being read: