Casey Anthony And Some Thoughts On The Criminal Justice System
A Florida jury has found Casey Anthony not guilty of murdering her daughter. The criminal justice system works.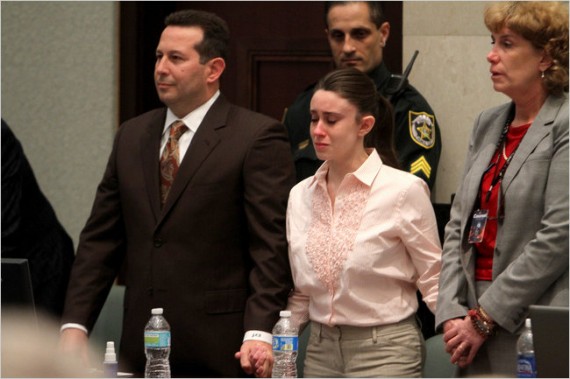 The big news of the day is a subject that we haven't talked about here at all at OTB, the not guilty verdict rendered today by a jury in Florida in the murder trial of Casey Anthony:
Casey Anthony was acquitted Tuesday of first-degree murder and the other most serious charges against her in the 2008 death of her 2-year-old daughter.

But the jury convicted her on four misdemeanor counts of providing false information to law enforcement officers.

As the verdict was read, Casey Anthony cried from her seat in the courtroom, breathing deeply as she looked forward. She then hugged her defense attorney Jose Baez and other members of her defense team.

Her father, George Anthony, meanwhile, showed no visible reaction from his seat in the back of the courtroom.

Orange County Chief Judge Belvin Perry Jr. set sentencing at 9 a.m. Thursday for Casey Anthony. She faces up to a year in jail on each of the charges she lied to police.

The verdict was reached by the seven-woman, five-man jury after deliberating for less than 11 hours in a trial that stretched to more than six weeks and featured allegations of sexual abuse, questions regarding Casey Anthony's competence and various theories on what happened to 2-year-old Caylee.

Casey Anthony, 25, was charged with seven counts — first-degree murder, aggravated child abuse, aggravated manslaughter of a child and four counts of providing false information to a law-enforcement officer in Caylee's 2008 disappearance and death.

Caylee was last seen June 16, 2008, but was not reported missing until July 15, 2008, when Casey Anthony's mother, Cindy Anthony, tracked her daughter down and demanded answers regarding Caylee's whereabouts.
The maximum penalty on the four charges that Anthony was convicted on is one year each. She could be sentenced to serve that time concurrently, or consecutively. However, given the fact that she has spent nearly three years in jail awaiting trial and was acquitted of the major charges against her, it's quite probable that she will be given credit for time served and released, either on parole or having served all the time the judge would sentence to her. Meaning that Casey Anthony will likely walk out the courthouse door on Thursday.
Since I didn't really follow the trial outside of catching bits and pieces over the past six weeks, and portions of the closing statements over the weekend, I'm not going to comment on the facts of the case or why this happened. All that matters is that the State of Florida failed to meet its burden that she killed her child beyond a reasonable doubt, so Casey Anthony is not guilty. I will say, though, that it seems hard to feel this same way about this case that many people did about the O.J. Simpson. In that case, the evidence of Simpson's guilt was clear, and the jury's malfeasance was apparent. In this case, the State was apparently unable to prove how, where or when Caylee Anthony died, and unable to tie Casey Anthony to the remains that were ultimately found with any forensic evidence whatsoever. Given that, the verdict seems both unsurprising and correct.
Immediately after the verdict, though, and even in  the days leading up to it, I noticed that there were many people who reacted to the verdict about the way you'd expect them to react to any criminal trial that's been part of the cable news cycle for three years. Casey Anthony has gotten away with murder, they say. There's no "justice for Caylee." Or, just the general reaction that there's something wrong with the justice system because of this verdict.
Instead, I would submit that this case is evidence that, when allowed to operate properly, the criminal justice system works pretty well.
First of all, it's worth reminding everyone that the standard here is that it's the state's obligation to prove guilt beyond a reasonable doubt. That is an incredibly high standard. It means that someone who actually committed a crime could go free if the evidence presented to the jury suggests that there's another reasonable interpretation of what happened, or if the state isn't able to produce sufficient evidence to prove guilt beyond a reasonable doubt. So, being found "not guilty" doesn't mean the Defendant didn't do it, but it does mean it couldn't be proven within the bounds of the law, and it reflects the value that we've placed on ensuring that only someone who is assuredly guilty goes to prison (or gets executed).  As the old saying goes, it's better that ten guilty men go free than one innocent man goes to prison.
Second, the criminal justice system is about a quest for the truth within the bounds of the law, not a quest for "justice" for the victim. That means, for example, that evidence that doesn't meet the applicable evidentiary standard won't get before the jury, that statements the Defendant made to the police while in custody but without being advised of their rights will be excluded, and that protection of the Defendants constitutional rights will bar the introduction of illegally seized or unreliable evidence. Some of that evidence might arguably to a quest for "justice," but it's not relevant to a quest for truth within the bounds of the law. If you're looking for "justice" for the victim, you'll have to search somewhere else because it won't come from a courtroom.
Finally, I'll just add that this case struck me as yet another example of how the media can pervert the public perception of the justice system. For three years, the cable networks, especially people like Nancy Grace, covered this case like it was the biggest story ever and had essentially already tried and convicted Casey Anthony even before the trial started. It wouldn't surprise me if people who spent their time watching such stuff are now sitting around wondering what the heck happened and how this jury could let the "Tot Mom" go free when it's so clear that she killed her baby.  Of course, people don't get tried and convicted in on Headline News, they get tried in a Court of Law, where they have rights and where the state has to prove their guilt beyond a reasonable doubt. The people who have spent the last three years thinking they "know" Casey Anthony is guilty, don't really know anything.
I don't know what really happened in June of 2008 with Caylee Anthony. It's possible it was cold blooded murder, it's possible it was an accident, it's possible that entire Anthony family is so messed up that they've been engaged in a three year long cover-up. We'll probably never know the truth. As far as the law is concerned, though, Casey Anthony is not guilty of killing her daughter, and we should all be thankful that the process works most of the time because as Cory Maye or Cameron Todd Willingham can tell you, when it doesn't work things can really go badly for you.