Colorado Counties Conducting Non-Binding Vote On Secession, Forming New State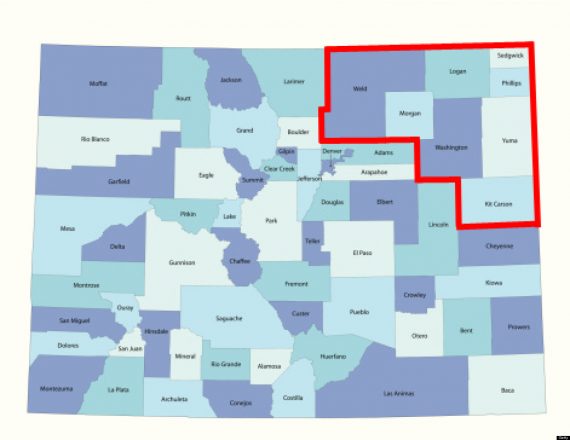 Among the more interesting things on the ballot around the country today is a non-binding referendum in several northern Colorado counties on the question of whether they should secede from the State of Colorado to form a new state:
Residents of 11 Colorado counties will vote Tuesday on whether to secede and form the nation's 51st state.

Proponents of the ballot measure say it is needed to give them a political voice. They say the state government, which is under control of Democrats, is ignoring the concerns of rural voters when passing new gun controls and energy mandates.

The ballot measure would only be a first step to secession. If passed, it would only allow counties to "pursue those [other] counties [in] becoming the 51st state." The state legislature and Congress would also have to approve.

Seth Masket, a political science professor at the University of Denver, said political observers in the state mostly see the secession movement as a novelty without much chance of success.

"My impression is that this secession movement has drawn more attention from the national press than from local media," he said.

The debate over secession is framed in rural vs. urban terms.

Weld County, located on the northern border of Colorado, is by far the most populated county, with more than 250,000 residents, to sign onto the measure.

Most of the other 10 other counties that will vote on the measure hold populations of less than 10,000 residents. Rural voters in Colorado gave Mitt Romney nearly 60 percent of their vote during the 2012 election.

Masket said the Democratic Party in the state has largely ignored the movement, while Republicans have struggled to respond to it.

"[Republicans] need to express sympathy with those who are organizing the movement, as those folks are very active politically, but they don't want to be branded as extremists themselves, so they are largely declining to endorse the effort," Masket said.
As has been noted before, the odds that this would actually lead to a serious effort seems to be pretty low. In reality, what we're seeing here is the playing out of a political conflict between the urbanized areas of Colorado, where much political power now resides, and the more traditionally Republican parts of the state. Most likely, the conflicts will be resolved within the context of state politics, not via a secession idea that has no real prospect of actually succeeding. Nonetheless, it will be amusing to see how this turns out tonight.