Coming IRS Crackdown?
The Schumer-Manchin compromise includes a massive increase in the tax collection budget.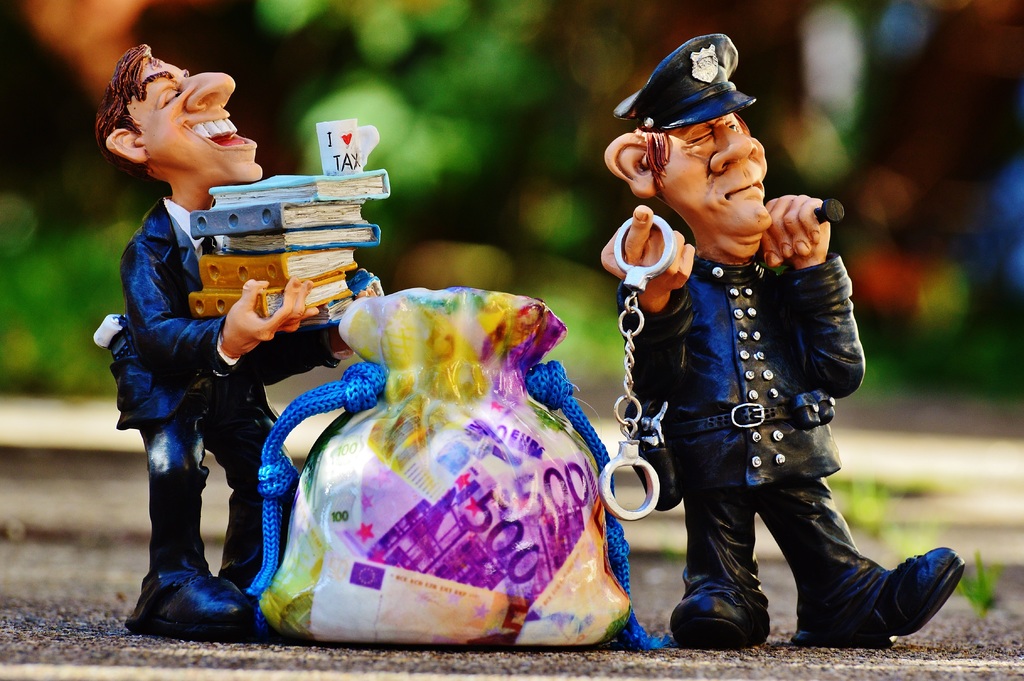 The WSJ Editorial Board warns, "The IRS Is About to Go Beast Mode."
Progressives want Joe Biden to unleash what they call "beast mode" executive power, and the Schumer-Manchin tax bill supplies the cash to turn the Internal Revenue Service into Wolverine.

The pact between Sen. Joe Manchin and Majority Leader Chuck Schumer includes $80 billion in new funding for the tax man. Democrats claim this "investment" will yield more than $200 billion in revenue. That estimate is highly speculative, but if it's anywhere close to right IRS auditors will soon be coming after tens of millions of Americans.
Democrats have, rightly I believe, complained bitterly for years that Republicans have cut IRS investigative ability to the bone, making it next to impossible for it to go after well-heeled tax cheats. So, more enforcement seems like a good investment.
The $80 billion is more than six times the current annual IRS budget of $12.6 billion. The money will be ladled out over nine years and comes with few strings attached. The main Democratic command is for the tax agency to bring the hammer down on taxpayers.

The bill earmarks $45.6 billion for "enforcement," including "litigation," "criminal investigations," "investigative technology," "digital asset monitoring" and a new fleet of tax-collector cars. The result will be far more audits, civil suits and criminal referrals.
Comparing a nine-year outlay to a one-year budget is silly. Presuming the money is spread out evenly over the period, it's another $8.89 billion a year. Still, that's a 70.5% increase—all for enforcement-related activities. That's huge.
Still, to the extent that people are committing large-scale tax fraud, we really should be going after them.
Here's where it gets interesting, though:
The main targets will by necessity be the middle- and upper-middle class because that's where the money is. The Joint Committee on Taxation, Congress's official tax scorekeeper, says that from 78% to 90% of the money raised from under-reported income would likely come from those making less than $200,000 a year. Only 4% to 9% would come from those making more than $500,000.

The IRS knows the super-wealthy employ lawyers and accountants who make litigation time-consuming and risky. It also knows that Democrats would howl if the agency pursues fraud in the earned-income tax credit program, despite what the IRS has estimated are $18 billion in improper payments each year.
Now, this is just an assertion based on analysis, not an announced policy by the government. But the Joint Committee on Taxation isn't some right-wing outfit. It's a top-flight entity established almost a century ago that "operates with an experienced professional staff of Ph.D economists, attorneys, and accountants, who assist Members of the majority and minority parties in both houses of Congress on tax legislation." It's currently chaired by Senate Finance Committee chairman Ron Wyden.
And the analysis is quite plausible if a bit depressing. Even in "beast mode," (or Wolverine mode, which is based on a different X-Man) the problem this new funding is designed to correct would remain. Namely, it's almost more trouble than it's worth to go after mega-millionaires and billionaires because they can hide their assets really effectively and can afford to spend years fighting the IRS while mere mortals have no choice but to settle when the mighty IRS is breathing down their neck.
A particular audit target will be "pass throughs" including Subchapter S businesses that file under the individual tax code. Democrats failed to raise the top individual tax rate, so unleashing IRS auditors is Plan B.

Many of these are small businesses that will settle with the IRS rather than fight and endure years of costly litigation. The IRS won only $1.7 billion of the $4 billion in disputed taxes and penalties in cases closed in U.S. tax court in fiscal 2019. But few taxpayers can afford to fight in court.
This is indeed a Catch-22. We usually apply terms like "the trial tax" or "the process is the punishment" to the criminal justice system but the basic principles apply in any kind of suit brought by the government. If the IRS claims I owe them an extra $1000, I'm writing them a check unless I can resolve it with a phone call.
Despite all this new money, Americans shouldn't expect better IRS service. The agency in the 2022 filing season answered a mere 10% of its phone calls. The Taxpayer Advocate Service revealed in June that as of May 31 the IRS was still sitting on 21.3 million unprocessed paper tax returns, with millions of taxpayers "waiting six months or more to receive their refunds." Yet the Schumer-Manchin bill devotes only $3.2 billion for "taxpayer services."
While the S in IRS stands for "Service," it's ultimately a tax collection agency, not a customer service business. Further, it's really not that bad. It got way behind during the pandemic and hasn't caught up.
The bill does, however, provide $15 million to study a bad Elizabeth Warren idea. An IRS task force will have nine months to deliver a report on the feasibility of the IRS running its own "free direct efile tax return system." America has a voluntary tax system that lets taxpayers determine their correct amount of tax before the IRS checks it.

Sen. Warren wants to create what would be a federal H&R Block that assesses tax liability for taxpayers. Taxpayers would presumably have to appeal if they disagree, and who knows how long that would take.
I'm old enough to remember when Republicans wanted a tax code so simple that most folks could file them on a postcard. Indeed, Ronald Reagan proposed a system would have allowed "most taxpayers to settle their accounts with the government simply by verifying the accuracy of a return prepared by the IRS." Alas, a year-long study completed in 1988 showed that it simply wasn't technically feasible.
Presumably, the advances in computing in the interim have changed the possibilities. Whether it should cost $15 million to figure that out is beyond my expertise. But, given that it amounts to a rounding error in the federal budget, I'd say it's worth the investment.
All of this is likely to be made worse by what seems to be the increasing politicization of the tax agency. Lois Lerner notoriously targeted conservative nonprofits for special scrutiny in 2013. ProPublica, the left-leaning website, obtained and published the confidential tax information of private citizens in 2021—conveniently when Democrats were debating whether to impose a new wealth tax. The IRS has promised to investigate the illegal leak but has so far come up empty.
These are red herrings. I oppose the politicization of the IRS but there's essentially no evidence that it's a particularly widespread problem.
Yes, the IRS targeted Tea Party-affiliated groups, eventually settling a lawsuit over the matter. There was clearly both malfeasance and misfeasance on the part of then-IRS Commissioner Louis Lerner including the destruction of evidence. At the same time, the rationale for the scrutiny was perfectly reasonable: groups with "Tea Party," "Patriot," and related words in their organizational name were quite often filing as 501(c)3 and 501(c)4 non-profits when they were in fact activist organizations that didn't qualify. Indeed, as Matt Bernius wrote here way back in 2013, "78 of those 96 BOLO applications were found, upon review, to contain 'indicators of significant amounts of political campaign intervention.' In other words, the names section of the BOLO list had an 81% success rate." The optics were terrible and the management was hamhanded. But, no, the Obama administration wasn't using the IRS to go after its enemies.
Slightly more alarming were the audits of Donald Trump foes James Comey and Andrew McCabe. It's statistically probable that they didn't happen by chance.
Regardless, there's simply no reason to think that these resources are going to be targeted at foes of the administration. And, indeed, if we're to believe that the investigations are going to be aimed almost exclusively at those making under $500,000 and small business owners, it's hard to believe the administration would even know who they are.
The new wave of audits will hit taxpayers even as tax revenue as a share of GDP is back close to its historic norm of 18.5% and may be going higher as corporate and individual tax revenue soars. Tax receipts were up 25% in the first nine months of fiscal 2022 after rising 18.3% in fiscal 2021.

The federal government isn't starving for revenue. Congress wants more tax revenue because it can't control its appetite for spending. That's why it wants a tax agency in beast mode.
This is a fallacy of distraction. Whether we're spending too much money or collecting "enough" taxes are certainly debatable issues but they're not the issues under debate here. Nor, even, is the tax code itself. The bottom line is that Congress has passed and the President has signed a system of taxation into law and, to the extent it's constitutional (and only crackpots assert otherwise) then it's the duty of citizens, corporations, and other entities subject to the code to comply. Indeed, I don't think the WS Editorial Board disagrees with that.
So the questions, then, are about effectiveness, efficiency, and fairness.
Is this new infusion of investigative resources is going to significantly enhance the IRS's ability to enforce compliance with the law? It would seem so. The Joint Committee on Taxation apparently estimates that the $80 billion expenditure will yield $200 billion in additional revenue, a net of $120 billion. The WSJ team questions that but presents no actual argument.
Is adding $120 billion to the Treasury over a nine-year span going to make much difference in our ability to meet our needs? Probably not. But, to the extent that people are intentionally cheating the system, unfairly free-riding on the rest of us, going after them seems not only fair in its own right but something that would enhance public confidence in the fairness of the system.
Is the stress created by the effort to squeeze out said $120 billion an undue burden on the citizenry? To me, that's the strongest claim made by the editorial. And it's simply not one I have sufficient information to assess.
Let's dismiss the unsubstantiated insinuations that the investigations would be politically targeted. Is the IRS simply going to look harder at upper middle class filers, particularly those who derive their money from sole proprietorships and Subchapter S businesses, or is that just a surmise? And, if so, are these mostly intentional tax cheats or simply folks engaged in sloppy accounting practices? Hell if I know.
Which brings me to a point not raised by the editorial but occurs to me in assessing the last question: will this simply force taxpayers to shell out more money for lawyers and accountants to minimize the risk of audits? I suspect that it will and consider that a net negative. Whether it's outweighed by the additional revenue collection and, especially, the sense that everyone is paying what they owe is, again, beyond my ability to assess.