Condi Rice On The VP Slot: Thanks, But No Thanks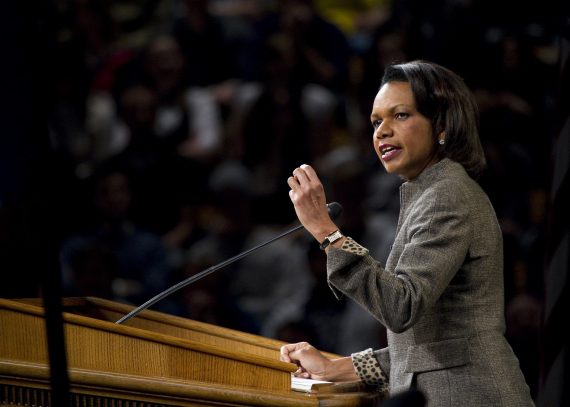 With Thursday's Drudge rumor still stubbornly refusing to die despite its utter absurdity, Condolezza Rice once again made clear that she's not interested in being anyone's running mate:
Despite the Drudge Report's article Thursday night reporting that  Condoleezza Rice is the new frontrunner to be Mitt Romney's running mate, a spokesperson for the former secretary of state tells ABC News she is still not interested in the job.

In an email the spokesperson  said that Rice, who is on vacation, has no plans to comment specifically on the Drudge Report article, but that all of her previous statements denying interest in being Romney's vice presidential pick "still stand."

The Romney campaign has not commented on the report. Drudge has long appeared supportive of the Romney campaign and there are ties between the site's founder, Matt Drudge, and Romney staffers.

(…)

For her part Rice has repeatedly and consistently maintained that she not only doesn't want to be VP, she doesn't want to run for any elected office.

A sample of those denials came in an interview with CBS News on June 26.

"There is no way I would do this."

"I didn't run for student council president. I don't see myself in any way in elected office. I love policy. I'm not particularly fond of politics."
I think Rice has made herself eminently clear on this issue both in the past and recently. She's always resisted any effort to pull her into the political world in the past, and there's simple no reason to believe that she's changed her mind now. Moreover, all the things I mentioned on Thursday — her lack of elective experience, her stated position on abortion, and her ties to a Bush Administration that Romney likely wants people to mostly forget about — still apply. Rice is no doubt a smart woman and it'd be fun to see her go head-to-head with Joe Biden in a debate, but she's not going to be the VP nominee. The Drudge rumor, whether it came directly from the Romney campaign or someone close to the campaign, was obviously intended as a diversion for the media and, to some extent at least, it worked.
H/T Jazz Shaw