Congress Ready To Abdicate Its Responsibility On Attacks Against ISIS
Congress seems ready to avoid having to vote on expanded attacks against the Islamic State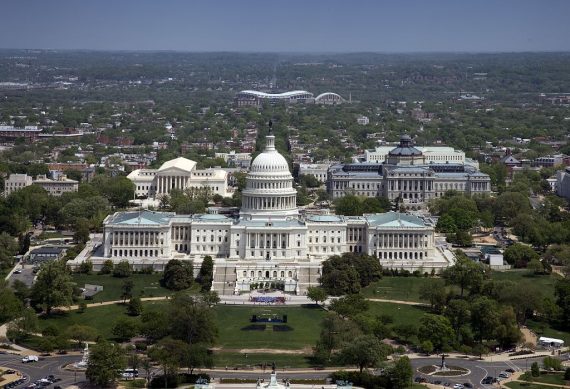 With President Obama set to unveil a new plan for dealing with the Islamic State/ISIS on Wednesday, most Members of Congress seem unwilling to go on the record regarding the matter:
While members of Congress are eager to debate the White House's strategy against the militant group Islamic State, most are loathe to put their names to a vote — especially weeks before a very tight midterm election that will determine which party controls Congress.

After conversations over the last week, "the White House is aware there really is no appetite for a vote," said one senior congressional aide, who was not authorized to to discuss the deliberations.

Without new authority from Congress, the question becomes how far the administration can take the campaign against the militants also known as ISIS, the acronym for its former name, Islamic State of Iraq and Syria.

Bolder action in Syria would be welcome by Republican defense hawks, and some moderate-leaning Democrats, including Sen. Bill Nelson of Florida, the home state of the slain journalist Steven J. Sotloff, who was held captive by the militants.

"We're going to have to deal with them, not only in Iraq, where we are now, but elsewhere," Nelson said Monday in the Senate. "As the president has already indicated, this is going to be a long-term kind of operation."

A protracted battle is far from what many Americans say they want. Even if the president decides to seek congressional approval for a robust military campaign, it is not clear that reluctant lawmakers would give it.

Here's the dilemma: What if he comes over here and you can't pass it?" said Sen. Lindsey Graham (R-S.C.) "That'd be a disaster. And what if you put so many conditions on it that it makes any military operation ineffective? That's what I worry about."

A coalition of liberal Democrats and libertarian Republicans would likely block such a vote, and those in difficult reelection battles would prefer not to be boxed into a complicated foreign policy issue before the election.

But some are still pushing Obama to seek congressional approval.

"The Constitution is clear: It is the Congress and Congress only that has the constitutional authority to declare war," said tea party Sen. Ted Cruz (R-Texas), who called it "inconsistent" for the president to pursue action without legislative support.
Ted Cruz isn't the only member of Congress who is arguing that the Legislative Branch ought to weigh in on this matter, Senators Rand Paul and John McCain, who rarely agree on foreign policy issues, are saying the same thing:
It would show "disregard for the Constitution and for the history of our country," Paul said Monday, if the president didn't ask Congress for the authority to expand the war against ISIS.

McCain took a different approach but came to the same conclusion as Paul, whom the Arizona senator has clashed with on foreign policy in the past.

"[Obama] should come to Congress," McCain said, adding that while the president doesn't need authorization, "it certainly is helpful to have Congress fully engage
Notwithstanding the calls of people like McCain, Cruz, and Paul, though, the Republican leadership doesn't seem at all interested in taking a vote on this issue, and the Democrats don't either:
Democratic leaders in the Senate and Republican leaders in the House want to avoid a public vote to authorize force, fearing the unknown political consequences eight weeks before the midterm elections on Nov. 4.

"A lot of people would like to stay on the sideline and say, 'Just bomb the place and tell us about it later,' " said Representative Jack Kingston, Republican of Georgia, who supports having an authorization vote. "It's an election year. A lot of Democrats don't know how it would play in their party, and Republicans don't want to change anything. We like the path we're on now. We can denounce it if it goes bad, and praise it if it goes well and ask what took him so long."

Other lawmakers, especially some Democrats, are arguing that as long as the president keeps the operation limited to airstrikes, he does not need to get congressional approval.

"Do I think the president has the right to use airstrikes in the way he's using it right now?" said Senator Bernard Sanders of Vermont, an independent who votes with Democrats. "Yeah, I do. But I am very strongly opposed to the use of ground troops. And before ground troops are used, there most certainly has to be a vote."

Even some senators close to Mr. Obama are awaiting his rationale. "I want to hear the president's explanation of what he's doing and his justification for it," said Senator Richard J. Durbin of Illinois, the second-ranking Democrat.

Other Senate Democrats, like Tim Kaine of Virginia and Christopher S. Murphy of Connecticut, are pushing for a vote before the president goes further. Various resolutions authorizing force under different circumstances and parameters are being circulated by members of both parties.
This issue has come up several times during the Obama Presidency, just as it has during the Presidencies of those who preceded him in office. When the President announced American involvement in the Libyan civil war in 2011, he made it clear that he would not be seeking Congressional authorization for the action despite calls for him to do so from many quarters on Capitol Hill. In the end, when presented with the opportunity to take action to restrict the President's authority, or at least put themselves on the record regarding the missing in Libya they completely failed to do so. Last year, in the wake of the alleged use of chemical weapons by the regime in Syria, the President threatened military action against the Assad regime for the crossing of what he had referred to as a "red line." In the end, thanks largely to public pressure the President agreed that he would submit the matter to Congress. Ultimately, of course, the President did not attack Syria and, indeed, the issue was never submitted to a vote in Congress, in no small part because it was clear at the time that the vote would have failed, thus handing the President a significant embarrassment on the international stage.
The Syria example, however, is something of an anomaly and may have been largely influenced by the fact that the American public overwhelmingly opposed American intervention in the Syrian civil war at the time. For the most part, though, the relationship between the Executive Branch and Congress with regard to war powers and foreign policy since the end of World War II has been one in which Congress has ceded more and more authority to the President, which has led to a long history of what can more or less be called undeclared wars. Even the conflicts where Congress has weighed in — most notably Vietnam, Iraq in 2003, and Afghanistan — it has done so via an authorization that was so entirely open ended that it essentially allowed the President to do whatever he wanted, including expanding the conflict far beyond what Congress may have originally intended it to be. Then when it has gotten to the point where the public is speaking out against the war, Congress finds itself with the Hobson's Choice of either allowing the President to continue acting with impunity, or cutting off funding and being accused of not taking care of the troops. At that point, obviously, it's too late for Congress to do much of anything.
Matthew Yglesias diagnosed the problem quite well three years ago in advance of the intervention in Libya:
The one observation I would make about this, is that while the trend toward undeclared military incursions is often described as a kind of presidential "power grab" it's much more accurately described as a congressional abdication of responsibility. Even if you completely leave the declaration of war business aside, congress' control over the purse strings still gives a determined congressional majority ample latitude to restrain presidential foreign policy. The main reason congress tends, in practice, not to use this authority is that congress rarely wants to. Congressional Democrats didn't block the "surge" in Iraq, congressional Republicans didn't block the air war in Kosovo, etc. And for congress, it's quite convenient to be able to duck these issues. Handling Libya this way means that those members of congress whowant to go on cable and complain about the president's conduct are free to do so, but those who don't want to talk about Libya can say nothing or stay vague. Nobody's forced to take a vote that may look bad in retrospect, and nobody in congress needs to take responsibility for the success or failure of the mission. If things work out well in Libya, John McCain will say he presciently urged the White House to act. If things work out poorly in Libya, McCain will say he consistently criticized the White House's fecklessness. Nobody needs to face a binary "I endorse what Obama's doing / I oppose what Obama's doing" choice.
We can see that abdication taking place today. Outside of people like Rand Paul, Republicans don't want to take a stand on the future of military action against the Islamic State because to do so would mean that they would have equal culpability for its consequences just as the people who voted for the Iraq War in 2002 and 2003 found that the public held them as responsible as the President for the course of that war. Democrats are reluctant to put the matter up for a vote both because they too don't want to go on the record, and because they don't want to take the risk of a resolution failing to pass Congress, which would be a significant political embarrassment for the President. Added into all of these political calculations is the fact that we are seven weeks away from midterm elections and both parties would rather have this as a political cudgel than take a stand as the Constitution requires them to do. What that means, of course, is that the President will act without Congressional authorization and, when the conflict inevitably expands beyond the limited scope that we are seeing right now, Congress will once again find itself with no choice but to continue to let whomever happens to be President at the time to continue acting without any real check or oversight. It's a mistake they keep making over and over again.