Congressman Shot, Others Injured, At Congressional Baseball Practice
A Congressman was shot, and a staffer and security detail members injured, at a practice session for tomorrow's Congressional baseball game.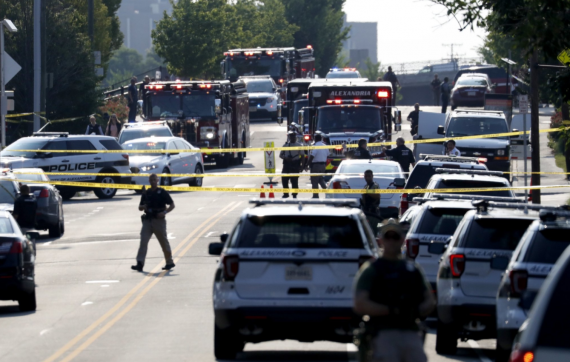 House Majority Whip Steve Scalise has been shot, and at least four others injured, during a practice session in Alexandria, Virginia for tomorrow's annual Congressional baseball game:
A gunman opened fire Wednesday morning on a baseball practice at a park in Alexandria involving Republican members of Congress, possibly injuring several including at least one lawmaker, Steve Scalise, the majority whip, according to police and a congressman.

Alexandria police would only confirm that a shooting had occurred and that one person was in custody.

Rep. Peter Kane (R-N.Y.), in an interview with The Washington Post, confirmed early details. King said Capitol Police confirmed the account to him.

Rep. Devin Nunes (R-Calif.) told The Post that Capitol Police officers walked into the congressional gym around 7:30 a.m. Wednesday and told members about the shooting and said Scalise had been shot.

White House spokesman Sean Spicer tweeted: "Both @POTUS & @VP are aware of the developing situation in Virginia. Our thoughts and prayers are with all affected."

Rep. Mo Brooks (R-Ala.) Tweeted that "Shooter attacked a GOP baseball practice. Rifle. 50+ shots fired. 5 hit including Steve Scalise. I am not shot."

The 7:30 a.m. practice in the park in the 400 block of East Monroe Street was the finally before Thursday night's scheduled game between Republicans and Democrats at Nationals Park.

Brooks told CNN that he heard a loud "bam" behind third base.

"I see a rifle, and I see a little bit of a body and then I hear another bam and I realize there's still an active shooter. At the same time I hear Steve Scalise over at 2nd base scream — he was shot," he said.
Republican members of Congress, as well as Senators such as Rand Paul and Jeff Flake, were at the park practicing for an annual baseball game played by teams made up of Republican and Democratic legislators which is scheduled to take place tomorrow evening at Nationals Park in Washington. Apparently, Republicans have been using this particular facility at an Alexandria YMCA as a practice field for several years and their presence there during spring mornings is widely known. One member of Congress, South Carolina Congressman Jeff Duncan, who apparently had already left the practice told one reporter that he may have spoken with the shooter about a half hour before the incident when he was leaving the area. Whoever this person was reportedly asked either Duncan or another Member of Congress also leaving around the same time if the team practicing was made up of Republicans or Democrats. It was apparently at some point after that when the incident began with the shooter firing onto the field while Members of Congress practiced and members of the Capitol Police provided security. While there were some early reports that the suspect was dead, Alexandria police are reporting on their Twitter feed that he is "in custody," and other press reports are saying that the suspect was taken to the hospital.
Senator Paul described the shooting during an interview on Morning Joe:
Sen. Rand Paul describes scene at GOP baseball practice where House Majority Whip Steve Scalise was shot https://t.co/ZHK26G4zSn

— NBC News (@NBCNews) June 14, 2017
And Congressman Mo Brooks from Alabama, who was among the first to get the word out to reporters of the incident, spoke with CNN about what happened.
"The gun continued to fire" .@RepMoBrooks gives first person account of shooting at baseball field in Alexandria https://t.co/2t5zZokBFs

— CNN (@CNN) June 14, 2017
As of now, there are no reports on the condition of Congressman Scalise or any of the victims, and no reports about the condition or identity of the shooter. There is also no word on either the identity of the gunman or what may have motivated him to act. Reports are suggesting, though that the weapon used was some form of "long rifle" that may or may not have physically resembled an AR-15 and that the weapon may have been equipped with a telescope to aid in shooting accuracy. Whether he had any other weapons is unknown. As more than one witness to the incident stated, though, it was fortunate that Scalise, who serves as House Majority Whip, was there with the Capitol Police because they were returning fire immediately. Senator Paul, in particular, said that he believes more people would have been shot if it hadn't been for the fact that Scalise's security detail began returning fire almost immediately. In his report to CNN, Brooks noted that one Member of Congress had brought his son with him to the practice but that they were able to get him into the dugout safely while shots were still being exchanged between Scalise's security detail and the suspect.
As things stand, the information we have is fairly limited but it's hard to believe that this was just a random event and that the shooter was likely aware of who was on the field before he opened fire. For one thing, it's apparently well-known in the community that this field is used for practice by the Republican team for an event that has been an annual tradition for decades now. For another, the presence of so many cars in the area at such an early time of day would have seemed to have been a giveaway that something significant was getting away.  In any event, as Senator Paul said, it's fortunate that Congressman Scalise was on the team because otherwise there would have been no Capitol Police on the scene, and apparently, this is not an event that local police considered significant enough to have local security in place while the practice was going on.
Update: CBS News is reporting that the shooter has been identified:
JUST IN: Alexandria, Va., shooter has been identified as 66-year-old James T. Hodgkinson, law enforcement confirms

— CBS News (@CBSNews) June 14, 2017
The Washington Post has confirmed this:
The shooter at the GOP congressional baseball practice this morning is James T. Hodgkinson of Belleville, Ill., according to law enforcement officials. Hodgkinson, 66, owns a home inspection business. His home inspection license expired in November 2016 and was not renewed, state records show.

Hodgkinson was charged in April 2006 with battery and aiding damage to a motor vehicle, according to online records in St. Clair County, Illinois.
The report goes on to report that those assault charges were apparently dismissed. There are also reports that various social media accounts that may or may not belong to Hodgkinson show him to be posting material from the political left, but this has not been confirmed as genuine by law enforcement at this time and it isn't even clear that police have been able to talk to the suspect as of yet since he was taken to the hospital.
Update #2: President Trump said in the brief statement from the White House that the shooter is dead:
Trump says the shooter is now dead from his injuries

— Chris Cillizza (@CillizzaCNN) June 14, 2017
Meanwhile, we're learning more about Hodgkinson and what appears to be the political rhetoric that may have motivated him to act. Additionally, it is being reported that the shooter was apparently a volunteer for the Bernie Sanders campaign last year, news which caused Senator Sanders to release a statement:
Sen. Bernie Sanders (I-Vt.) said Wednesday he was "sickened" by the shooting of Rep. Steve Scalise (R-La.) and others at a congressional baseball practice, which appears to have been carried out by a former volunteer to his presidential campaign.

"I have just been informed that the alleged shooter at the Republican baseball practice is someone who apparently volunteered on my presidential campaign," Sanders said in a statement delivered on the Senate floor.

"I am sickened by this despicable act. Let me be as clear as I can be: Violence of any kind is unacceptable in our society and I condemn this action in the strongest possible terms," he added.

The Vermont senator said real change can only be achieved "through nonviolent action, and anything else runs against our most deeply held American values."

"My hopes and prayers are that Representative Scalise, congressional staff and the Capitol Police Officers who were wounded make a quick and full recovery," he said.

"I also want to thank the Capitol Police for their heroic actions to prevent further harm."
Here's the video of the Sanders statement:
.@SenSanders statement that alleged shooter was presidential campaign volunteer: "I condemn this action in the strongest possible terms." pic.twitter.com/iLjxDdnftN

< --- CSPAN (@cspan) June 14, 2017
Speaker of the House Paul Ryan also spoke from the floor of the House:
For all the noise and fury, we are a family. An attack on one of us is an attack on all of us. pic.twitter.com/ZbkXuwlbGk

— Paul Ryan (@SpeakerRyan) June 14, 2017