Conservatives For Putin?
Some conservatives don't seem too troubled by Vladimir Putin's repression.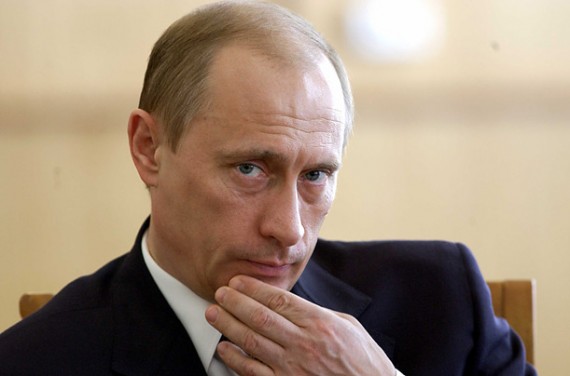 Vladimir Putin's Russia has come under near universal international condemnation of late related to the treatment of gays and lesbians in that country and specifically related to what has been described as a law banning so-called "homosexual propaganda." While the details regarding the law remain vague, it would appear that it criminalizes nearly any form of speech on behalf of gay rights or advocating the equal treatment of gay and lesbian Russians. This law comes on top of other policies that have been implemented under the rule of Putin and his predecessor and close associate Dimitri Medvedev that made life difficult for gay people in Russia. For the most part, these developments have been met with universal condemnation in both Europe and the United States, and we are starting to see calls from some quarters for a boycott of the Winter Olympics in Sochi in protest of both these anti-gay laws and Putin's actions with regard to Edward Snowden.
Not everyone is so critical of Putin's anti-gay policies, though. Consider this from Pat Buchanan:
Our moral and cultural elites have put Putin on notice: Get in step with us on homosexual rights — or we may just boycott your Sochi games.

What this reveals is the distance America has traveled, morally and culturally, in a few short years, and our amnesia about who we Americans once were, and what it is we once believed.

Only yesterday, homosexual sodomy, which Thomas Jefferson said should be treated like rape, was outlawed in many states and same-sex marriage was regarded as an absurdity.

Was that America we grew up in really like Nazi Germany?

In the Catholic schools this writer attended, pornography — let alone homs taosexual propaganda — would get one expelled.

Was this really just like Kristallnacht?

As Father Regis Scanlon writes in Crisis Magazine, in 2005, Pope Benedict XVI reiterated Catholic doctrine that homosexuality is a "strong tendency ordered toward an intrinsic moral evil," an "objective disorder." That homosexual acts are unnatural and immoral remains Catholic teaching.

Thus, if we seek to build a Good Society by traditional Catholic and Christian standards, why should not homosexual propaganda be treated the same as racist or anti-Semitic propaganda?
To be fair, this is fairly standard Pat Buchanan rhetoric. It's not all that different from the fire and brimstone speech that he delivered at the 1992 Republican National Convention, a speech that many point to as one of the reasons that the GOP did so badly in that election. In more ways that one, though, Buchanan wasn't really representative of the Republican Party or conservatism in general. Indeed, Buchanan has reached the point in his career where most mainstream conservatives seem to have dismissed him completely. He still publishes columns that get carried at The American Conservative and Town Hall, but he hasn't been seen on television for more than a year now and, even then, the only network that was giving him time was MSNBC. So, it's easy to dismiss Buchanan's ranting, and endorsement of Putin's tyranny as the rantings of an irrelevant Nixonian stooge.

Unfortunately, Buchanan isn't the only one who seems to be cheering on Putin's anti-gay policies. Consider this post today from the ordinarily level headed Rod Dreher:
The West is post-Christian. We know that, or we should know that. Buchanan's column highlights this reality. What an embarrassment that post-Soviet Russia, for all its grievous flaws, is, in important ways more conscious of its Christian history and character than the United States, a nation that still likes to think of itself as culturally Christian, but which is becoming ever more anti-Christian. That's why I give 1.5 cheers to Putin. He is anti-liberal in ways that are morally objectionable, but also in ways that are morally praiseworthy. The Christians of the Middle East have a greater friend in Vladimir Putin than they do in Barack Obama — or that they did in George W. Bush, for that matter
I've read and re-read Dreher's post, and his updates to that post, several times trying to figure out what he's trying to get at here, and I have to say I just can't figure it out. First of all, it's astonishing that anyone would not see through the absolute cynicism of Vladimir Putin's supposed defense of "Christian values." In the end, it's no different from the manner in which the Czars, and even the Soviet Communists, turned the Russian Orthodox Church into a tool of the state. Vladimir Putin is no more a defender of Christianity than he is an advocate of open government. Secondly, as much as Dreher might like to think otherwise, it seems clear to me that it's impossible to separate Putin's "morally praiseworthy" ways from his repressive ones. The fact that American conservatives are defending his actions, even in part, is either a sign of willful blindness, or a sign that they are so desperate to find allies for the losing side of the culture war that they continue to fight that they are willing to overlook tyranny and repression.