Copyright Office: Monkey Selfies Not Entitled To Copyright Protection
The Copyright Office says that works not "created" by humans are not entitled to copyright protection.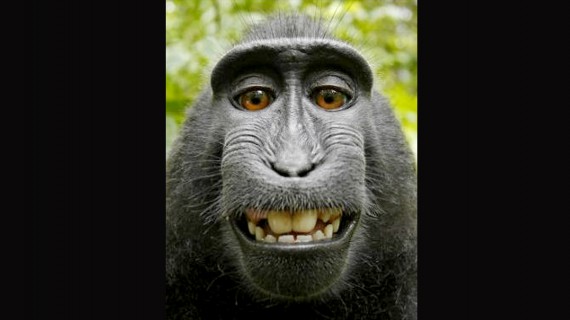 Earlier this month, I noted that a legal dispute had developed between Wikipedia and photographer David Slater over whether or not Slater could claim a copyright in a picture that had been taken essentially by accident when crested black macaque came upon a camera that Slater had left unattended in an Indonesian forest on 2011. Wikipedia claimed that the photograph is in the public domain because it was not taken by a human being, and the law seemed to agree with them notwithstanding The Volokh Conspiracy's David Post notes that the U.S. Copyright Office has apparently settled this issue once and for all:
The Copyright Office has now weighed in on the question of whether the now-famous "monkey selfie" is protected by copyright (see my earlier postings here and here) with a resounding "NO."  "Materials produced solely by nature, by plants, or by animals are not copyrightable." . . . [T]he [Copyright] Office will refuse to register a claim if it determines that a human being did not create the work."
In reality, the Copyright Office ruling doesn't end things in what I suppose we should call The Case Of The Monkey Selfie. The publication that Post links to above — which is over 1,000 pages long — is meant to set forth the general guidelines under which the office will issue a copyright to someone who applies for one. If Slater did try to copyright this photograph then, his request would most likely be denied. However, the office's determination is merely its own interpretation of the law rather than a final ruling on the matter. If Slater pursues his case in Court, the outcome could be quite different. He could, for example, make the argument that the fact that he set the camera that took the picture is enough human interaction to make the photograph something "created" by a human. Whether a court would accept that argument is an unknown issue in no small part because this would seem to be an issue of first impression for any court that heard the matter.
As Post goes on to note, the Copyright Office's definition of what is and is not entitled to copyright protection has implications well beyond the somewhat silly example of the monkey selfie:
The Report goes on to state that musical works, for instance, like all works of authorship, must be of human origin; thus, a work created by solely by an animal would not be copyrightable, nor would a work, more plausibly, generated entirely by a mechanical or an automated process. And similarly, a choreographic work performed by animals, machines, or other animate or inanimate objects is not copyrightable.  These are the kinds of things copyright lawyers are going to be fighting about more and more, take my word for it, over the next few years as claims involving AI programs and similar non-human agents get more valuable and more common.
There would be a difference, of course, between a work created by a human being using a computer and one strictly created by a computer without direct human interaction. Arguably, of course, one could make an argument that the creator(s) of the software that powered the computer would have some kind of claim in the output of its work, although this would be somewhat nonsensical since nobody believes that the creators of Excel have a claim in a spreadsheet their program creates, or that the creators of Photoshop have a claim in the altered photographs the program creates. As we get closer to Artificial Intelligence, though, and computers that are able to "think" and create visual or audio works on their own, then this is likely to become more of an issue. Under the the Copyright Office's current definition, such works would not be entitled to copyright protection and would be in the public domain free for anyone to use without compensation or credit. Arguably, this would reduce the incentive for scientists and researchers to make advances in these fields, which is kind of what the Copyright laws are supposed to encourage to begin with.  At some point, though, it seems clear that both courts and Congress will have to deal with the issue, including the rather important question of who would "own" the copyright on something created by a machine and who would be entitled to the benefit of the license fees that holding the copyright would entitle someone to charge.
When the robots and computers start hiring lawyers, then we'll know we need to deal with this issue.