Coronavirus Rescue Plan in Limbo
We may be in a national crisis but it's still politics as usual in Washington.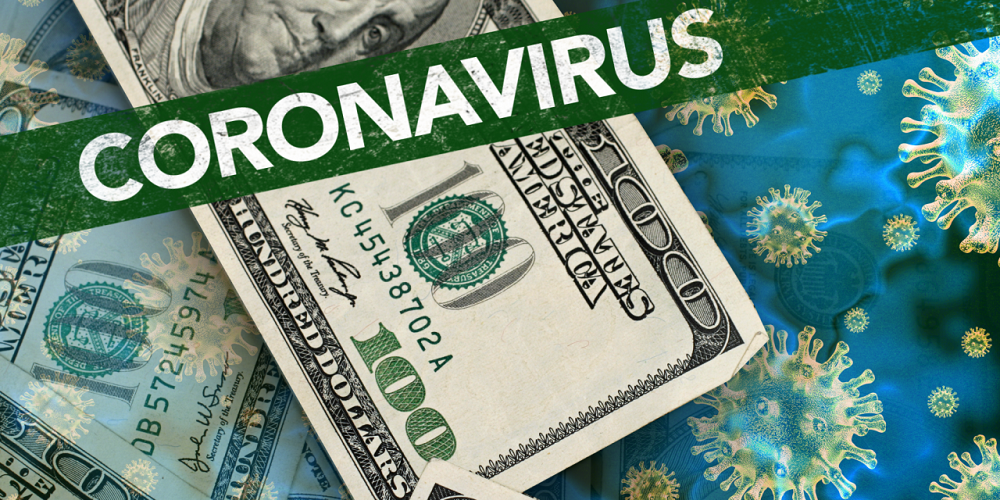 There is near-universal agreement that a massive stimulus and relief package is essential to save the economy and ensure people who can't work during the COVID-19 shutdown can meet basic expenses. Alas, Democrats and Republicans have very different ideas as to what it should look like.
Democrats are taking the brunt of the blame.
NYT ("Emergency Economic Rescue Plan in Limbo as Democrats Block Action"):
Senate Democrats on Sunday blocked action on an emerging deal to prop up an economy devastated by the coronavirus pandemic, paralyzing the progress of a nearly $2 trillion government rescue package they said failed to adequately protect workers or impose strict enough restrictions on bailed-out businesses.

The party-line vote was a stunning setback after three days of fast-paced negotiations between senators and administration officials to reach a bipartisan compromise on legislation that is expected to be the largest economic stimulus package in American history — now expected to cost $1.8 trillion or more. In a 47-to-47 vote, the Senate fell short of the 60 votes that would have been needed to advance the measure, even as talks continued behind the scenes between Democrats and the White House to salvage a compromise.

The failure to move forward shook financial markets and threatened an ambitious timeline set by the Trump administration and leading Republicans to move the rescue package through the Senate on Monday and enact it within days.

In voting to block action, Democrats risked a political backlash if they are seen as obstructing progress on a measure that is widely regarded as crucial to aid desperate Americans and prop up a flagging economy. But they argued the vote on Sunday was premature given their remaining reservations about the measure, while Republicans heaped criticism on them for creating uncertainty for both the public and the markets.
WaPo ("Senate falls far short of votes needed to advance coronavirus bill as clash between Republicans and Democrats intensifies"):
Senate Democrats blocked a massive coronavirus stimulus bill from moving forward Sunday as partisan disputes raged over the legislation that's aimed at arresting the economy's precipitous decline.

Lawmakers had hoped to pass the enormous $1.8 trillion bill by Monday but Sunday night they were scrambling to revive talks, with the stock market poised for another sharp drop and households and businesses fretting about an uncertain future.

Negotiations continued even as the initial procedural vote fell short, with 47 senators voting in favor and 47 opposed. The tally was well short of the 60 votes that were needed to move forward. The number of "aye" votes was especially low because five Republicans are quarantined over coronavirus fears.

Although senators of both parties and Trump administration officials vowed to continue negotiating — around the clock if necessary — the failed vote was the latest negative signal about Congress' ability to come together around the legislation, which aims to inject close to $1.8 trillion into businesses and households. Policymakers are scrambling to address a spike in layoffs and businesses gasping for assistance as millions of Americans stay home to avoid contagion.

Ever since Majority Leader Mitch McConnell (R-Ky.) introduced the legislation Thursday night, senators have missed one self-imposed deadline after another to reach a deal. The vote Sunday evening was delayed three hours so talks could continue after it became clear it would fail, but no resolution was reached and it failed anyway. McConnell set another procedural vote for 9:45 Monday morning and dared Democrats to block it, noting repeatedly that the vote would come shortly after the opening of the stock market.
WSJ ("Republican Coronavirus Rescue Package Fails Procedural Hurdle in Senate"):
Senate Democrats blocked a rescue package designed to blunt the economic impact of the coronavirus pandemic, after a dispute with Republicans over corporate bailout provisions and aid to dislocated workers.
POLITICO ("Coronavirus rescue package in limbo"):
IF YOU WERE COUNTING ON WASHINGTON to come together quickly and without drama to combat the coronavirus, you haven't been reading Playbook, and you've probably been ignoring reality.

THE SENATE failed to clear a key procedural hurdle tonight on the massive $1.6-trillion coronavirus package, a major blow to the government's efforts to immediately inject money into the economy during this global health crisis.

SENATE MINORITY LEADER CHUCK SCHUMER (N.Y.) held the entire Democratic caucus against the measure after two days of marathon negotiations. The motion failed, 47-47.

REPUBLICANS are calling the Democrats' efforts irresponsible — they blamed Speaker NANCY PELOSI. Democrats say Senate Majority Leader MITCH MCCONNELL (R-Ky.) didn't accede to their demands.

THE MAIN ISSUE , according to Democrats, is a $500-billion "slush fund" that is aimed at helping companies that have suffered due to the economic slowdown . Democrats say it has little oversight and does not help workers. They also say Treasury Secretary STEVE MNUCHIN would have too much influence over the disbursement of the money with insufficient oversight.

THE TWO SIDES are still in negotiations over the bill, and McConnell and Schumer say they could yet reach a deal tonight. [They didn't. -ed.]

DEMOCRATS – SCHUMER and PELOSI – believe they now have tremendous leverage to change the package. Negotiations will continue, of course. But if they don't make discernable progress before the U.S. stock exchange opens tomorrow, they could be in for a very tumultuous day. Treasury Secretary STEVEN MNUCHIN was the first person to throw out Monday as the deadline for this package's passage.
The process here is truly bizarre, even for our hyper-partisan, hyper-polarized atmosphere.
It simply makes no sense for McConnell, who leads the far-harder-to-manage half of our bicameral legislature, to be going alone on this. He needs 60 votes (more on that shortly) to get anything through, which means he needs some Democrats on board. Why not work with Schumer at the outset to get a bill out with the provisions that have broad support?
For that matter, since any bill is going to have to pass through the Democratic-majority House, why not get Pelosi and other House leaders in on the negotiations at the outset?
This shouldn't be normal order, politics-as-usual. Congress needs to act now, so we don't have weeks to waste with the normal back-and-forth nonsense.
And why on earth are we still pretending that a 60-vote supermajority is required to pass bills through the Senate? That's the threshold for invoking cloture during a filibuster. Nobody, to my knowledge, is filibustering this bill.
As to the merits, I tend to agree with Schumer that "unemployment insurance on steroids" should be the main focus. Given how much power the Fed has to loan massive amounts of money to failing corporations, the need for a "slush fund" controlled by the Treasury is unclear.