Deb Fischer Scores Upset Win in Nebraska GOP Senate Primary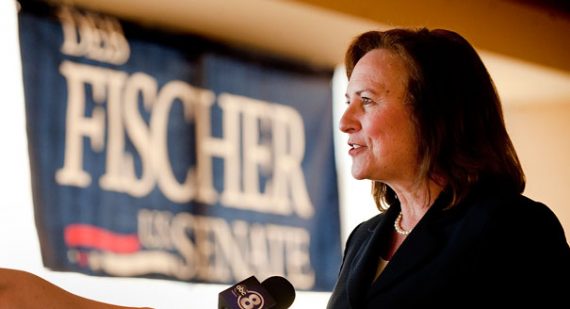 There are still surprises in politics, and we saw one of them last night when Nebraska State Senator Deb Fischer came seemingly out of nowhere to win the Republican Party nomination for Senate despite the fact that the entire race had been a fight between two of her competitors:
State Senator Deb Fischer of Nebraska surged past the state's attorney general, Jon Bruning, on Tuesday to capture the Republican nomination for the closely watched contest for the Senate seat being vacated next year by Ben Nelson, a moderate Democrat.

Ms. Fischer, a 61-year-old rancher who has not sought statewide office before now, upended expectations in Washington and scrambled the calculations of both parties. For months, the race was seen as a two-man contest between Mr. Bruning, 43, and Don Stenberg, the state treasurer who was endorsed by Senator Jim DeMint, a Tea Party kingmaker from South Carolina, and the conservative Club for Growth.

Instead, with 78.5 percent of precincts reporting, Ms. Fischer came out on top with 40 percent, followed by Mr. Bruning with 36 percent.

Mr. Stenberg ended the night a distant third, with 19 percent.
While Stenberg had the support of DeMint and the big bucks of the Club for Growth, Fischer seemed to be held in the end by an endorsement from way up North:
Sarah Palin, the former Alaska governor, threw her star power behind Ms. Fischer in the campaign's closing days. She and her husband, Todd Palin, recorded robocalls to Nebraska Republicans. In the final days, Joe Ricketts, the wealthy AmeriTrade founder whose family owns the Chicago Cubs, threw $200,000 into television ads questioning Mr. Bruning's character and business record through his one-man political action committee, the Ending Spending Action Fund.

Mr. Ricketts is also one of the primary funders of an anti-incumbent "super PAC," the Campaign for Primary Accountability, which has been roiling Congressional races throughout the country.
It also helped that Stenberg and Bruning, and their surrogates had spent the better part of the race attacking each other, which gave Fischer an opening to distinguish herself as the candidate who wasn't taking the law road. It also helped that both men had history's behind them, not the least of them being the fact that Bruning had tried for a Senate seat in Nebraska several times before without success. More importantly, it appears that many of the same factors that helped propel Richard Mourdock over Dick Lugar last week in Indiana were at play here, including the fact that Stenberg and Bruning are both long-serving Nebraska pols while Fischer is still very much of a fresh face, especially to statewide politics.
Fischer's rise in the came so late in the race that most polls didn't catch it at all, although Public Policy Polling did catch the beginning of it their final poll in the Cornhusker State, and PPP's Tom Jensen made this observation:
This race reminds me a lot of the 2009 Democratic race for Governor of Virginia where front runners Terry McAuliffe and Brian Moran beat each other up, plunged their favorability numbers, and allowed Creigh Deeds to come out looking like a saint in comparison. Deeds just kept on picking up momentum and ended up winning by an even larger margin than expected. If that's a model and given the current trajectory of the race Fischer could win by 10. But with it as close as it is Bruning pulling out a win wouldn't be that surprising either.

If Fischer wins there will be inevitable attempts to spin it as a Tea Party triumph but her rise doesn't really appear to be about ideology. Bruning is actually winning the Tea Party vote 39-36 and among voters describing themselves as 'very conservative' Fischer is only up 38-37. The shift in this race has a lot more to do with the candidates' images than it does with issues or philosophy.
Fischer will now go on to face former Senator Bob Kerrey in the General Election. Nebraska Democrats coaxed Kerrey into returning to the state to run for his old seat because they believed that he was their best hope to hold on to the seat that had been held by Ben Nelson ever since he succeeded Kerrey in 2001. Polling has shown, however, that Kerrey faces an uphill battle in the race due in no small part to the fact that he has spent the last decade essentially divorced from the Nebraska political scene and the state has become more conservative than it was in the days when he served as Governor and Senator. Indeed, current polling indicates that the relatively unknown Fischer has a ten point lead over the former Senator:
Republicans are still heavily favored to hold the seat in the general election, owing largely to the state's deep red hue and former senator Bob Kerrey (D) having left the state for a decade after leaving the Senate. A poll released Tuesdayby Democratic-leaning automated pollster Public Policy Polling showed Fischer up 10 points on Kerrey.

Democrats immediately began labeling Fischer the "accidental" GOP nominee and said her win recasts the race.

"Bob Kerrey is a proven winner with an honorable record of service to the country, working with both parties to solve problems, while Fischer is an untested Tea Party candidate who has profited off a federally subsidized sweetheart land deal and called for higher gas taxes on middle class families in Nebraska.," said Matt Canter, a spokesman for the Democratic Senatorial Campaign Committee.

Republican insisted they were happy to have Fischer as their nominee.

"The difference in this race couldn't be more clear," said Sen. John Cornyn (R-Texas), the chairman of the National Republican Senatorial Committee. "Deb is a small business rancher, mother and conservative leader who believes we need to spend less, balance our budget and repeal ObamaCare, while her opponent supports bigger government and higher taxes."
Fischer herself, meanwhile, has already begun taking shots at Kerrey:
She took her first poke at Kerrey shortly after taking the stage at the Cornhusker Hotel in Lincoln in front of a crowd of jubilant supporters, many with tears in their eyes and some still in shock.

"We need somebody who's different. Somebody who's tough. Somebody who's a Nebraskan," said Fischer, 61, in a not-so-veiled reference to Kerrey having lived the last dozen years in New York City.
Based on what I've seen, I don't think it's going to be possible to characterize Fischer as a fringe candidate. She's no Christine O'Donnell, Sharron Angle, Ken Buck, or Joe Miller. More importantly, though, Nebraska is going to be very friendly to Republicans in 2012 and that is likely to help her take on the guy who used to be the most famous politician from Nebraska. This will be an interesting race to watch.